Microsoft has released its most awaited Windows 8 operating system to the world three days ago and the pricing is pretty much affordable by people who only buy genuine microsoft windows operating system license. There is no doubt, that Microsoft Windows is worlds top and no 1 operating system that has occupied so many PC's and when we see the genuine license buyers, it will be the worlds last without any doubt. Microsoft has made a smart choice this time, by introducing windows 8 promotional codes or discount coupon codes to get some huge discount from the announced low price.
Windows 8 Pro Pack is available for 39.99$ only for limited time. This promotional discount code by Microsoft is valid from October 26, 2012 until January 31, 2013. Its time for you to "Say NO to PIRACY" and purchase a Windows 8 software license for one low price. Microsoft is also running another special promotional offer with country specific promotional codes  via "Upgrade to Windows 8 Offer" Program, that lets you get it for even cheaper price from the limited time discount. I bought windows 8 pro license key today using this limited time offer for just Rs 699 /- (approximately 13$) and ordered a DVD Box extra as well. Which adds another Rs 1030.00 /- to the displayed price.
Microsoft has redefined the operating system user interface and design to bring totally a new experience to its users in new Windows 8 OS. Ofcourse there are plenty of new features added and some existing set of features are removed with Windows 8, to make it as an advanced and the best windows operating system just like its previous versions. The code shown in the picture is already used, so avoid trying it again, you will receive a free code when you complete the registration as suggested in the following steps.
HOW To Get Windows 8 Pro Upgrade Offer ?
To get Microsoft Windows 8 upgrade offer, you have to visit WindowsUpgradeOffer.com and then select your country to proceed with the process of getting an exclusive, unique Windows 8 promotional code to your email. You will receive it instantly after filling out a simple registration form that asks for your Name, Address, Email Id, Phone Number and Windows 7 Purchase information (you may enter duplicate info there).
Step 1: visit Windowsupgradeoffer website.
Step 2: Choose your Region and Country.
Step 3: Fill out the Registration form with all the details to get Unique Promo Code.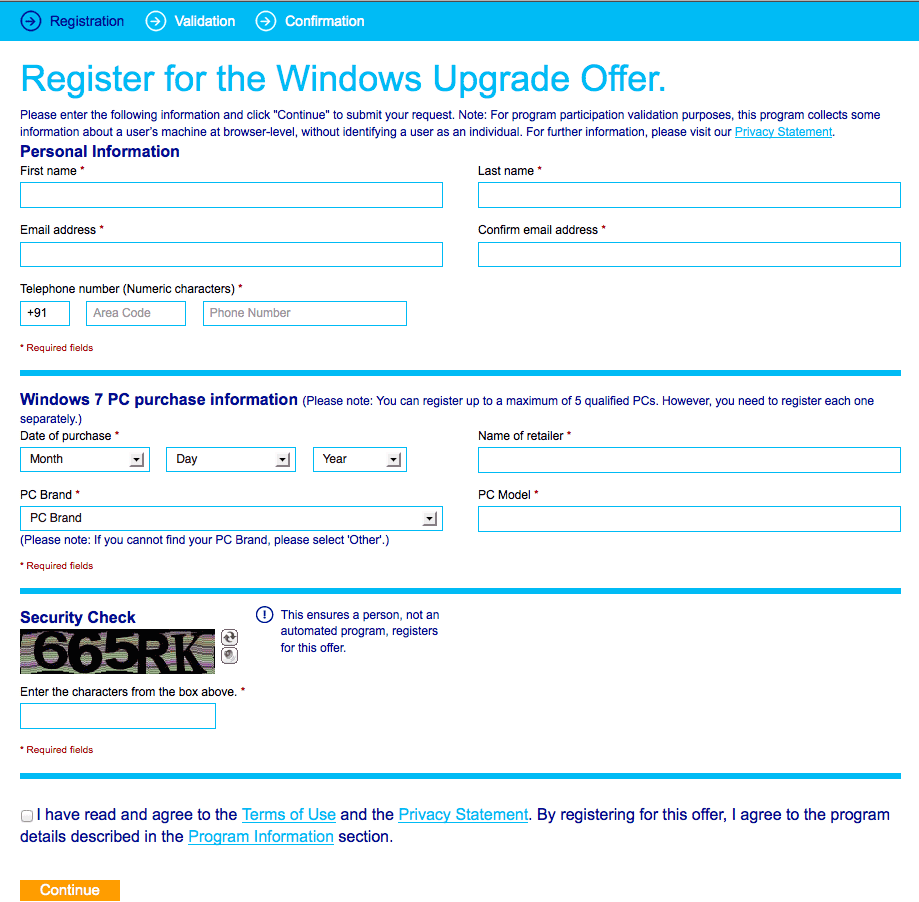 Step 4: Visit Microsoft Windows 8 official download page.
Step 5: Process with the purchase option after downloading and installing Upgrade Assistant software for Windows.
Step 6: Complete the Download form fields and enter Promo Code that you have received in your email.
Step 7: Confirm and Complete the purchase of Windows 8 OS and it will begin downloading your copy automatically. You can also add Windows 8 DVD Box for extra 20$ (approximately) during the checkout (refer the screenshot on top).
Once you have successfully submitted the form, you will receive an email from Microsoft along with your Promo Code to buy windows 8 and that coupon code will let you get discount of approximately 24$ (USD).
Pirated Windows 7 to Genuine Windows 8
We are not sure why and till when, but currently we have tested and its working. Yes, Microsoft is allowing windows 7 pirated version running users to upgrade their operating system to Windows 8 with same discount rate. This is really a good time to take advantage, to start using a genuine operating system in your PC and Laptop (if you dont have one or never tried).
If you are running Non Licensed or Pirated version of Windows 7, then this is one great opportunity to buy a license that is totally affordable by any one who owns a computer and all you have to do is, hurry up and utilize this country specific offer, which will be available for very limited time.
Thanks for reading and you may now share this post to let your friends and followers across social networking websites to make use of this great offer as well. Have a great day !