If you are running Windows Vista or Windows 7 in your computer, and getting ready to download windows 8 from microsoft website, then wait a second, and take some time to download upgrade assistant from windows website and run hardware and software compatibility test. The upgrade assistant confirms you whether the hardware and software your have on your computer is qualified or not to install Microsoft Windows 8 in your computer. Download Upgrade Assistant now. Remember, you should have genuine license first installed on your Windows XP, Vista or 7 to become eligible for this low price upgrade program.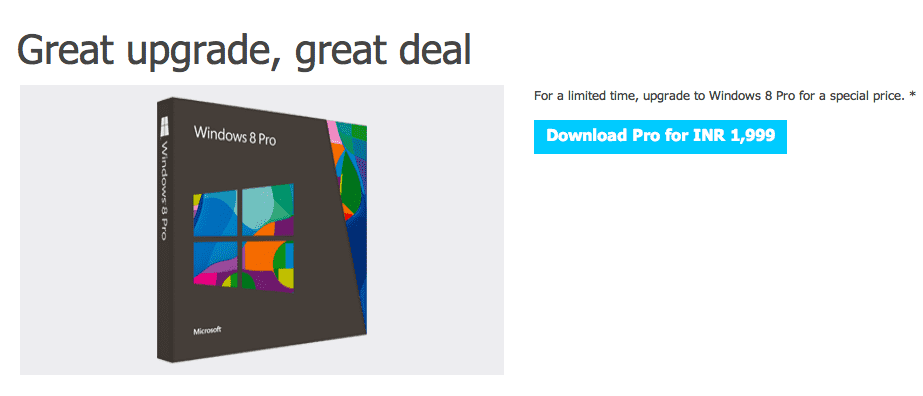 Microsoft has officially released its most awaited Windows version which is Microsoft Windows 8 today worldwide and for limited time there is a discount promotion running officially. This offer is for very limited time from October 26th, 2012 till January 31st, 2013. Microsoft Windows 8 has got lot of improvements than the previous versions and new app store and huge developments made it very special. The demonstration event took place yesterday where the release of Windows 8 Tablet and Surface products to the world.
Microsoft has also aired few Windows 8 Ad Commercials via Youtube and here they are,
Windows 8 Best Coast
[youtube width="600″ height="344″]http://www.youtube.com/watch?v=vvHin1UmQOI&feature=plcp[/youtube]
Windows 8 Party
[youtube width="600″ height="344″]http://www.youtube.com/watch?v=oB3DjaYyYFE&feature=plcp[/youtube]
Windows 8 Parkour
[youtube width="600″ height="344″]http://www.youtube.com/watch?v=giZcbCh4CtU&feature=plcp[/youtube]
 Windows 8 The World is Ready
[youtube width="600″ height="344″]http://www.youtube.com/watch?v=PRrQM0_9lM0&feature=plcp[/youtube]
 Windows 8 Sign in with a Smile
[youtube width="600″ height="344″]http://www.youtube.com/watch?v=XBmtde_XNBs&feature=plcp[/youtube]
Download Windows 8

You can buy Windows 8 Pro for 39.99USD or do visit your Microsoft country specific website to see the promotional offer with microsoft discount applied to it for limited time. Hurry up and buy only original software to prevent any security risks. You get support and quality service when you purchase genuine products for your use. Also you can save No to Privacy by purchasing a software for discounted price when there is some promotional offers running on.
What Upgrade Assistant Do ?
It scans your hardware, apps, and connected devices to see if they'll work with Windows 8. Make sure all the peripheral devices that you need to work with your PC, like printers and monitors, are connected to your PC and turned on before you run Upgrade Assistant.
Upgrade Assistant checks your PC hardware to see if it meets the Windows 8 system requirements to install on your PC, including features of the processor such as CPU speed, PAE, NX, and SSE2, as well as RAM size and hard disk capacity. It also checks for compatibility of your currently installed apps and devices.
It provides a compatibility report. Windows 8 generally works with the same apps and devices that work with Windows 7, but in some cases, a product might need an update, or you might need to uninstall and reinstall it after you upgrade. The compatibility report lists your apps and devices that will work in Windows 8, those that might not work, and what you can do to get them working again after you upgrade. If some of your apps and devices aren't listed, it might be because we don't have compatibility info for that product yet. For more info on specific products, check the Windows Compatibility Center, or contact the product manufacturer.
You can save or print the compatibility report to use later. Unless you choose the option to "keep nothing" during the upgrade, you'll be able to find the report on your desktop after the upgrade. For more info, see Get your apps and devices working in Windows 8.
It checks your PC for support of certain Windows 8 features. Specifically: the Windows Store, snap, secure boot, and multitouch. If your PC doesn't support one or more of these features you'll see a warning. You'll still be able to install Windows 8, but specific features won't be available to you.
via Microsoft Website
It provides the option to buy, download, and install Windows 8. If your PC is ready to go, Upgrade Assistant provides a recommendation on which edition to buy, and walks you through the steps to upgrade.
Windows 8 Price Details are pretty affordable by anyone who owns a computer and you can buy one to appreciate the hardwork by the development team. You will like Windows 8 Pro without any doubt, do see the videos we have added above to know the huge differences that you will get with Windows 8. Its completely new and redefined approach of Windows version that you have every used.
Microsoft upgrade assistant will tell you whether your hardware, apps and softwares are compatible and qualified for the upgrade. If you are going to do Clean Install of Windows 8 or Fresh Install of Windows 8 then goahead and download the version officially from websites.
Thanks for reading and stay tuned for more Windows 8 News and Updates. Now share this great news with your friends across social networking websites. Have a great day !