Update: We have updated this page with Latest Kaspersky Coupon Codes 2015 versions. Save up to 50% on your purchase.
One of the best Internet Security software available in market today, Kaspersky Internet Security 2013 became my favorite after upgrading it from the previous version recently in my Windows 7 computer. I am yet to install it in my Windows 8 which i have installed in Parallels on my Mac OS X. I always use and recommend people to install an antivirus or internet security software after installing Operating System. After a clean installation, it is must to install a security software to protect the computer from offline threats.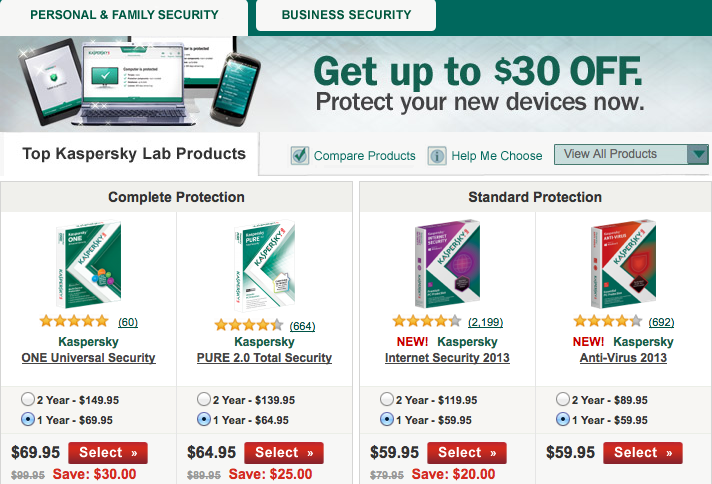 Some malwares automatically add itself to the backup software or files and documents that you have as a backup on your local harddrive. We normally do a clean installation of operating system and that modifies only the C Drive or Primary partition that OS got installed.
Microsoft Windows 8 is here and you must choose an antivirus that is well advanced and updated if you have plans to install Windows 8 on your PC or Laptop.
Kaspersky Internet Security 2013

This is the right time to buy a kaspersky license for your PCs and Laptops. Now you can get upto 30$ Discount on your purchase. We now have kaspersky coupon code to save you upto 30$ on your purchase. When you buy Kaspersky Internet Security 2013 (latest version) you will get upto 20$ off from the original price. Kaspersky Internet Security 2013 has got a new design from its previous version and well compatible for Microsoft Windows 8 operating system.
Best Windows 8 Antivirus
Microsoft has recently released Windows 8 OS world wide and millions have upgraded their licenses from Windows 7 to Windows 8 to experience all new complete redesigned operating system. Kaspersky is one of the best antivirus for Windows 8 without any doubt when it comes to protecting you and your family against Internet threats and attacks. Kaspersky receives daily security updates to keep its vulnerability database and signatures updated to not miss any latest virus, malwares and trojans.
Kaspersky has some additional features like Safe Money, Secure Keyboard and few more to ensure safe banking, shopping and social networking usage. Let me list the feature highlights of Kaspersky Antivirus software.
Protection against all known viruses and internet threats with its very advanced virus signatures and database.
Safe Money add on delivers greater security for Internet Transactions.
Protects you and your family from Digital Identity Theft and Privacy attacks.
Intelligently identifies suspicious websites and phishing websites.
Child Safety add on protects your children from long time computer usage and monitors internet activity.
Prevents malware from exploiting any software vulnerabilities on your Windows PC.
There are Kaspersky Reviews and Testimonials shows that users are very impressed with the latest advancements and protection that Kaspersky offers to their Windows 7 and Windows 8 PCs and Laptops.
Kaspersky 2013 Coupon Code
As shown in the first picture of this post, you can see the available discounts and you can purchase them right away for your use. Each license can be used for 3 PCs and this is a huge saving for limited time when you use this limited time kaspersky coupon code. The code is applied sitewide and you dont have to enter any special code.
Also Get a 44.95$ worth H&R Deluxe Tax calculating software for Free.
H&R Block Deluxe Free
When you order kaspersky software you will get Free software license for H&R Block Deluxe Tax software. This software helps you to calculate your taxes quickly and easily. Now you can maximize mortgage interest and real estate taxes, investment income and stock options using this single software. Also this software brings Live and Free tax advice, where you can get audit support and much more benefits.
A guaranteed accurate calculations or reimbursement of IRS penalties and interest charges (limits apply).
Original Price: 44.95$
Thanks for reading and you may now share this post with your friends and followers across social media to save some bucks on their next security software purchase. Have a wonderful day.