Finally, there is an app for connecting multiple cloud storage services into one folder (app) and all your files are now accessible by double clicking a single folder on your computer. If you are using Dropbox, Google Drive, Box and other cloud storage services for different purposes, then you can connect all your cloud storage services to one app and make all of your files available locally in your computer. ODrive is a new application that connects all your cloud storage accounts and make the files available to you right on your desktop or laptop.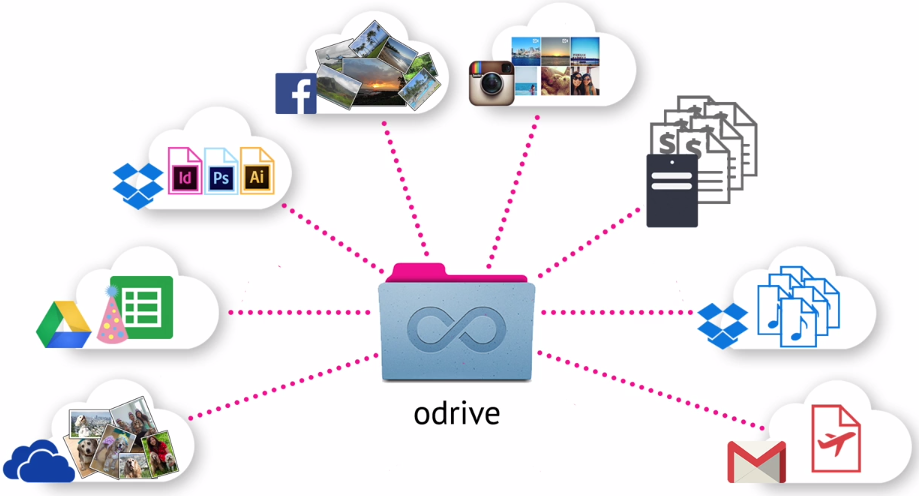 You can download and access the files you want without worrying about the storage limit of your computer hard drive.
Odrive is a free utility available for Windows, Linux and Mac OS. It uses progressive folder sync technology, so you will be able to see all the files and folders from your cloud storage services. Odrive currently works with Dropbox, Facebook, Google Drive, Gmail (Attachments), Instagram, Microsoft, OneDrive, Salesforce and Oxygen Cloud.
If you want to download any particular file or folder, then just double click on it, to download any specific file or folder to your computer hard drive. You can also sync modified files automatically with your cloud account services. Lets see quickly with feature highlights what Odrive can do,
Odrive lets you access multiple cloud storage services from single application.
Link your local file server to odrive app and create your own cloud service to share files with your Team or Friends Online.
Progressive sync enables you to download only the file you want. Not everything you stored at your cloud services.
Unsync any Folders to save plenty of space once you finished your work.
One Click Unlink of any Cloud Services from your ODrive Folder.
If you created your own cloud using ODrive, you can share it with your team and others securely with encryption and password protection.
Odrive doesnt store any of your cloud service login details. You login directly on the service web page and a security token to authorize access issued by the respective service to odrive application that you have installed locally in your computer.
How Odrive Works for Mac Users?
Odrive also has an excellent knowledge base and tech support team to answer your questions quickly. Their readily available youtube videos are helpful if you want to use odrive to its full potential. Here is one example, lets see how to create your own cloud storage service using your local computer hard disk drive and share it with your friends and work team members securely.
How to Create Personal Cloud Storage?
For odrive tutorials, check their official vimeo channel.
There is no doubt, odrive is a brilliant application and one of the best productivity tool for Mac OS X, Windows and Linux users. Your team collaboration is about to get a lot better, and all it takes is an installation of odrive from the official website. Dont download odrive from other resources or websites for security reasons. Always download apps and softwares from verified, trusted sources.
Alright, its time for conclusion. Odrive will save lot of space in your computer and cuts the necessity of downloading individual cloud storage apps. It changes the way cloud storage applications work till date. Google Drive, Dropbox and other cloud services maintain a copy of the file locally in your hard drive or device you install, but with odrive you can cut that waste of storage and simply download and access only the files you want. Sync and Unsync saves lot of space in your hard drive also free up lot of RAM memory and Startup applications list as well.
Also Read,
Thanks for reading and dont forget to share a word about this wonderful app with your friends and followers across Twitter, Facebook and Google+. Have a wonderful day!