Apple iPhone 6 is super popular as expected since its release and still in demand on many countries. We hand picked few Best iPhone 6/6S Cases and Covers from Popular Brands for you here today. The space gray version sales went like a storm this time like never before and recent report claims that Apple iPhone 6 has made a significant impact on Android's market share after long time. Its not an easy competition when android is everywhere and the device activation's just keep on climbing every second world wide. Though the iPhone 6 in Space Gray became the favorite color choice for many compared to Silver and Champagne (gold) colors.
Space Gray wasn't that much popular with previous generation iPhone models. But the curved, slim design really made iPhone 6 gorgeous this time. Oh, the curve, smooth edges made the design look great, also made it slippery and if you are using your iPhone 6 without any case or cover, then you probably know what i am talking about :). Apple just don't stop with selling any device, they also create business opportunities for people with creative minds to jump in and create accessories for apple devices.
They do have accessories in their official website for iPhone's and iPad's. The official accessory always preferred by some people to stick to the brand feel and some people order the official iPhone, iPad cases and covers when they place order for their new device. There are other popular and best iPhone 6 cases and covers available with unique design and different feel than what the apple case offers.
iPhone 6 Leather and Silicon Cases
If you are considering the official iPhone 6 Leather Case or Silicon Case, then here we have it featured as the first and popular iPhone 6 case. It comes in five different colors like Black, Red, Midnight Blue, Olive Brown and Soft Pink.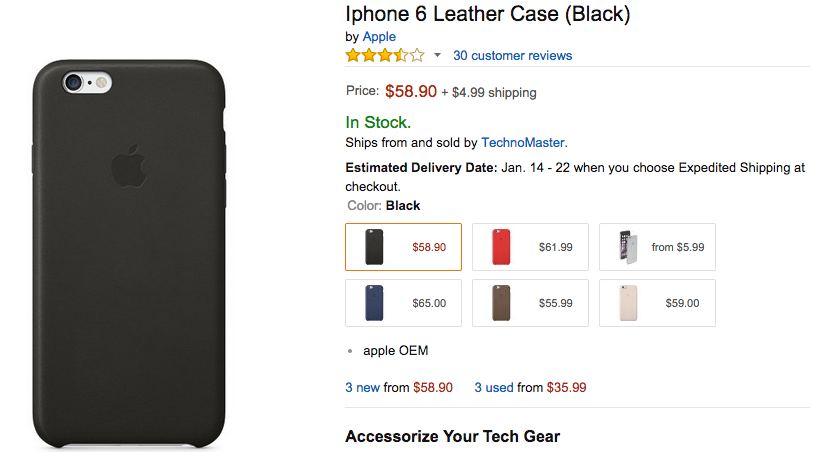 Leather Case – Apple designed the iPhone 6 Leather Case with premium leather for a luxurious feel. Designed to fit with iPhone 6 perfectly. It gives good grip than the silicon case. If you are looking for best grip and premium feel, then you should definitely consider the leather version.
Price: $45
GET IT: from Apple Store / Amazon
Silicon Case – The official apple iphone 6 silicon case feels soft and fits nicely. The buttons around the device are easily accessible as well. There is a soft micro fiber lining inside the silicon case to protect the iPhone 6 from scratches which may happen when you remove and wear the case often. It has got best ratings as an affordable iPhone 6 case which also good at providing good grip when you are holding your device.
Price: $35
GET IT: from Apple Store
There are plenty of silicon cases for iPhone 6 available at amazon from many third party case and cover manufacturers. It is little hard to choose the best one from the huge collection, so we thought to hand pick few Silicon and Leather cases and Covers for your iPhone 6 to reduce your search time.