Apple gives a big surprise to Mac users across the world, by announcing their next major upgrade to their Mac OS X named Mountain Lion. Download of Mac OS X Mountain Lion 10.8 will only be available through Mac App Store once its launched. This major upgrade will include some feature highlights like Messages (imessage on mac), Notes, Improved iCloud, Reminders, Notification Center, Game Center and so on. As said, it is not possible to get this OS in Flash Drive or in a DVD from iStore. You got to download it from Mac App store, like you did it for installing Mac OS X Lion.
Apple succeeded in bringing virtual downloads to all the Mac systems after launching Snow Leopard. They made 19 millions of Lion OS X Downloads last year and expecting more than that this year.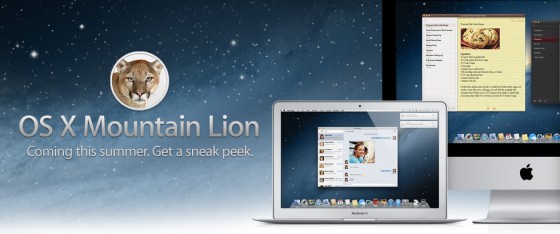 Mac OS X Mountain Lion System Requirements
Mac OS X Mountain Lion is not for all Macs. Yes, this must be very disappointing for Apple Mac users, and this is no surprise as apple usually discontinue their support for old hardware devices by setting some some basic requirements to install their new os x software. Credits to OS X Daily for the following data.
Mac OS X 10.8 wont Run on These Macs
MacBook Pro – 13″ from mid 2009 or later, 15″ from late 2007 and newer, 17″ from late 2007 and newer
MacBook Air – late 2008 and newer
iMac – models from mid 2007 and newer
MacBook – 13″ aluminum from 2008, 13″ from 2009 and newer
Mac Mini – early 2009 and newer
Mac Pro – early 2008 models and newer
XServe – early 2009 models and newer
Mountain Lion Expected to not Run on these Macs
Anything with an Intel GMA 950 or x3100 integrated graphics card
Anything with an ATI Radeon X1600
MacBook models released prior to 2008
Mac Mini released prior to 2007
iMac models released prior to 2007
Original MacBook Air
The older Macs with weaker GPUs are removed from the list it seems. Apple is expecting to force upgrade macbooks to experience some new features that comes with Mac OS X 10.8.
Mac OS X Mountain Lion Release Date
We can expect the release of Mountain Lion OS X 10.8 this summer. Apple has made the announcement in their official website and a sneak peak of this upgrade to mac computers See Here.