Every new iOS user downloads Youtube App for iPhone and iPad and it is one of the essential apps in top chart. You can change the quality of the video, comment, like videos and share it instantly with your friends at Facebook, Twitter, Google+ or Email them. But one limitation that bothers music lovers is, background music video playback on iPhone and iPad. No Jailbreak or third party Appstore is required when you follow the steps we have suggested below.
Youtube allows us to create Playlists and it is definitely very useful to easily create one and organize all our favorite music videos, audio lessons, video lessons, tutorials, and TV shows.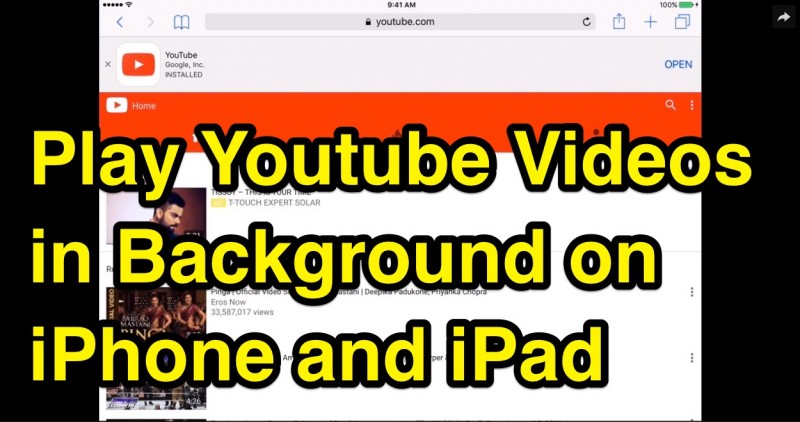 But the moment you minimize Youtube app and navigate to different app, the playback stops immediately and you have to stay on youtube app to enjoy the music, even when you are not ready to watch the video. So how to Run youtube.com in the background and enjoy listening to your favorite music when you minimized it and using different apps?
Also Read, How to Download Youtube Video to MP3 320kbps HD Audio?
Well, that is possible with this simple trick and here are few easy steps you have to follow to play youtube videos in background on iPhone and iPad. We do have a video tutorial which you may find it useful.
Alright, lets see the easy steps. Here i have used my iPad to do the same steps. So the following screenshots are taken from iPad.
Step 1: Open "Safari" Browser on your iPhone, iPad or iPod Touch.
Step 2: Type "https://youtube.com" and tap on "Go".
Step 3: You will see a prompt that says "Open Youtube" with two options to select "Cancel" and "Open". Tap on "Cancel" button and refresh the webpage once.
Note: If you have selected "Open" then it will launch Youtube app that you have installed on your device.
Step 4: Play any of your favorite music video or playlist and tap on "Home" button.
Step 5: Now the youtube.com that you have opened in safari browser is minimized and you see the home screen. Swipe up to open the "Control Center" where you will see the song or video name on the music controls section. Tap on "Playback" button and you are done.
Step 6: Launch any App (WhatsApp, Facebook etc.,) and the music or audio of video you have opened on safari browser should be playing on the background without any problem.
Enjoy listening to your favorite songs, video podcasts and so on. No Jailbreak required or complex steps to follow to play youtube.com in the background on your iPhone or iPad.
That is all. I hope you have found out an easy way to listen to your favorite music videos, podcasts and playlists on the go. Thanks for reading and feel free to share this post with your friends and followers to help them enjoy the same. Have a great day.
You may also like to Read,