Update: WhatsApp messenger for iOS 7 updated, Download now.
Millions of iPhone users are eagerly waiting for one update and that is WhatsApp update for iOS 7. Honestly, i am tired of waiting and simply using it anyhow with that old iOS 6 design and keyboard. Some people do face some errors with this old version in their iOS 7. Many dont like it at all. So they are searching for WhatsApp alternative. Apple released iOS 7 officially in september and its been couple of months where WhatsApp gives no exact time or day when iPhone users will get WhatsApp iOS 7 update.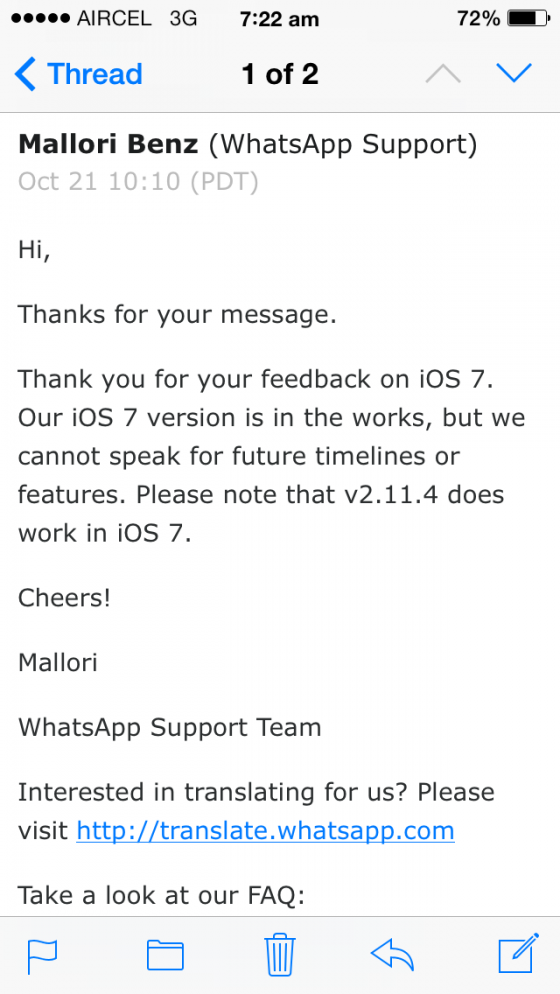 When we asked whatsapp team when will the official whatsapp for ios 7 update will arrive, they didnt give any exact day or even time about it. So no one knows when exactly the iOS 7 whatsapp version will pop up on your App Store update queue.
WhatsApp iOS 7 update
Earlier there were leaked pictures of how WhatsApp will look in all new iOS 7 design and now we have a video. ITRaidDE has posted a video in their Youtube channel today and the version looks pretty clean and well simple in iOS 7.
[youtube]http://www.youtube.com/watch?v=Da1c9wtMAGk[/youtube]
Recently released facebook messenger update well reflect the default messaging app Design and UI in iOS 7. Now whatsapp update on iOS 7 when it arrives soon will also look well suited to the default messaging app. Well, thats how it should be, and i dont want to play the copy game here. I personally like the Messaging app in iOS 7 except, rarely the keyboard gives me some tough time. There are glitches here and there, and i hope apple will fix that in upcoming update. Heard iOS 7.1 has an option to switch between keyboards and also have some improvements made to it.
Alright, lets come back to the WhatsApp update for iOS 7 release news. Well there are no exact news or official announcement from WhatsApp team, but based on rumors that it is ready to come out from the oven and we can expect that it will come out before this Black Friday.
Many of its competitors like Kik Messenger, Line Messenger and others started to roll out iOS 7 compatible updates. What very frustrating for me is, why there is not even approximate time about when Whatsapp will release iOS 7 compatible version. Check out the video above and do share your views in the comment box below. Thank you for reading and have a wonderful day !