Facebook Messenger for iOS and Android has got a complete new UI and Design which reminds me of iMessage on iOS 7. It now looks simple and very easy to use all of its features. Facebook seems really liked the facebook messenger new design on iOS 7 and they made the exact same thin design to Android mobile users as well. The idea of this update is pretty simple and that is to target all messaging apps in smartphones, specially WhatsApp. We all know that WhatsApp is one messaging app available for Android, iOS, Blackberry, Windows Phone and Nokia Symbian OS as well.

They have huge crowd of people using it, and facebook now targets those users who use whatsapp a lot, and have facebook account as well. After installing new facebook messenger update i have found most of my whatsapp contacts (almost 99%) in facebook friends list. Then i thought, alright lets create a group chat at new facebook messenger app and connect some missing people who dont have a smartphone but stay online at facebook a lot.
Some people hate messaging apps and its annoying notifications (as they think) and simply dont buy smartphones just for that. Now i can connect with those people via this new facebook messenger app. A big thumbs up to facebook for that part. Some Android and iPhone users do complain that this new facebook messenger app is loading bit slow and not super speed like WhatsApp. So if you faced similar troubles do share your views in the comment section.
Facebook Messenger Update
But wait, did they bring this feature to all mobile os platforms ? absolutely no. A Big thumb down for not launching facebook messenger update compatibility with other platforms. Where i really miss to invite some of my friends to this chat group in facebook messenger. Still, they can access the messages via facebook app. We are going to stay at facebook app for long time in a day than our default messaging app or others apps in our mobile phone. It was Google.com the very first website address i type in browser address bar and now it is Facebook.com.
Here i have few screenshots taken from iPhone 5 that shows how the all new facebook messenger app looks in the new iOS 7. So if you are still in iOS 6 or not updating the facebook messenger app, then you may consider updating to new fb messenger version after seeing these pictures.
The very first screen you will see to setup your all new facebook messenger app on your iPhone.
and in Next step, it will prompt you to allow access to contacts. Facebook messenger app needs access to contacts to sync the contacts info with facebook account details. This will allow you to send message directly to their facebook account message box. It also looks like, facebook messenger app will periodically check and sync your address book contacts with facebook account data in the server to keep it updated.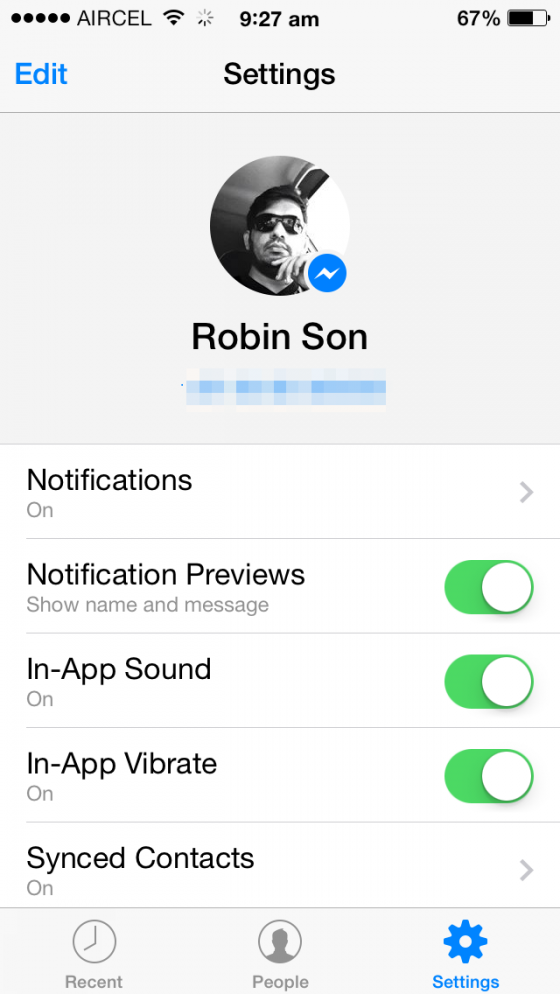 Menu placement is just like facebook app which has recently got redesign and UI changes. You can turn on and off the notifications, notification previews, In-App sound, In-App vibrate and Synced Contacts access as well.
The above screenshot shows the chat window. You can access the Chat Settings tab by tapping on the three dots at the top right corner.
"people" tab shows all your friends who are online in Messenger app on their iPhone or Android mobile also who is online from their computer. You will see "F" if the user is online from a computer browser, and that thunder symbol if your friend is online from Messenger App on their mobile.
You can create Group Chat in new facebook messenger app just like the default messaging app group member addition. Simply add more members to the chat To address field when you create a new chat session and your Group chat will be ready. You can also access the member details page by clicking on the three dots at top right corner to add or remove members in the group chat.
Thanks for reading and do share your views about the all new facebook messenger app in the comment box below. Have a great day.