Apple has release iOS 8 developer preview along with OS X 10.10 Yosemite public beta after this years WWDC 2014 event. They also introduced Swift Programming language to revolutionize App development for both platforms. Here is a simple and easy way to learn swift programming language with best resources.
Apple has released iOS 7 beta 1 to developers on June 10th in WWDC 2013 conference. Well the features are quite a good addition, but not enough. Apple iOS 7 is currently undergoing so much critics for not bringing "advanced (innovative and new) features" for bringing features that are already in Android which makes it look like they are copied from Android OS, Design that resembles Windows Mobile OS in many places and Kindergarten style of icons. Apple has its own style of Design and doing business with it. They are pretty successful in that part so far and we all know that.
[youtube]http://www.youtube.com/watch?v=F0ErUMeT7uE[/youtube]
Many of the iOS 7 features are already there for people who have Jailbroken their iOS device. Cydia Tweaks have made these features possible. Jail breaking your iOS device allows you to customize it more and get the most out of your iPhone or iPad. I dont think what else apple can introduce than killing few of its Apps that are available in App Store and some features that are found to be very useful and good to integrate in the iOS. I think, we should stop this "Who Copied Whom" game and start looking for the announced features and how well they are implemented in the device. Apple is always bit slow in bringing features to their software.
Well, If you want Android Features on your smartphone then look no further, buy an Android Phone.
Since the release of iPhone, this is the first time that iOS gets a major design change and Jony Ive painting on this can be clearly seen every where, when you try hands on with the new iOS 7. After using it for couple of days i can see that its a complete change in design than previous version. Ofcourse, there are tons of bugs still out there but i can feel how different the design and user interface is overall.
Lets talk about the iOS 7 features. Apple iOS 7 beta 1 is currently available only for developers, still it is possible for anyone to try it out. You may buy some gigs via twitter or fiverr to add your UDID into someones developer account and try installing iOS 7 in your iPhone. There were some trouble with the activation server initially, so it was possible to install iOS 7 without UDID registered to a developer account.
You can watch this 30 minutes video to check out most of the features explained in WWDC 2013.
[youtube]http://www.youtube.com/watch?v=ViuUUwLr4GI[/youtube]
iOS 7
Lock screen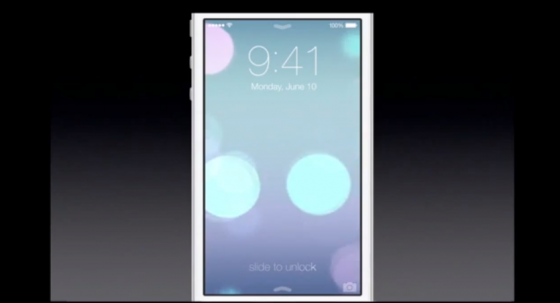 The very first screen that has got a good design change and feature addition is, Lock Screen in iOS 7. Now you can access Notification Center and Control Center (new feature) from Lock Screen without unlocking your iPhone. The Parallax effect gives a slight 3D effect to your wallpaper and its there across the OS.
New Notification Center
In iOS 7 the new notification center aimed to display all information at one place. You can now check Weather Reports, Calendar, Messages, Apps Notifications, Missed Calls and a Tab to see all the notifications in one place.
New Control Center
Remember SB Settings that you can get after jailbreak ? It is similar yet more effective and comes as a feature with iOS 7. Swipe from bottom to top to access Control center on iOS 7. Access Music Player, Adjust Brightness, Bluetooth, Airdrop and Airplay Controls, Torch, Calculator, Camera, put iPhone on Silent, Auto Rotate and Airplane mode access.
Airdrop on iOS 7
Airdrop comes to iOS now that allows you to Transfer photos and videos from your iPhone to another iPhone wirelessly. But the major set back is, it supports only for iPhone 5, iPad 4, iPad mini and iPod Touch 4th Generation. It is because of hardware limitations and really it is disappointing to not able to bring a support that can allow us to transfer with iPhone 4 and 4S users. But the strange thing is, how come Apple iPad mini is supported and not the other iOS older devices.
Siri in iOS 7
Siri in iOS 7 has got some improvements with service integration of Bing, Wikipedia and Twitter. Now you can also control the phone settings like Bluetooth, 3G, Volume Controls and so on.
iOS in the Car – Apple is also working on integrating Siri and other iOS features to certain leading Car Brands.
Camera in iOS 7
The camera app in iOS 7 allows you to easily switch between different camera modes (Video, Photo, Square and Panoroma) with some filter addition.
Photos in iOS 7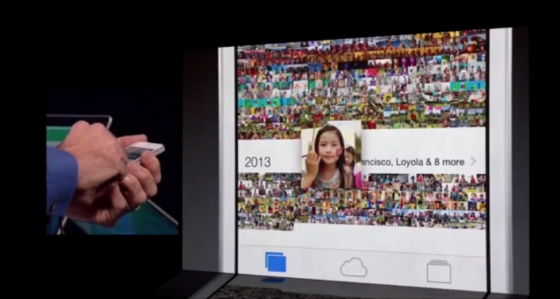 Now iOS 7 knows where you took the picture and organizes them with labels to let you access easily using Gestures as well. Photos App also got some interesting filters to apply and upload them quickly to Social Networking sites or to Flickr Album. Photostream now allows other people to share their photos and videos into your photostream as well.
Safari in iOS 7
Safari web browser in iOS 7 has got a great design and ui change as well. Now access your bookmarks, smart search field, favorites and so on. The smart tab view makes it easier to navigate between pages in your iPhone while you browse. Parental Controls now added to safari browser. iCloud Keychain is something new, that stores your passwords in your iCloud account with high encryption standard and security.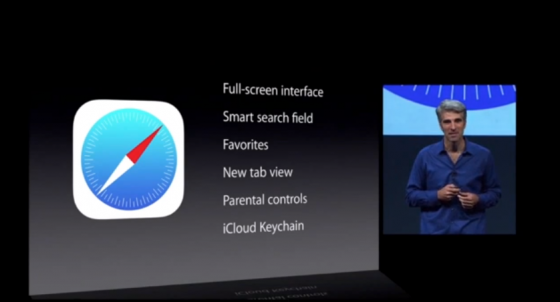 You will realize the focus that the development team has given to Typography across the operating system, while using Safari browser in iPhone.
Reading List – Improved reading list feature allows you to read page by page without navigating back to list of pages view.
Tabs – Quite powerful feature that allows you to slide through various pages you have left opened in your iPhone, iPad, Macbook in one place.
Multi Tasking in iOS 7
Apple finally brings the real multi tasking feature to iOS with battery and less cpu usage in mind. Double tap the home button to access multi tasking panel which allows you to slide up and close the apps. Apps will run in background and you can easily close them just by a swipe.
App Store Background Updates
In iOS 7, App Store will automatically run updates  in background of the apps that you installed. So you dont have to manually visit app store to check for updates anymore.
iTunes Radio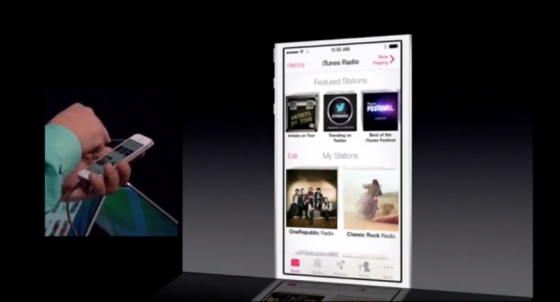 iTunes has got a good design change as well. iTunes Radio feature is currently limited to U.S region only. Internet Radio is one essential feature that apple lagged for long time and we can now use it via iTunes Radio on all our iOS devices that supports iOS 7. Apple already has 100s of stations based on Alternative, Blues, Country, Class Rock and so on. If you want to create your own collection of songs, then you can create your own station as well.
iTunes Radio is Free with Ad support, and if you are an iTunes Match subscriber then you will not see any Ads.
Facetime Audio Only
Now with iOS 7 you can do Audio only Facetime with your friends and family. For slow speed internet connections, this is a great option.
Notification Sync
You dont have to cancel the notifications in each iOS devices anymore. If you cancel the notification on one device, it automatically cancelled on all the other iOS devices you have.
Activation Lock
This is one interesting security feature introduced in iOS 7. There are more chances and so many cases that iPhone getting stolen and now with this advanced security measure you can completely lock the phone from being activated on other carriers. Activation Lock on iPhone (iOS 7) will ask for your Apple account details, in order to accept another carrier SIM. So you can remotely wipe the phone data and leave a message on the home screen with your contact number.
If you have lost the iPhone, then people can contact you from the number you can display on the homescreen through this activation lock feature. No doubt, this is a powerful security feature addition with iOS 7.
Call and Message Blocking
Call Blocking and Message Blocking feature now integrated with iOS 7. You can block any unwanted calls and messages from a specific mobile number. There is no need to buy or install any app for that anymore.
Per App VPN
Now you enable and use VPN for any specific App that you have installed on your phone than using it for the entire iPhone or iPad apps. There are free vpn and paid vpn subscriptions available to protect you from various internet monitoring and threats. So when you want to use VPN on iPhone for any specific apps, now its possible with iOS 7.
There are some more features that are not explained during WWDC event due to time and other reasons. Apple iOS 7 beta 1 which is currently released only for developers may also get some slight design change and feature additions when it reaches the final beta. There are more chances for that and it is highly recommended to not try to install it on your iPhone that you use every day for making calls, messaging and emails etc., Its pretty buggy and i personally will not recommend to normal users to install it in their phone.
If you are so curious to see how the iOS 7 looks and feels in your iPhone, then also keep the following video handy, as it may help you to rollback or downgrade from iOS 7 to iOS 6.
How to Downgrade iOS 7 to iOS 6 ?
[youtube]http://www.youtube.com/watch?v=hNHZiVInpNQ[/youtube]
iOS 7 SDK
Developers now have more ways to create stunning and interactive apps for iOS 7 users. The iOS 7 SDK includes 1500 new APIs to create apps that will take the user experience to next level. Airdrop from Activity Sheet, UI Dynamics, MiFi Game Controllers, Spirte Kit, 60 fps video capture, iBeacons, New multitasking APIs and Automatic configuration are some of the APIs highlighted in the event.
iOS 7 is all new and i feel that it is so Apple when it comes to presenting the features it has added to this one beautiful mobile operating system. It depends on what you like after you use it in your phone. So give it a try and see whether you like it or not. Share your views with us in the comment box below.
Thanks for reading and have a wonderful day !