Ever had an idea of starting your own Auction website ? There are some famous auction sites in internet like Ebay, Flippa and so on. Website auctions are so trending all the time where people who love to buy products online use such sites. Creating a professional auction websites for all types of products is not that easy.
Listing the products in categorized order with best appearance is always must for an auction site. Otherwise it is tough to engage with the buyers. Auctionpress theme from premiumpress helps you to set up your auction website instantly. One of the easiest and best ever WordPress auction script.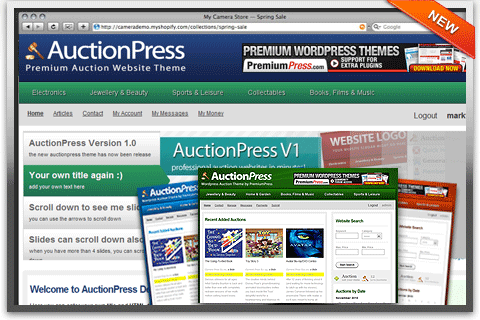 WordPress Auction Script
Here i have an impressive wordpress theme for you to start your own Auction website. Yes, now you can start it all with your lovable wordpress platform.
Auctionpress Coupon Code
AuctionPress is the perfect solution for creating professional auction websites for all types of products and services including Flippa style website auctions or eBay style product auctions. Getting started with AuctionPress is super easy, you simply install, select your auction template, choose your layout and pricing options and your ready to start accepting new auction submissions from website visitors.
If you are looking for premiumpress discount coupon for any other themes then please do check the link enclosed.
Leave your website url here once you setup the Auction site after purchase. Have a great day !
[starrater tpl=10]