HTML5 is going to be the future of Web without any doubt. Tablets, Mobiles and Web Browsers in computers started to get more and more HTML5 applications by webapp creators and developers world wide. Learn HTML5 Online with Examples and Free Tutorials today. HTML5 has so much enhanced features that allows programmers to add more elements to their applications and websites. You can add video, audio and canvas that combined, makes a beautiful full feature rich websites and web applications. HTML5 reduces the number of software you got to install in your Windows, Linux or Mac OS X by playing video, audio and animated images without any additional requirement of third party plugins.
You may also like to read our recent post, best resources to learn swift programming language where you can find materials, courses and video lectures to train yourself with iOS and OS X App Development.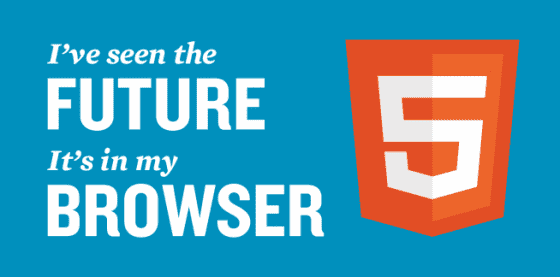 You can produce web pages that looks stunning and creative totally. Though there are some talks about HTML5 vs Flash, we got to think for a minute that Flash is in development for many years and HTML5 arrived recently with this many possibilities. So in upcoming developments, HTML5 (which is still in development) can do better and become the best for PC's too. Microsoft, to bring HTML5 and Javascript built apps to the PC through their next upcoming operating system Windows 8.
Learn HTML5 Online for Free
Now you can learn HTML5 and become a webmaster who create awesome looking and feature rich websites and applications. With New Elements, New Attributes, Support to CSS3, Video and Audio 2D/3D Graphics, Local Storage, SQL Database and Web Applications supports and future integration HTML5 will become the future of the web.
Remember, that HTML5 and Javascript combination started to rock the web, and it is important for you to think about learning Javascript as well. Here i have a recommendation for you to try out buying three printed books by famous authors.
Introducing HTML 5 (Voices that Matter) by Bruce Lawson
Javascript and JQuery: Missing Manual by David Sawyer McFarland
Alright, lets have a look at some free resources that helps you to learn html5 online.
W3Schools – HTML5 Tutorial
Favorite tutorials website for many to understand the basics of any web programming language. They are the best always and the same happens with HTML5 Free Tutorial as well. You get full HTML5 reference with W3Schools. Examples and Exercises in each chapter makes the life really easier when we learn HTML5 with this website. By giving more precise information about each tags, canvas and features of the programming language, you can do better once you have completed the chapters provided.
HTML5 Doctor
This is actually a blog that contains lots of useful data that will come handy when we need as a reference for HTML5. Dont miss the Element Index part where they have listed all the HTML5 Elements in a clean alphabetical order with examples. This website appears like, maintained by experts who also accept questions from visitors through their Ask Doctor page.
HTML5 Tutorial
Excellent website with good set of tutorials, you got to navigate page by page to read all the chapters explained there. This website can really a good start for you to learn html 5 in short time. Start your HTML5 Lessons right away by clicking on this link.
Codecademy
If you wanted to learn HTML5 with a package of other web programming languages that will help you build a beautiful website, then give Codecademy a try. It is the best website to learn html5 online with interactive step by step walk through for hands on learning experience. Create Responsive websites for yourself and your clients in future.
When i talked about Responsive Websites, i also wanted to highlight PremiumPress Responsive Themes and Designs for creating websites instantly. Just give Premiumpress Themes Review a read, and you will definitely like them to start your niche based business website.
Thanks for reading and you may share more HTML5 online tutorial website that you have found as the best and like to share with other readers in the comment box below.
You may now share this post to help your friends to learn a language that is going to be the future of the web.