Antivirus software's are very essential to protect your Windows PC against Viruses, Worms and Malwares. Every minute new malwares and spywares are popping up and gives Windows users hard time by affecting their System performance, Productivity and Time. Here, i am happy to bring you Bitdefender Antivirus Plus 2017 Review to help you decide your next antivirus software to protect your Windows computer from all types of threats and attacks.
By the end of this Review, do get our exclusive Bitdefender Discount Coupon Codes 2017 to avail up to 50% Offers on popular titles.
Also Read, Bitdefender Internet Security 2017 Review and up to 50% Discount Coupon Codes
Honestly, i feel that in today's scenario, Antivirus is not enough for a computer that goes online frequently. We still need an antivirus software but with more powerful features and technologies to stand in the battle of Online Threats and complex malwares.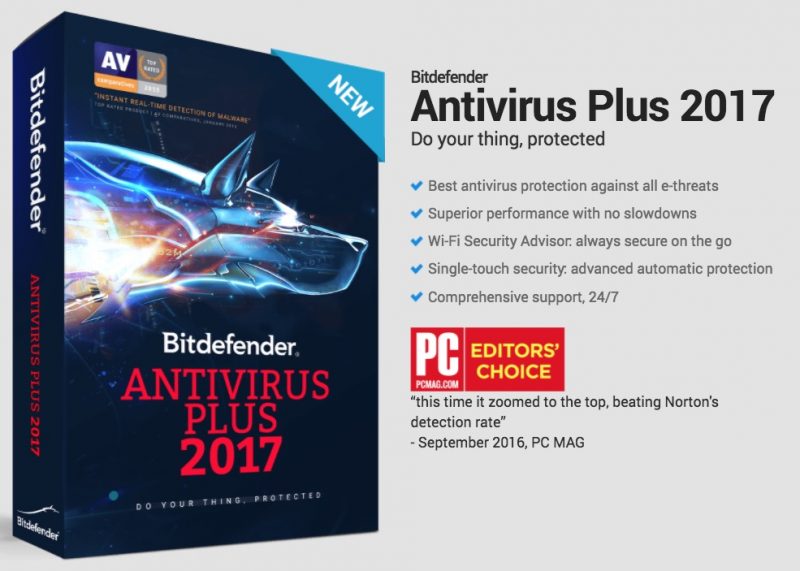 Bitdefender Antivirus Plus 2017 is definitely the best choice if you want an antivirus software for a PC that mostly stays offline and rarely connects to Internet. Windows PCs that mostly deals with data entry works and office related works can fit in this situation and Bitdefender Antivirus Plus 2017 should be very useful in protecting the PC against Viruses, Malwares and Spywares. This will ensure that the Windows PC stays healthy and available every time you turn it ON.
You should consider getting an Internet Security Software suite to protect a PC that goes online regularly. Here we have a comparison about Bitdefender Antivirus vs Internet Security vs Total Security which you might find useful in deciding which security suite to download.
Bitdefender Antivirus Plus 2017 Review
In my personal experience, Windows PCs that i have installed Bitdefender Antivirus Plus 2017 at office environment runs smoother and zero security issues so till date. Renewed the licenses for more than 2 times and the customers are happy with the performance and value for money they get. As i mentioned above, for office environment like Windows PCs that is connected to local area network and requires all type of basic level of security features, Bitdefender Antivirus Plus 2017 does the job perfectly.
These computers are connected to Internet all the time via LAN, and i recommend them to turn off the automatic update feature and turn it ON, once a week to receive the signature database update from Bitdefender servers.
***NEW*** Bitdefender Antivirus Plus 2020 Coupon Codes save upto 50% Storewide Discount.
WiFi Security Advisor – Planning to use this security software on Laptop? It is good to see the latest version 2017 comes with Wi-Fi Security Advisor that protects your Windows Laptop from Threats, that could possibly originate from Connected Hotspots and Public Wi-Fi networks.
You can do all the shopping, banking without worries about some one listening to your network connection without your knowledge, when you have installed Bitdefender Antivirus Plus 2017 software.
Advanced Ransomware Protection – Another important addition to this 2017 version is Ransomware Protection, that makes sure, your files and data are 100% secure from Ransomware attacks. This rising security issue can happen to anyone, where an attacker remotely access your computer and encrypts the hard drive with all your precious data in it. He will then demand a ransom to unlock and decrypt your hard disk drive and let you access your data.
Microsoft releases security updates every week to patch and fix vulnerabilities found in their operating system. New security issues arise every hour and it is not easy to protect your Windows PC from latest security threats. That is the reason we should get a security software to protect windows pc from all types of malicious attacks and threats.
Bitdefender Antivirus Plus 2017 should be an excellent choice as your antivirus software for Windows 10 PCs and earlier versions. Just make sure you update the software virus signature database weekly once or two weeks once to stay secure.
Conclusion:
There is no doubt that this software stands as the best antivirus software continuously for the 5th year receiving many awards. Also, satisfied customer ratings are going high every day and bitdefender runs silently in your Windows PC protecting your computer and all the data you store in it 24/7.
If you are looking for a complete basic level of protection for a Windows PC that connects to Internet lesser and mostly used in office environment for USB connectivity and other local purposes, Bitdefender Antivirus Plus 2017 should satisfy your needs.
Have you used Bitdefender Antivirus before? Looking for a better antivirus software for Windows PC? then do let us know in the comment box below, how much you liked our suggestion today.
License Info: Single User License / 1 Year
Store Price: $39.99
Discount Price: $29.99
Download Bitdefender Antivirus Plus 2017
Thanks for reading and feel free to share a word about Bitdefender Antivirus Plus 2017 Review and don't forget to use the Bitdefender Discount Coupon Code 2017 to avail up to 50% Offers. Have a wonderful productive day.