Fusioncharts has released its new version fusioncharts XT recently and that changes the way your web application works. Now you can create stunning web applications with charts in it that gives first and best impression for your visitors. It is not just about the charts that look good on your webapp, now it also makes your visitor to feel good. One more important highlight i like to make here is, these charts have brains 🙂 Yes, they can find out the best position for numbers, captions and labels and rearrange accordingly to keep you more smarter while reporting.
[youtube width="600″ height="344″]http://www.youtube.com/watch?v=V384KhODRnE[/youtube]
Now you can use Fusioncharts XT anywhere and everywhere like, dashboards, reports, analytics, surveys, monitors, polls and much more.
Create Stunning Web Charts
Fusioncharts will let you create stunning charts that totally changes your website or web application design and experience to your visitors. It really matters how your charts look and serves the content to the visitor. During the process of reporting, the presenter have to use attractive charts that minimize the questions and helps the attendees to understand very well. Fusioncharts does that for you without any doubt.
Tooltips, Drill-down, Chart export, selective display of data and scroll zoom to the chart are some extra ordinary features to show off the best during presentation.
As a Presenter, you can simply drag and drop in many areas to build your great looking charts for web and other reports.
Less Load on your Servers
This has been a serious consideration for the development team of fusioncharts to standout as the best from some of its competitors. In general charting systems, the charts are generated as the image at the server side. So for each chart, the user request taken to the server and processed. This is ok for usual images, how about building a complex images on the server and then streaming it to the client ? That really increases the complexity and eats plenty of server resource generally.
But fusioncharts loads only the essential files in the server and the remaining things happen at visitors computer end. So you dont have to worry about the server load at all, and your server respond quickly as only less load takes place.
Perfect suite for Cloud Storage that saves Thousands of Dollars Every month.
Animated and Interactive Charts
That will make your visitors say WOW as the first word after visiting your website or webapp. You give the input data and fusioncharts builds an amazing animated and interactive web charts for your data to stun your visitors without any delay.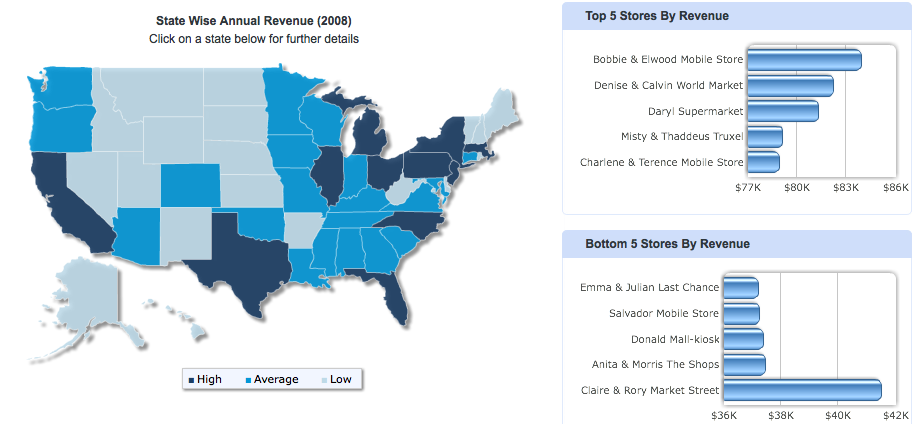 Javascript (HTML5) and Flash based Charting
Fusioncharts renders charts using Javascript HTML5 and Flash, gives you totall the best of both worlds. As you know Javascript and Flash are two awesome mates, makes the execution of charts in any platform. No matter which device your visitor uses to access the website, whether it is PC, Mac, iPad, iPhone, iPod Touch, Android Smartphones or any other mobile devices simply pulls the content from the server and plays it seemlessly.
Supported Chart Types
Fusioncharts supports plenty of types when it comes to charts, they are pie, bar, line and area etc., Also it supports advanced chart types like combination, scroll, zoom line, XY Plot, Marimekko and Pareto Charts. These charts are widely used to prepare reports in web and other applications today. Every chart types has its own unique qualities and features set. Thats why fusioncharts supports advanced options like dual axis, trend lines/zones, missing data, advanced number formatting, color themes and customizable tooltips as well.
AJAX Enabled Charts with Extensive JScript API
There is a tight integration with Javascript and the charts that are generated using Fusioncharts. Hence it allows the client side chart or attribute update easier. This also brings another great feature in charting where you can clone charts if you want to produce another great looking similar charts as you wish.
Unlimited Drill-Down Supported
No other competitor can stand near when Fusioncharts stands in the stage. This perfect report generation tool has multiple levels of drill down support and almost they are unlimited actually. This software also introduces Linkedcharts as the industry first that lets you create unlimited drill downs without any additional code.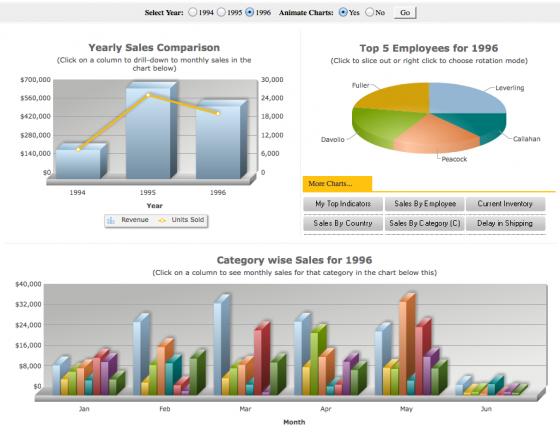 Exports to JPG, PNG, PDF and CSV
Export feature in fusioncharts is another highlight where the charts that are generated using flash can also be exported to JPG, PNG or PDF format which makes the task much easier for further sharing. You may also copy the data from the chart as CSV.
Trusted and In-Use by Fortune 500 Companies and Most Popular Websites
Within short period after fusioncharts launch, there are so many giant corporations who have purchased and using this chart software in their every day reporting and applications that lets their customers, employees to experience and know the statistics and so on. It is one of the major Charting software used by Fortune 500 Companies for their reporting needs. Popular websites like Google, Weather.com, Federal IT Dashboard, AWeber, PollDaddy, StatCounter, Wufoo, LinkedIn and so many giants are using this in their every day tasks.
Fusioncharts FREE Download
No matter what you read or see in the web, it is really must to experience it before you purchase it. How about giving a free trial run of Fusioncharts software before you go for the full version of your choice ? Go ahead and visit Fusioncharts Download page to get your free reporting tool that lets you create stunning web charts to impress your customers today. Fill out the simple form in their trials download center to choose your choice of software and start experiencing it.
Do check some sample applications of fusioncharts as well.
There is lot more to talk about Fusion products. Will see you in next article with some specific features and review. Thanks for reading and do share this post to let your friends also know about this great product.
If you like to see a review of your Product, Software, Theme in our blog, you may write to us [email protected] to get it reviewed here.