AT&T require wireless spectrum now more than ever. After the decision not to merge with T-Mobile, AT&T requires a new way to gain access to a large wireless spectrum.
For years there was speculation that Dish would be bought out by AT&T but it was not until recently that the need for wireless spectrum made the issue even hotter. We all know that AT&T requires wireless spectrum and Dish was buying it. Acquiring Dish would be an easy way to get spectrum.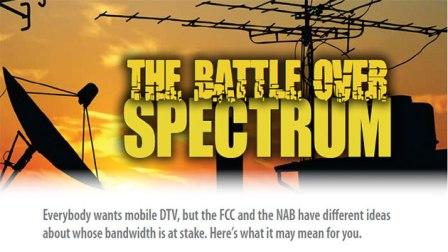 Image Credit: CNet
It was not so long ago that Dish said it was looking to acquire the bankrupt communications company DBSD, for $1 billion, a decision that would give the satellite TV service provider access to a chunk of 20 MHz MSS wireless spectrum. This spectrum is actually worth three to five times more than what Dish is paying ($3-5 billion).
Combined with the fact that Dish chairman Charlie Ergen is deciding to buy another 20 MHz of MSS spectrum, owned by TerreStar, it seems that AT&T may not be able to resist the temptation to buy Dish.
An 8% ($1.82) increased of Dish Network Shares was quite interestingly seen on December 8, 2011. This however, was after Jonathan Chaplin, Credit Suisse analyst, stated that it was the right time to buy the satellite TV service provider – for AT&T at least.
According to the chairman, AT&T was previously hungry for wireless spectrum. However, with the rise in smartphone usage, AT&T has become like a starving child; desperate for wireless spectrum. AT&T internet is already high quality, by acquiring Dish; AT&T would be able to use a large amount of high-quality frequencies.
With all that Dish has and all they will acquire, AT&T could possibly offer $20 billion for Dish and EchoStar, 70% more than they are actually worth.
Although Dish network is a satellite-television company, the large amount of spectrum that it has could prove to be really useful to AT&T. This could prove increasingly useful after Dish acquires the additional spectrum.
Here is what makes things interesting. AT&T is building its 4G LTE network and so requires a lot of wireless spectrum. The spectrum that Dish bought at a recent spectrum auction is at the same frequency as AT&T's 4G LTE network – interesting. Here is where the patterns connect. Dish is also planning to create a 4G LTE-Advanced network that is compatible with AT&T's 4G LTE network. AT&T also has future plans for an advanced 4G LTE network. Acquiring Dish would make their future plans cheap; really cheap. That would also lower the prices of AT&T internet.
AT&T had also been reported of looking to enter the television industry on a national level. Although their You-verse service does provide television service, it is not nationwide nor does it even reach half the number of viewers that Dish reaches. AT&T could lower its programming expenses by using Dish's existing contracts. This would also allow them access to Dish's 14.3 million video customers; 11.3 million more than what AT&T has for U-Verse.
However, not everyone is so sure that acquiring Dish is the right move. An analyst at Recon Analytics, Roger Entner, said that AT&T's decision to buy Dish will more than likely provoke another fight with the Justice Department and the FCC.
Most analysts have not even considered that Dish may not even be interested in selling to AT&T. The CEO, Joseph Clayton, said that he would rather merge his company with T-Mobile. This would create even stronger competition between Verizon and AT&T.
It seems that AT&T has really strong reasons for buying out Dish. The larger and cheaper spectrum, the compatible frequencies, the matches in plans and the television services all make way for great reasons to buy Dish. In time, we will find out what the true position of AT&T is on this issue. It may just be another consideration rather than an acquisition.
However, if they do acquire Dish in the future, things could get really interesting. It could mean good times ahead for current AT&T customers or it could prove to be a really bad decision for everyone – only time will tell. However, one thing is clear. AT&T need a lot of wireless spectrum and is going to get it; one way or the other.