Micromax Canvas HD A116 unboxing and quick video review. Micromax has opened booking for A116 on February 14th, 2013 (valentines day) and from the day 1 the demand was so high. NDTV mentioned that Micromax was selling 25 phones per minute on the first day of booking for Micromax a116 canvas HD. The previous handset from micromax which is A110 is already in so much demand in stores and in online shopping websites. People are paying some extra thousands to get the phone from online shopping websites.
[youtube]http://www.youtube.com/watch?v=qTqC4pYk9FE[/youtube]
This Quad Core beast has also got some introductory offer of 20% OFF (Rs 13,999) from the actual price point which is Rs 17,350 (around 320$). There is no need for any coupon code to get this 20% discount, you can directly visit the Micromax website and the orders are processed by snapdeal and the 20% introductory promo code is applied by default, mentioning it is valid for a limited time. You can find the unboxing of micromax a116 canvas HD in the video above. I have tried my best to explain how I felt when I used it for the first time and some apps usage in the Jelly Bean 4.1.2.
Micromax Canvas HD A116 Specifications
Let me highlight the specifications of this android jelly bean 4.1.2 powered Smartphone. Micromax A116 Canvas HD has a 5 inch display that just makes me feel like I own Samsung Galaxy S3 in my hand.
Screen Type and Size: IPS Display, 12.7 cms
Android OS: Jelly Bean 4.1.2
Dual SIM: Yes
Processor: 1.2 Ghz Quad Core (type MT6589)
Memory: 4GB Internal / 1 GB DDR 2 RAM
Expandable upto: 32 GB Memory
Camera Rear/Front : 8 MP / 2MP
Battery Capacity: 2000 mAh
Connectivity: 3G , Bluetooth 4.0 , Wi-Fi , USB 2.0
Video Resolution: 1280*720
Video Frame Rate: 30 fps
Video File Formats: H.264 encoder: baseline HVGA @15fps MPEG-4 Simple / H.263 encoder: 720p@ 30fps/12.5Mbps
Sensors: Proximity sensor , Motion sensor, Gravity sensor, Light sensor
Connectors: Micro USB (5 pin) , USB 2.0
Micromax A116 Canvas HD Review
The mobile feels great in hand and the 5 inch display is pretty good while watching videos and using some applications. Of course specially for Gaming. At this price point this is more than a budget phone in terms of specifications. Jelly Bean is so special than its previous android versions and it is one of the main reason that I choose micromax a116 mobile.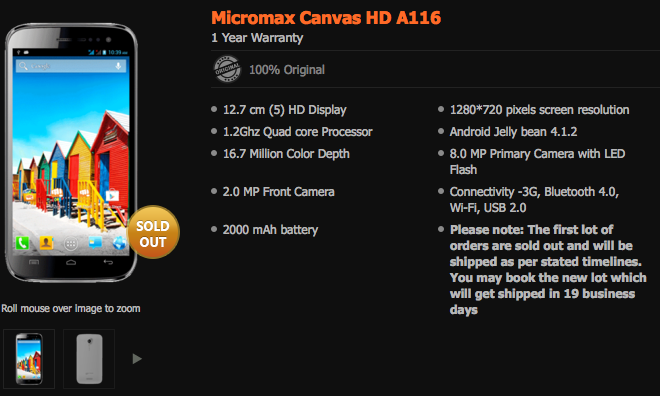 Micromax should really make this handset available in stores sooner, than letting the demand rise everywhere. It gives a chance for more online sellers sell it for some huge prices adding several thousands to the handset. Which is not at all good. Samsung should really reconsider the price points for phones they call as budgeted phones. The hardware and spec is important for a Smartphone which assures whether it will receive some updates in the future or not.
This light weight, thin and feature rich Android Smartphone will rock in terms of sales without any doubt. A116 is without a doubt the best quad core android mobile phone available till date. I would recommend this handset for people who are looking for best android mobile under Rs 20,000 (approx 400$) budget. If possible visit the nearest Micromax store and get your hands on Micromax canvas HD A116.
Thanks for reading and your patience. If you have any questions about this handset please leave it in the comment box below. I will be happy to answer them. Have a wonderful day !