Read Paragon Hard Disk Manager 15 Review and get a limited time 20% Paragon Hard Disk Manager 15 Coupon Codes and Discount Offers at the end of this page.
Paragon Hard Disk Manager is an all in one disk manager utility for Windows and Mac operating system. It is a doctor for your Hard Disk problems and has advanced technologies built-in to allow Network and Tech Support team to effectively fix and repair issues. Paragon Hard Disk Manager 15 is a partition management utility, helps you with Virtual and Physical migration operations, Agentless MS Hyper-V Backup, Secure data wiping that supports HDDs and SSD Drives.
Also, we have an exclusive Paragon Coupon Code Discount of 20% Storewide on all products for you at the end of this post.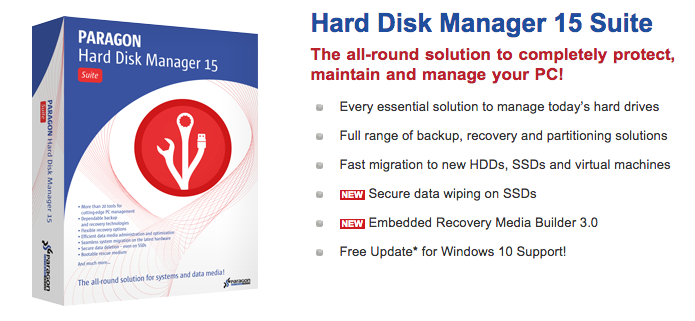 Getting ready for Microsoft Windows 10? Paragon Hard Disk Manager 15 will be compatible for Windows 10 and you can upgrade it for Free when you purchase the current version. Today we will explore all the features of Hard Disk Manager 15 and by the end of this article you can decide and purchase this software.
Get 40% Discount Coupon Code Offers on Paragon NTFS for Mac 12 for limited time.
Price: $19.95
Offer Price: $13.96
Download Paragon NTFS for Mac 12
Paragon Hard Disk Manager 15 Review
When we install Windows in our PC, there is no guarantee it will work without any trouble or causing productivity loss because of system hangs and crashes. It happens with Windows users every day and there is no need for any case studies or examples when we talk about Problems in Windows. You should know already, and most of the users who read this review must had some bitter experience with Windows PC. It is important to setup backup and recovery options, to prevent Data Loss when we work on some important office document. A dedicated system backup utility will be a good choice, but what about keeping your disk organized? keeping the files organized and if you want to migrate the data safely from one Windows PC to another?
It is not recommended to download backup software, partitioning software, partition recovery software, windows migration software as separate softwares. This will increase the system space and you have to spend hundreds of dollars to get such dedicated software for above mentioned tasks. We can now get all those essential hard disk management utilities as one software, and Paragon Hard Disk Manager 15 is the one i am talking about. Lets breakdown the features it comes with to under easily.
Paragon Hard Disk Manager 15 Coupon Code
We do have a 20% Storewide Paragon Hard Disk Manager Coupon Code Discount for you to save on purchase. Don't miss the offer as it is limited time and all our purchase link at the end of this post are embedded with the Paragon Coupon Code latest and working.
System & Data Backup
Paragon Hard Disk Manager 15 allows you to backup entire Windows PC or Individual System Partitions or Selected Documents, Photos, Folders and Files. You can also automate the process of backup operation with its built-in scripting engine. All these backups can be maintained as backup containers for easy restoration later. It supports pVHD partition format as well, to use as virtual Hyper-V Container. Select what you want to backup or take the backup of entire Windows System with Password Protection to prevent Unauthorized access to your backup files. Once you setup the password, your backup file will be encrypted and safely stored with BitLocker Encryption.
Partitioning & Optimization
Want to partition your Hard Disk Drive? You can easily do that with Paragon Hard Disk Manager 15. It has advanced partition functions to handle any hard disk partitioning tasks. You can easily install multiple operating systems on your hard drive after partitioning using this brilliant software. Not just HDDs, you can partition SSDs and HDDs with 4K sectors and RAID volumes as well. This is a premium partition manager which ensures perfection, and no room for disk related problems.
Paragon ConnectVD is a unique feature that allows you to access any Virtual Disk file that you have created using Virtualization Softwares to install Windows, Linux operating systems. If there is any booting problems, you can fix them instantly with few mouse clicks. All the tools kept in front for easy access.
Partition Recovery
Have a backup of your old partition or virtual environment created one? You can easily recover the data and entire backup using Hard Disk Manager 15 software. Different Hardware, Different Virtual Environments (such as VMWare, Oracle Virtual Box, MS Hyper-V) are not a problem at all. Simply restore specific partitions or individual files after browsing the or entire system if you want to restore.
PHDM 15 comes with Universal Image Mounter that gives you full access to all your files and you can browse inside backup files easily.
Migration Assistant
This is an all rounder migration assistant that helps you to migrate existing Windows system from any source to any target system or virtual environment. You can migrate Windows 8 from HDD to VM Ware or VirtualBox or the opposite way safely without loosing any data or problem in hard drive. The step by step guide will help you get the best result always. This is definitely the best migration assistant available for migrating Operating Systems from one environment to other.
Paragon Recovery Medium
Operating System failure will put all your important data at Risk. Paragon Hard Disk Manager 15 comes with another essential feature for Network Administrators and System Administrators. Paragon Recovery Medium allows you to boot any Operating System that has boot problems, issues. You can access all your files and backup important data. It also has built-in tools to fix boot errors or boot problems. Recovery Media Builder 3.0 is the secret utility behind this, that works super fast and allows you to create personal recovery environment in minutes. Overall the User Interface is very easy to operate and you can access data stored on Network Drives as well.
Create Recovery Discs and store them for later usage.
Dependable Data Wiping
Selling your computer or any gadgets that has memory cards, built-in storage drives? Did you know that expert level computer users can recover delete data or restore data from any types of storage drives with easy to use Data Recovery Softwares? Yes, it is possible and that is why Paragon Hard Disk Manager 15 comes with Dependable Data Wiping utility, to delete your personal data and other data securely from your old computers hard disk drive. Military Grade Wiping algorithm ensures there is no way to recover data from your old computers storage drives.
The latest version also allows you to delete data permanently from SSD Storage Drives safely without affecting their warranty or product life.
Hyper-V Backup Option
Microsoft Hypervisor is a popular Virtual Environment among Server side users. Mostly enterprise level users who use Hyper-V can now back up guest systems without the hard disk manager. This is called Agentless backup which allows technician to take backup without HDM to be installed on the Virtual System. You can protect multiple Hyper-V systems from a central location without Network access, and whenever Hyper-V is running. Paragon Hard Disk Manager 15 works very well with Virtual Environments.
BitLocker Support
You must be familiar with BitLocker term already, if you are using Microsoft Windows latest versions. It is also my favorite encryption tool and it comes with Paragon Hard Disk Manager 15 version. All your backup files are securely encoded with Microsoft's encryption BitLocker technology. Which means, this HDD Manager also used on drives which were encoded using BitLocker encryption.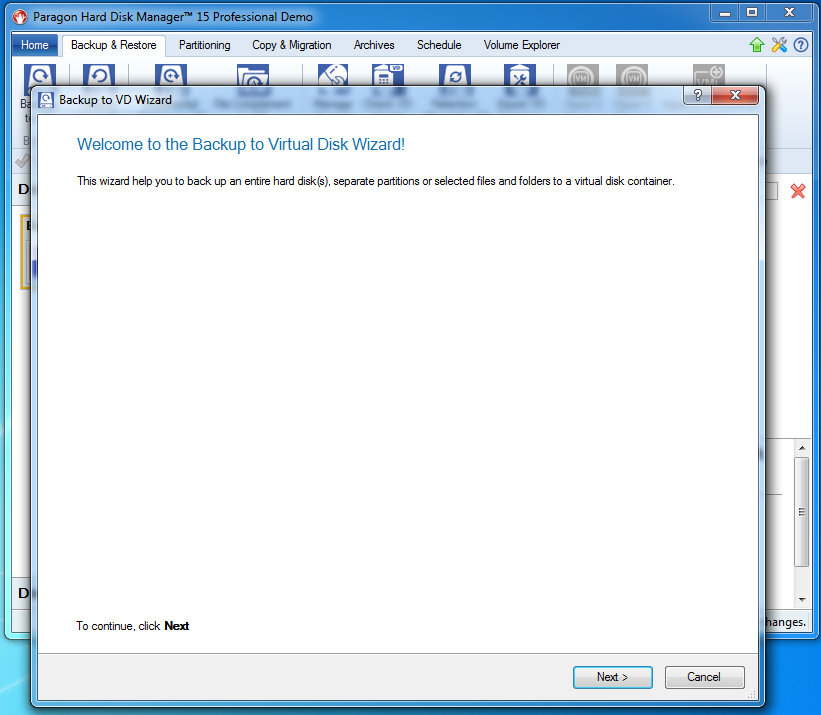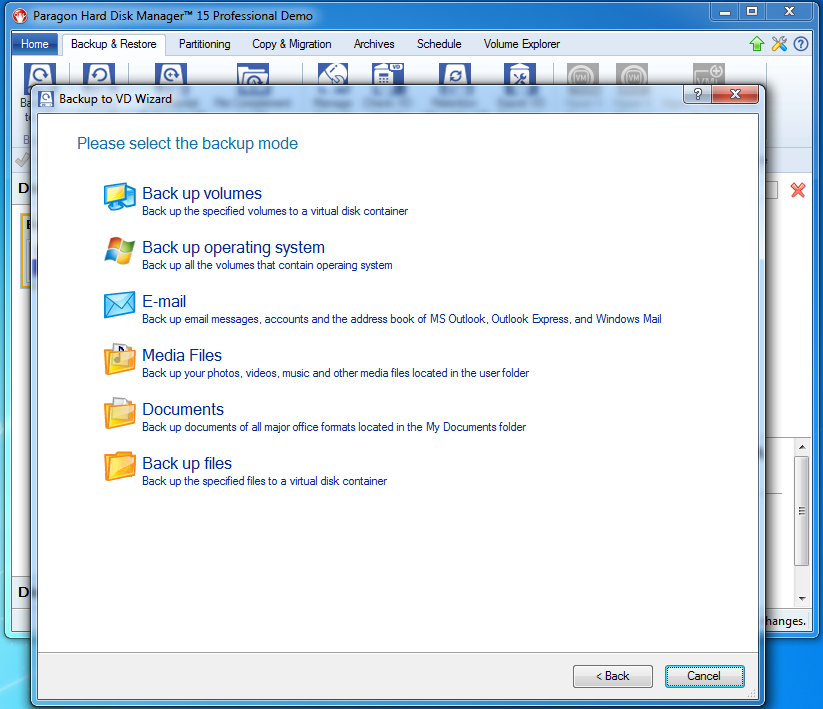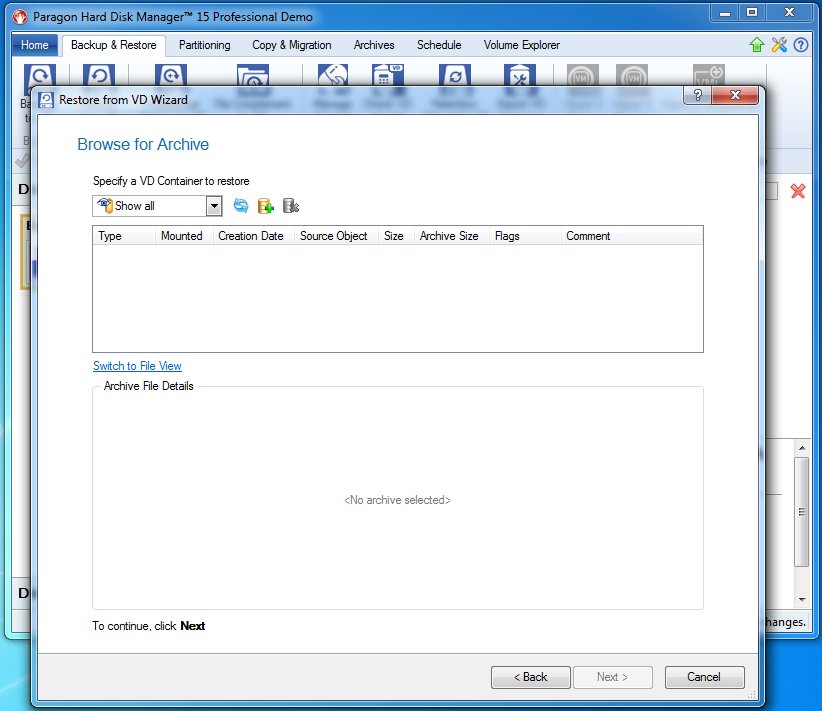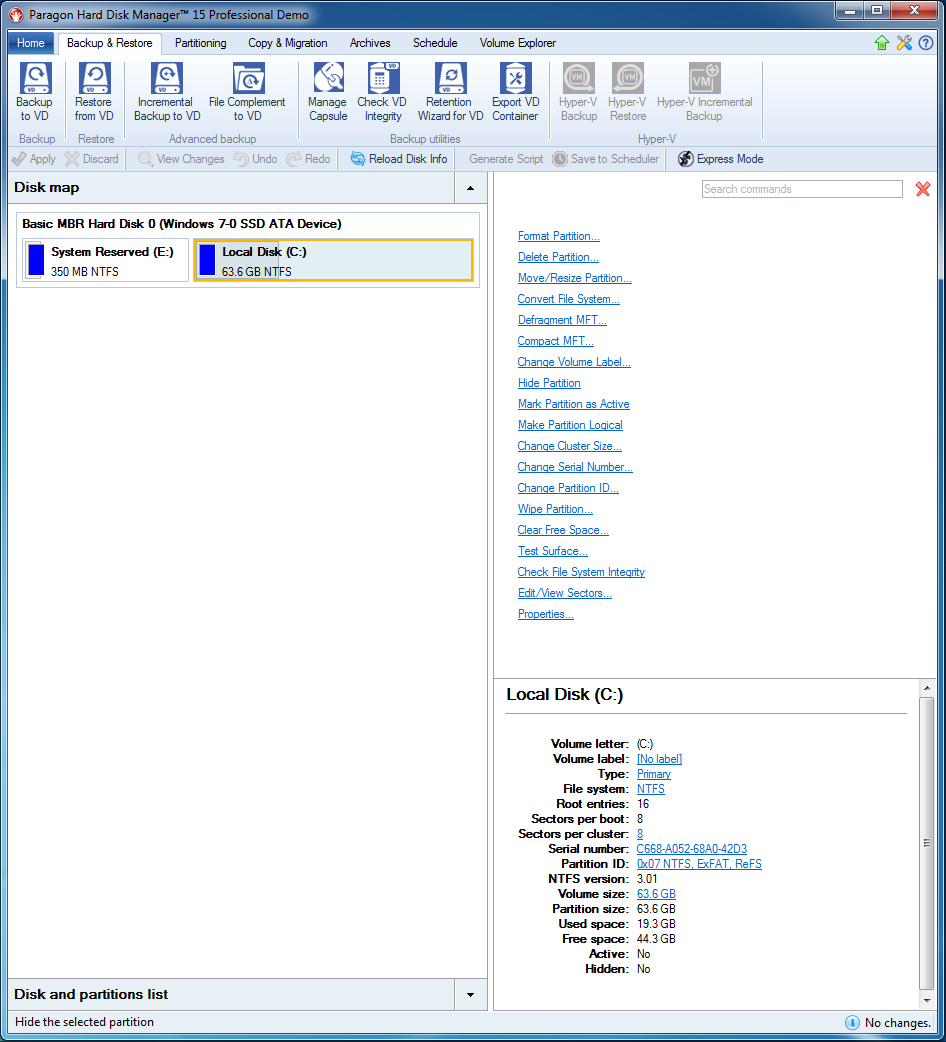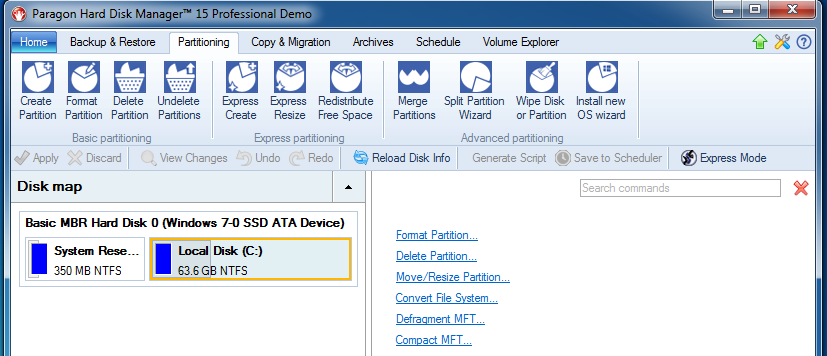 Conclusion
Paragon Hard Disk Manager 15 has got some good upgrades compared to its previous version. This is definitely an advanced Windows Partition Manager, Windows Backup Manager, and more. Backup existing Virtual Machines, Restore them as Virtual Machine on different environment, or install the backup operating system as real system without loss in data or configuration errors. PHDM 15 is an advanced all in one disk management utility for System Engineers, Network Administrators and Support people. This will definitely make your life a lot easier by automating backup tasks and by allowing wide range of flexibility in restoring.
PHDM 15 is very well compatible with Microsoft Windows 8, 8.1 and once Windows 10 released, this will definitely be one of the best hard disk manager for Windows 10 computers as well. HDDs, SSDs, VMWare, Hyper-V, Virtual Box, and all the environments now at finger tips.
Paragon Hard Disk Manager 15 Coupon Codes
Choose which Paragon Hard Disk Manager License Key meets your needs and purchase the one from following link. Your 20% Paragon Hard Disk Manager 15 Coupon Codes automatically applied at the payment page.
Paragon Hard Disk Manager Professional
License Info: 3 PCs (Family Pack)
Store Price: $79.95
Discount Price: $63.96
Download Paragon Hard Disk Manager 15 Professional
Paragon Hard Disk Manager Professional
License Info: 1 PC
Store Price: $99.95
Discount Price: $79.96
Download Paragon Hard Disk Manager 15 Professional
Paragon Hard Disk Manager Suite
License Info: 3 PCs (Family Pack)
Store Price: $79.95
Discount Price: $63.96
Download Paragon Hard Disk Manager 15 Suite
Paragon Hard Disk Manager Suite
License Info: 1 PC
Store Price: $49.95
Discount Price: $39.96
Download Paragon Hard Disk Manager 15 Suite
We hope you have found your best hard disk manager for windows today from Paragon. Don't forget to share your views and opinions in the comment box below after using this software. Thanks for reading and have a wonderful day.