Apple Mac is the best machine when we talk about Productivity. Virtualization (Virtual Machine Applications) allows us to connect and solve many problems faced by Mac OS users. Apple and Microsoft may be two huge competitors in business world, but they never forget to integrate their two different platforms with Apps and Software's. OS X is an excellent software but users who have introduced to Windows will find hard time initially when they start using a Mac computer.
Adobe Photoshop, Microsoft Office and many Windows specific applications are the main reason that people hesitate to switch completely to OS X platform.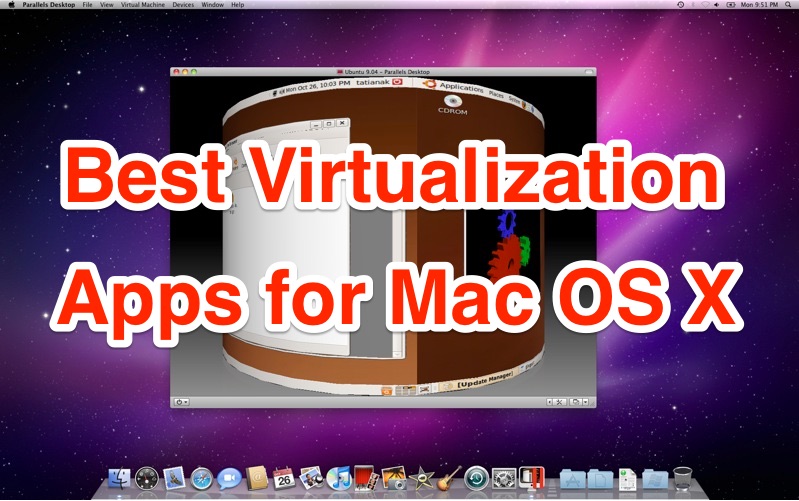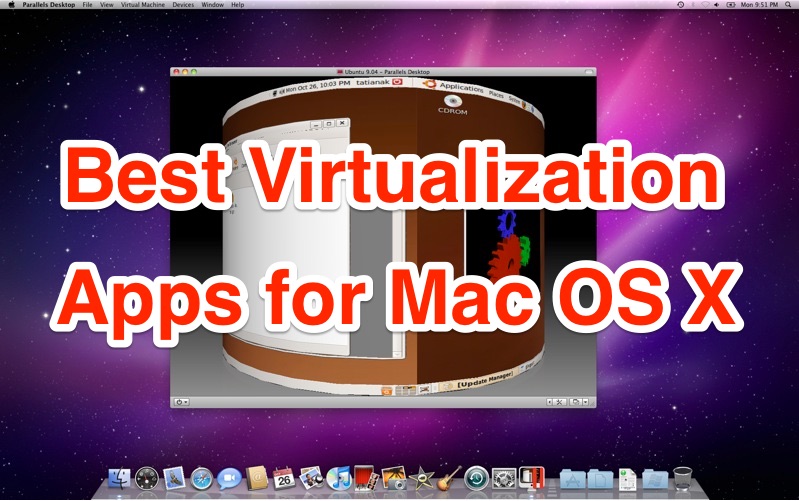 Virtualization allows you to run Windows and Linux inside Mac computer. When you choose premium apps for virtualization, they allow you to get remote access feature, for accessing the Windows and Linux OS installed in mac to be accessed outside the network using your iPhone, iPad, Android and other mobile devices.
Bought a new Mac computer? Download these Essential Mac Apps for your new iMac or Macbook. Also Check out these Best Free Mail Apps for Mac OS X if you are bored of default Apple Mail App.
Virtual Machine Apps for Mac
Install and Run Windows Software's, Games inside Mac OS X. Run any Apps and Software's without resource limitation as you can manually configure the RAM, Processor etc.,
Access your Laptop or Desktop hardware's (USB, CD/DVD Drive, Lan Adapters, Sound Drivers etc.,) inside Virtual OS (Windows/Linux).
Switch between PC to Mac easily.
All Linux flavors are supported by Virtual Machine Apps, so you can run Windows, Linux and Chromium OS and play with all the Apps available to those Operating System's.
Macbook Pro, iMac and Mac mini now a days comes with powerful Processor, RAM and GPU. You can allocate manually how much each virtual operating system should use and you can increase the storage space and other specification whenever you wanted.
Run Software's and Apps in Full screen.
There are very few virtualization apps are available for Mac. Lets start it with a Free App as the first one.
Virtualbox for Mac
It is a very popular Virtualization available for Windows for long time. Windows users who wanted to run linux (ubuntu, debian, cent os) inside their Windows prefer Virtualbox for several reasons. Its Free, supports plenty of linux distributions and gives more control over installed virtual operating systems. You can install Windows NT 4.0, Windows 2000, Windows XP, Windows Server 2003, Windows Vista, Windows 7 and Windows 8. When it comes to linux, it supports all the linux distributions to be run inside Mac OS X. Solaris, OpenSolaris, OS/2 and OpenBSD and most of the Unix flavors are supported by Virtualbox.
As a free app, it is decent and does excellent job to let you run Windows and other OS's inside your Mac. As it is continuously under development and being an open source software it is the best alternative for paid virtual machine applications available for mac.
Pricing: Free
Availability: Mac OS X, Windows
Download: Virtualbox for Mac
Parallels for Mac
Parallels Desktop 10 for mac is the current version, and being a premium, paid app for mac, it is a feature rich virtualization app for mac. Parallels 10 is well compatible with OS X Yosemite and delivers excellent features to run Windows XP, Windows 7, Windows 8, Windows 10 (Currently under Technical Preview) and all Windows versions seamlessly inside Mac OS X. You can also run Linux flavors like Ubuntu, Debian, Cent OS, Mint Linux and more inside mac. Not just that, Parallels 10 latest version also allows you to install Google Chrome OS inside mac.
[youtube]https://www.youtube.com/watch?v=pk5K28H-u6M[/youtube]
Download, Double Click and Install any Windows software right from your Mac desktop and it automatically installed inside your Windows Virtual Disk Space that you have setup already using Parallels.
Battery Life: Guaranteed best battery life and Parallels wont eat up your Macbook, Macbook Air Battery life.
Click to Call and iMessage Integration: Now you can make calls right from your Outlook or Windows Apps to any phone number using your iPhone, Also the iMessage works very well inside your Windows OS running on Mac.
One Click Tuning: Automatically set your virtual machine memory, cpu allocation tasks and get optimal performance.
Realtime Virtual Disk Optimization: If you wanted to increase the harddisk storage for your Virtually running Windows OS, do it in Realtime.
Mac Native "Save to" Features: Share files, text or webpages and let Windows access all your Social accounts configured in Mac OS X.
iCloud Drive Support: Share and Store Microsoft Office files in iCloud Drive and access them across any OS X, iOS platforms without any limits.
Launchpad Integration: Simply add any Windows App that you have installed to Mac OS X Launchpad for Quick and Easy access.
Drag and Drop files, documents and photos between Windows and Mac.
Easy to understand OS installation wizard helps you setup and run Windows, Linux OS quickly in minutes.
Parallels automatically allocates the RAM, Disk Space, Processor, GPU and other hardware resources available in your Mac, You can customize it anytime.
Coherence mode in Parallels Desktop lets you work with windows applications just like a mac application inside your mac desktop. It is one of the unique feature that no other software has.
You can run multiple Virtual environment using parallels without worrying about the resources. Parallels Desktop 10 lets you run Windows 7, Windows 8 simultaneously inside Macbook Air without any hick ups or slow speed issues.
Use all the OS X Gestures, multi touch, expose and spaces inside Virtual environment. It is also possible to install another OS X version for backup and other reasons, if you have a restore partition with you.
Its focused on performance and Parallels Desktop 10 is definitely the best productivity app for mac. There is no question about that. Run Adobe Photoshop in Mac OS X utilizing your macbook, imac hardware full potential.
Every time they release a new version with tons of cool new features, they charge you $49.99 in the name of upgrade license fee. Well its bit expensive, but if you want to feel the premium with virtualization app then go for Parallels without second thought. We do bring Parallels Desktop 10 Coupon Code but it stays for very limited time.
Price: $79.99
Availability: Mac OS X
Download: Parallels Desktop 10 for Mac
VMWare Fusion for Mac
VMWare is another paid virtualization app for mac that is quite powerful as Parallels 10. If you are looking for Parallels Alternative, then give VMWare Fusion a try. You can connect a Windows Laptop to a Mac using Ethernet LAN Cable and share the Windows Software and Applications easily to Mac desktop by running Vmware fusion software. Also, you can install a fresh copy of windows on vmware fusion and run multiple operating systems at the same time.
Run Windows XP, Windows 7 and Windows 8 versions and their Software's, Games inside Mac using VMWare Fusion App.
Coherence style app running is possible and you can run Windows Software's like a native mac app.
Sync with your existing Bootcamp installation of Windows and run it seamlessly.
Vmware fusion migration assistant helps you to connect and install windows and apps inside mac.
Vmware fusion 7 is no big difference in essential features comparison as a virtualization software, but when it comes to Parallels 10 vs Vmware Fusion 7, i prefer Parallels 10 for mac. If you wanted some alternative to parallels, then you can always give vmware fusion a try to get your job done.
Pricing: $69.99
Availability: Mac OS X
Download: VMWare Fusion for Mac
Conclusion:
If you are looking for a free virtual machine app for mac then get Virtualbox. Need a premium, quality app with tons of features? Then Parallels is the best i personally recommend. Feel free to post your questions and comments below. Thanks for reading and have a wonderful productive day.