There is a new Ransomware in town which uses old exploit that has been found from NSA Cyber Hacking Tools leak, is spreading across Windows PC's World Wide. So far, 99 countries and more affected with WannaCry Ransomware virus. It is important for you to Learn, how to protect your Windows PC from WannaCry Ransomware attack. Currently, many Government Offices, Railways, Hospitals and various other sectors using Windows PC got affected with this Ransomware.
It appears, UK is the most affected country in this Attack as of now. Especially, Hospitals across UK affected by WannaCry Malware. After infecting a PC, this malware starts to Encrypt the Hard disk drive and demands ransom for removing that encryption.
Also Read, WannaCry – The Largest Ransomware Infection in History
Users get no option, other than paying the ransom to the mentioned payment account details. Let's see few tips to Protect and Prevent WannaCry Ransomware infection to your Windows PC.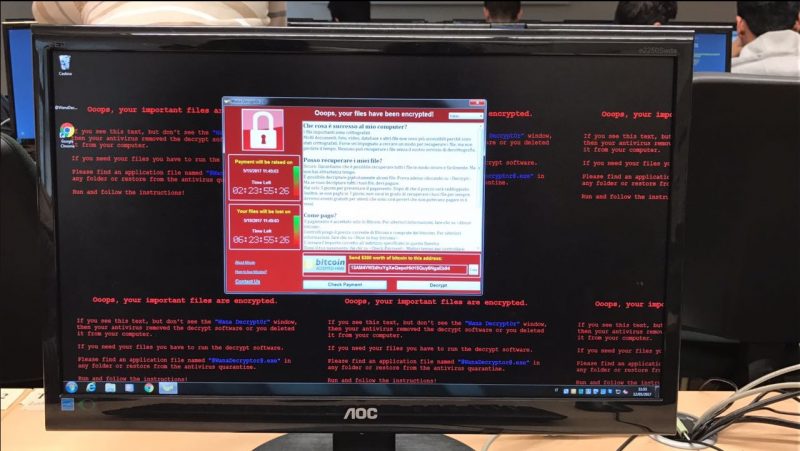 This ransomware uses asymmetric encryption to encrypt the files and folders stored in the computer. Private key is kept secret by the Hacker and will be given to the Victim only after receiving the ransom money. Ofcourse, we cannot confirm that the hacker may change his mind and demand more after you made the payment.
If you got infected by this malware and looking for WannaCry Removal Steps and Procedure, i don't want you to read tons of text's. Watch the following video tutorial,
Important Tip: Disable SMB service from Windows Features immediately to prevent infection of this Ransomware on your Windows Computer.
So, how this Malware #WannaCry spreads to Windows PC's initially?.
Phishing attack & Email Spamming – Where the hacker sends a fake website using Email Spamming technique to random email addresses. When the receiver opens the attachment file it automatically gets executed in the background and begins encryption the files and data stored in the HDD.
Website Downloads – Pirated websites are always the best source for hackers to spread malware. When a user download pirated applications and softwares from Torrents or any illegal download websites, it is possible to embed the malware for background execution in a Windows PC.
Image Source: @dodicin
How to Protect your Windows PC from #WannaCry Ransomware?
Here are some easy to follow tips to prevent and protect your Windows PCs from WannaCry Ransomware. Currently it affects almost, all the Windows versions including Windows 10. Windows XP is still used by many Government offices across the globe, Hospitals, Private Business Companies, Railway Stations, Airports and many more sectors. It has been discontinued by Microsoft officially long time ago, however, understanding the seriousness of this problem, Microsoft has issued an emergency Security Patch update for Windows XP users to fix WannaCry Ransomware attack.
#1 Update your Windows PC
Microsoft Windows 10 system with latest security patches and updates running, will be 100% safe against #WannaCry Ransomware. Microsoft also suggests you to install Windows Defender for protection against malware attacks and viruses. Download MS17-010 security patch from Windows update center to protect your Windows PC against Wannacry malware.
Regarding today's ransomware nightmare, it's very bad. Apply MS17-010 immediately, and urgently!

— Ryan Naraine (@ryanaraine) May 12, 2017
Windows XP users, download KB4012598 from Microsoft Website (linked) only to receive the update that fixes the exploit that allows WannaCry malware to successfully Execute and Run in your Computer.
#2 Install Antivirus Software
Popular, Premium Antivirus software's are aware of this attack already, and released an update to address WannaCry malware. So make sure you have updated your Antivirus's Virus Signature Database today morning as your first duty. Security Researches at Kaspersky Lab have recorded more than 50,000 attacks in 50+ countries so far with the traces of infection. There are many telecommunication companies that are still using Windows XP in their offices that stores customer data and other sensitive information.
Download Bitdefender Internet Security 2017 or Total Security 2017 from the following links that also brings you discounts up to 50%. Another recommendation from me will be, Kaspersky Internet Security 2017 software, where we also have Kaspersky Discounts for limited time.
#3 Disconnect – Network Connectivity
As this Ransomware spreads to other computers in the network exploiting SMB vulnerability, it is advisable to disconnect your Network Cable and Wireless Connectivity, till you fix Wannacry Malware infection in your Windows PC. This will prevent other computers connected in the same LAN Network. Turning OFF SMB incoming connection is also a recommended step to do.
We will update this post with more Tips to protect your Windows PC from #WannaCry Ransomware infection in coming days. Thanks for reading and feel free to share this post with your friends and followers at Twitter, Facebook and Google+. Help them protect their Computer from this worst Ransomware of the History. Have a great day.