The Internet is continually revolutionizing the ways in which we communicate with one another and share and store important data. Particularly in the world of business, this means that there is always a demand for newer and more innovative services for the simplification of file sharing and storage security. I used sharefile long time ago before Citrix acquired them in 2011. They were the best and now they are even better. Sending files or attachments never been this easier and the availability of the website is one big plus point.
I have tried few other sharefile alternatives, but not satisfied because of their slow upload speed, download speed and availability problems. Citrix has made Sharefile one powerful and essential tool to share or send large files and attachments via Email.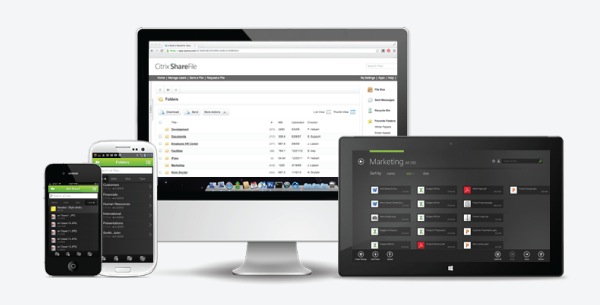 You can send a 10GB size file using Citrix Sharefile instantly, securely and quickly. Citrix has developed Sharefile Desktop App and Mobile App to let you send, monitor the status of the files you transfer. Efficiently upload, download and delete files without opening your web browser.
Citrix Sharefile Desktop App
Mobile and Tablet Apps for all platforms (iOS, Android, Blackberry and Windows Phone)
Plugin for Outlook
Backup all your Computer data with Sharefile Sync
If you are getting a business account with Sharefile, then you will get a free customization of Sharefile Portal to match your company website and logo at free of cost. +1 for that branding part, as it will help many businesses and small organizations to consider citrix sharefile than the other file sharing websites out there.
Send Large Files in Outlook
Perhaps the most basic benefit you can receive from Sharefile is the ability to send large files with ease. Basic emailing and storage systems are generally somewhat limited in terms of the size of the files they can handle. With Sharefile, however, you can easily upload, store and share single files up to 10GB in size. Depending on your Business or Personal needs, this can make data handling far more convenient for you. A simple plugin installation for outlook is available to let you send large files in outlook from your desktop.
Not just outlook, even with webmail and other free email service providers like Gmail, Yahoo, Outlook.com emails, you can now send large files as an attachment without worrying about limits set by the email service providers. Sending large files from mac mail going to be pretty easy here after 🙂
File Tracking & Security
People also love the security and file tracking abilities that come with a Sharefile account. To begin with, the Data Centers assure the utmost privacy and security when handling your files. Additionally, you can take advantage of Encryption options for both sending and storing files, and even track your communications to find out when they're received, and who receives them ! These features provide a great deal of certainty regarding your online file sharing. Additionally, you can set up communications in advance to go to predetermined groupings of recipients.
Cloud Storage & Syncing Options
Included cloud storage allows users to sync files on any devices they might use, through their Sharefile accounts. Basically, if you save data to your account "Cloud," rather than to a specific device, you can then access that data through other devices. Additionally, Sharefile allows other convenient syncing options with various programs.
For example, you can Sync your Sharefile account with Microsoft Outlook to gain access to previously stored contacts and other personal information. This is a helpful tip in particular for your initial setup, and for integrating your computer and personal devices with Sharefile.
Widget & App Access
Finally, for the simplest possible use of your Sharefile account, you can also access all of the above listed services through simple desktop widgets and mobile apps. This easy implementation of file sharing and storage services makes for a quick transition, and makes accessing your account as easy as clicking an icon. Here is a video presentation from Citrix TV that gives a clean introduction and features built-in (SaaS) to make you decide the best file sharing or cloud based file sharing software for your business.
[youtube]http://www.youtube.com/watch?v=APVtqDa3gf0[/youtube]
Here we have some list of other articles by us that you may find it interesting to read and share it with your friends and followers as well.
Let us know in the comment box if you have already used Sharefile or planning to get one for your business after reading this article. Thanks for your time and have a wonderful and productive day.