File uploading has become an important activity in our day to day life. Especially for webmasters and people who do their business online. When it comes to Mac, already it has got some simple steps to upload your files online. Comparing to other OS platforms you can quickly upload files in Mac OS X. To upload your files even faster and in a simple way there are a few applications available for Mac Computers.
Today I'm going to list you five best applications to quickly upload your files from Mac OS X. The following apps will be a combination of both free and paid versions. You can try free applications before you buy the premium ones. Let's have a look at the application below.
Cloud App
Cloud App is a free quick file uploading app for Mac OS X. You can easily upload a file and get a link to share the file online. Just drag the file to a cloud app icon on the menu bar, it will be uploaded to the cloud storage. Using Cloud App you can upload Music, Video, Images, Folders, Zip Files and links. While you are working with safari or any other browser you can shorten your links easily using this app. Easily view the last five uploads right from your desktop and edit or delete them instantly. It is a best quick file uploading app for Mac OS X.
Dock Drop
Dock Drop is a must have app in your Mac OS X. The application is available for Mac OS X. Like Cloud App you can upload your files by just dragging it into the menu bar and get the URL to your clipboard. You can easily upload files from iPhoto, iTunes and Finder. It is supported for FTP, SFTP/SCP and WEBDAV Servers. Also you can easily upload your pictures to photo sharing sites like Flickr, etc. The application will be automatically closed after uploading so it will not be running when it is not in use.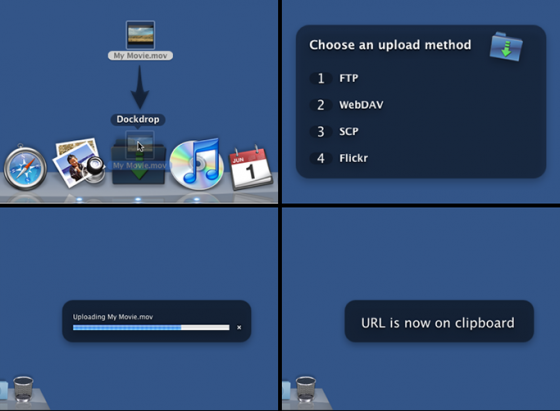 Courier
A courier is a premium file uploading app for Mac OS X. Courier exactly doesn't have a drag and drop feature but it saves you time  in uploading a single file to multiple sites. It allows you to easily integrate your Flickr, Facebook, Vimeo, YouTube, Amazon and any type of FTP accounts with this application. So that you can upload a video or a picture to multiple social networks at the same time. Also you have third party applications to add more online services to courier. Cost of this application is $10.

Dropzone
Dropzone works a bit different than other file uploading apps. It has a concept called circles which allows you to drag and drop the files on them to upload it. More than file upload Dropzone let you launch and install applications using it. Instead of keeping an application in your dock, you can keep it in dropzone also move the .dmg file to drop zone circles to install it. It supports for online services like Amazon S3, Image Shack, Flickr and all types of FTP Servers. The best part of the application is, if you want to zip a file and email it just drag the files or folder into a circle and enter the mail id. It will be automatically zipped and sent to that particular id. This application costs $10.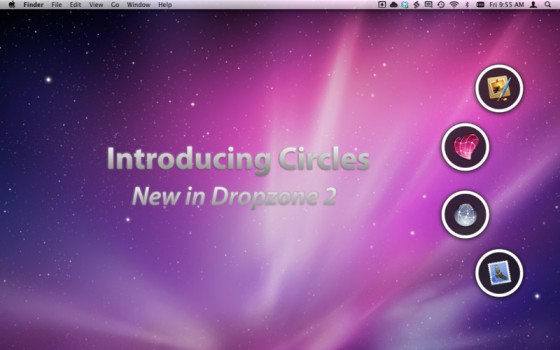 Dragster
Dragster is another simple file uploading app for Mac OS X. It is very similar to Dock Drop and has gotten little more flexibility than that. It is a premium app which has the same features like drag and drop, uploading to various online services but the unique feature of dragster is it supports for Bluetooth file uploading. You can upload files via any Bluetooth enabled devices to your online account. If you are expecting for a change from Dock Drop you can try this app. This application costs 19$.
If you have bought a new mac you may want to checkout some of the best essential apps for new macs and list of free email apps and paid alternative mail apps for mac os.
These are the five best applications to quickly upload your files online and sharing it. Try these applications on your Mac and share your experience with us in the comment box. Do let us know if we have missed any of your quick file uploading apps. Thanks for reading and you may now share this post with your friends and followers to let them also give these apps a try.