When it comes to Desk Mount Arm Monitor Stand for Bigger or Average sized desktop monitors, it is very tough to select the best one, correct one, that is flexible and affordable. You have to choose the Quality over the cheap pricing as the Monitor Stand will hold your expensive display monitor. We hand picked few best desk mount arms for LCD and LED Display Monitors.
By getting a desk mount arm to place your monitor, it gives excellent viewing angle and you can adjust it according to your seat comfort as well.
Monitor Arm Stands or Desk Mount Arms are available from $50 to even $500. As i mentioned earlier, the list of Desk Mount Arms you see here, are rated as best by existing users and they are happy with their purchase. You can easily setup the arm in your Desk and mount the display monitor in minutes. Just make sure you have bought VESA Mount compatible display monitor as the list of desk mount arms that we have suggested here requires VESA Mount compatibility.
Best Desk Mount Arms for LCD / LED Display Monitors
There are single desk mount arms, and dual screen monitor arms if you want to keep two monitors with one fitting on your desk. When you go for dual monitor setup, make sure the basement is strong and not just the corner of your table. Each of these Desk Mount Arms support up to 27 inch monitors. Best suited for Apple Thunderbolt Display Alternatives on your desk that is connected as secondary monitor with iMac, Macbook Pro, Mac mini or Mac Pro.
Even with Windows setup and for Gaming purposes, Mount Arms are not just a space saver, also the v
You will get the best geeky setup overall and comfort wise, monitor desk arm setups are the best without any doubt. You can adjust your monitor to any angle, which is not possible by iMac or any desktop monitor tilt angles. Sitting straight is very important when you work for long time in front of your computer. Desk Mount Arm for LCD and LED monitors does just that allowing more free space on your desk.
Also Read, Best 4K Display Monitors for Mac and Gaming
Alright, without any further delay, lets jump into the list of desk mount arms for LCD / LED Monitors.
Mount-It! Articulating Single Mount Arm
This desk mount arm starts from $35 and if you want to mount multiple monitors it goes up to $86 for 4 monitors. It has got best ratings from existing users and provides a very stable platform to hold your 27 inch monitor or less in size. You can adjust the height, tilt, swivel 360 degrees and rotate the monitor 360 degrees after placing it with Mount It Arm.
From 13 inch to 27 inch monitors can be fixed easily with VESA Mount and the Arm provides a comfortable viewing for you from any positions.
Double C Clamps located at the bottom of this Desk Mount Arm ensures safety and stable placement on your desk. It is almost invisible from the front and delivers excellent quality for long term.
VIVO Black Deluxe with Gas Spring Mount
This fully adjustable VIVO Black Deluxe Desk Mount Arm comes with Gas Spring that allows easy height adjustment with no tools required. You can adjust every part of this desk mount arm and it supports VESA mount compatible monitors 100 x 100 and 75 x 75 sizes as well. It has got very elegant design with C Clamp mount for easy installation on desk.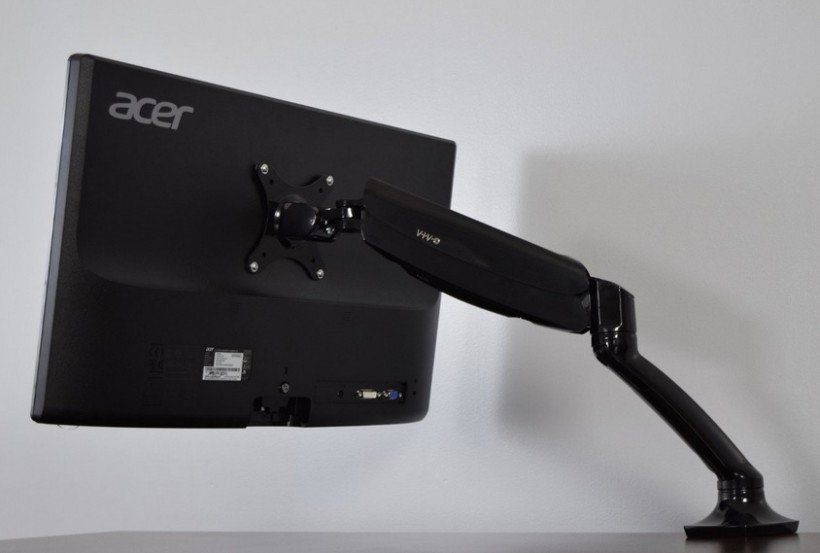 VIVO mount arm can hold up to 17 pounds weight. Hence you can fix your 27 Inch display monitor without any trouble on this excellent fully adjustable desk mount arm.
Customers who have bought this arm for single monitor use are very satisfied and happy. The sturdy finish and overall stable built gives good protection to your expensive monitor.
VideoSecu Wall Mount Arm
If you have placed your desk near wall then this wall mount arm will be very useful to you. It saves you lot of space on your desk and gives excellent flexibility. This isn't a desk mount arm, but one of the top selling and has best ratings by existing users who were looking for a cheaper and best wall mount arm to hold up computer monitors up to 27 inch screen size or television displays.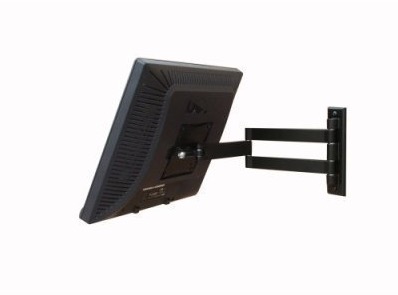 VideoSecu compatible with VESA 75 x 75 and 100 x 100 sizes. You can easily fix this on your wall and tighten the screen with the back side VESA mount on your monitor to get the work done. You can move and adjust it to get a comfortable view for working. Even above your work desk, you can place a Television or another third monitor attached to the wall mount arm.
Your external monitor will be safe and you get the best view of displayed contents right at your desk. This wall mount arm retracts to 1.6 inch and extends up to 14 inches from the wall to save space and provide excellent adjustable mode.
Also Read, Best 4K Video Converter Softwares for Mac and Windows
If you are looking for more Single Monitor Desk Mount Arm, then do visit the link. Lets checkout some of the best rated, high quality and affordable Dual Monitor Desk Mount Arm Stands to put up multiple monitors on your Desk.
FlexiMounts M6H Dual Arm Desk Mount Stand
Brilliant product from Fleximounts that is compatible with most of the popular display monitor brands and manufacturers. This arm is little different from other desk mount stands that we have seen. It is super flexible and built very strong and high quality to hold up big monitors.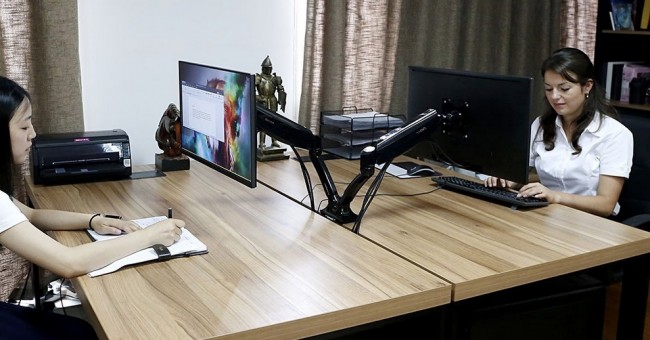 Two arms connected at one deck gives a unique style to this Dual Desk Monitor stand compared to the following stands we are going to see. Well, the price is double but has its own flexibility to differentiate from others products. You can extend each arm up to 20 inches and height up to 15.7 inches.
Installation is done in minutes once you perfectly tightened the clamps on your Desk. Never put the clamp on rounded edges or corners. Always prefer to fix the stand on flat edges for better stability.
Fleximounts Dual Arm Desk Mount Stand gives excellent viewing angles for two different users or for single user in the way you setup on your desk. Best suited for Office environment with space saving and viewing angles. Supports Curved monitors as well.
Mount-It! MI752 Dual Arm Desk Mount Stand
This Dual Desk Mount Stand will hold two desktop monitors that are VESA mount compatible. It supports monitor sizes from 22, 23, 24 and 27 inch display as well. You can perform Full Motion, Tilt, Swivel, Rotate after fixing the two monitors on the desk mount stand. It can hold up to 44 lbs weight which makes it one of the strongest desk mount arm stand to fix two big 27 inch monitors and save lot of space on your desk.
Not just space, also the perfect viewing experience and adjustable modes to write your coding, play games and work with your applications.
At the base of this stand, you will have two solid built clamps to hold the two big size monitors very well. You can fix them at your desk and it gives excellent grip and protection to your monitors.
VIVO Dual LCD Monitor Desk Mount Stand
Another top selling and very well built Dual Monitor Desk Mount Arm Stand that can hold up to two big 27 inch display monitors on your desk with excellent viewing angles for your eyes. VIVO Dual LCD Monitor Desk mount arm stand can hold up to 44 lbs of size and offers features like Tilt, 360 degree Swivel, 360 degree Rotate, Ultra heavy duty base Clamps. This stand is built using high grade steel and aluminum which provides stable and quality for many years in holding your expensive display monitors.
Most of the monitors that are above 23 inch size comes with VESA mount, and if you are buying a new monitor, make sure it has VESA mount compatibility for future use with Desk Mount Stands.
There are hundreds of happy customers already using VIVO Dual LCD Monitor Desk mount arm stand. Just go ahead and buy this excellent stand for your desk and get best viewing angles today. Be productive and comfortable every time you sit in front of your computer.
We hope you liked our hand picked collection of Best Rated, Reviewed Desk Mount Arm Stands for LCD and LED Monitors. Thanks for reading and don't forget to share it with your friends on Twitter, Facebook and Google+. Have a wonderful productive day.