Selecting a perfect display monitor is not that easy. I have reviewed Asus PB278q monitor sometime ago and its my favorite 1440p and best apple thunderbolt display alternatives. Asus really perfected it when it comes to Gaming monitor and PB278q is one of the best for Mac users.
Choices always confuse us from picking the best one and so listening to existing user opinions and feedback will help us decide better.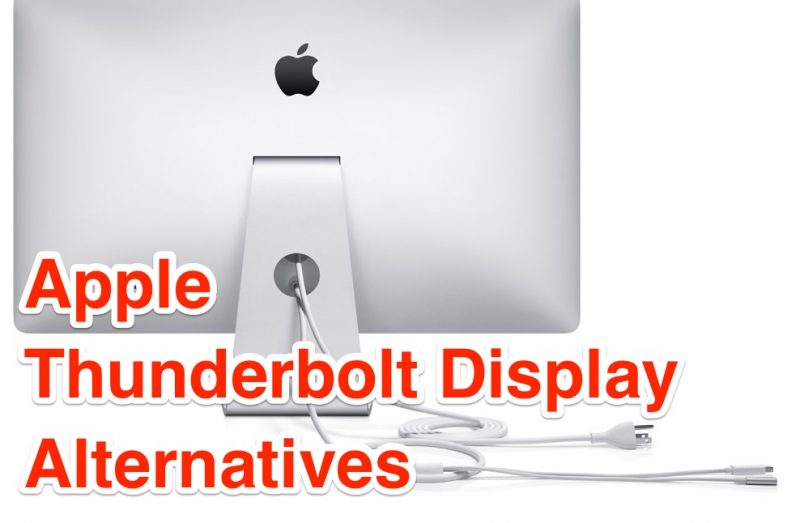 An year ago there were just two or three 1440p monitors, apple thunderbolt display alternatives, but today we have more choices and we got to pick the best one based on technical specifications and its quality.
We now have updated models and we also have some recommendations to get your 4K display monitor to experience Ultra HD Resolution for Designing, Movies and Gaming.
When you go for 27 inch display you should care about more screen resolution. Choosing 1080p monitor with 27 inch screen size is absolutely not recommended in my opinion, unless you use it for movie watching and some basic stuffs. It was unfit for my reading, writing and every day work tasks. Pixels were big and i missed text sharpness and good clarity in reading. I have tried one to use as my extended display with macbook pro and found the pixels were huge and totally uncomfortable to use for writing.
After switching to 27 inch with 2560×1440 screen resolution i am able to see the texts normal and picture quality feels absolutely great.
So always go for higher resolutions when you increase the size of the display monitor. Apple Thunderbolt Display that is currently available at Apple Stores are offering 2560×1440 screen resolution and they all come with Glossy screen just like iMac. It is the best display monitor for Designers, Photo and Movie editing professionals.
Best Apple Thunderbolt Display Alternatives
If you have a budget in mind to choose your next display monitor, you have come to the right place. Here i have hand picked few best apple thunderbolt display alternatives to be your next primary monitor with mac mini or extended display with your macbook pro, macbook air or imac.
You may also be interested to Read:
Bigger is Better
People who are productivity hungry should consider bigger display monitor to have the best workstation. If you have more CPU Power, Memory, and Plenty of Storage then bigger display by default brings better work environment. I am saying all these for people who are still thinking whether going for a bigger display monitor is a good choice or not.
Definitely it will be the best choice you have ever made and don't just limit yourself with the budget and think about 13 inch macbook pro or 13 inch macbook air.
Today i have hand picked few 27 inch 1440p display monitors for you to decide and purchase. I am also including amazon links to help you purchase instantly with some discount than the store price.
Asus PB287Q
This one is always a Rockstar in my opinion. It is my favorite professional monitor that is decent in power consumption, non glossy, 100% RGB, PLS LED WQHD Resolution that provides 178 degree wide viewing angle. Adjustable monitor ergonomics that lets you do full tilt, swivel, pivot, height adjustments and VESA Mount compatible. What else you need ? It is a fully loaded monitor that acts as my favorite apple thunderbolt cinema display alternative fits in the budget very well.
Connectivity / Ports: HDMI 1.4/ DisplayPort 1.2, Dual-link DVI, and D-Sub
At $100 price difference you may consider Asus PB279Q which is an LED 4K Monitor with IPS Display.
Samsung 27 Inch WQHD Monitor (S27D850T)
Its an Ultra High Resolution display monitor that delivers picture quality of 4 times FULL HD. One billion colors that is 64 times more color than a conventional monitor. 1 ms response time that fits well for you as your gaming monitor as well. Samsung S27D850T is the best 27 inch Ultra HD LED monitor.
Samsung's Picture by Picture 2.0 technology lets you connect two devices and view both screens simultaneously. This monitor will be good as a Gaming Monitor, Productivity Booster at your Office Desk, also for Watching Sports and Action Movies.
Ports: 1 x HDMI, 1 x Display Port, 1 x DVI IN and 4 USB Ports
Dell Ultrasharp U2715HM
Dell monitors are very popular among professionals and in corporate offices you can see it everywhere. IT Companies and other business sectors prefer Dell Monitors for their after sales service and support. Dell offers best picture quality and decent pricing for their products. And Display monitors have a great brand look and user experiences with Dell. Here we have Dell Ultrasharp U2715 which is a popular 2560 x 1440 monitor among Gamers and Professionals. Its a big display and has thinner frame to present the content in the monitor sharp and clear to viewers.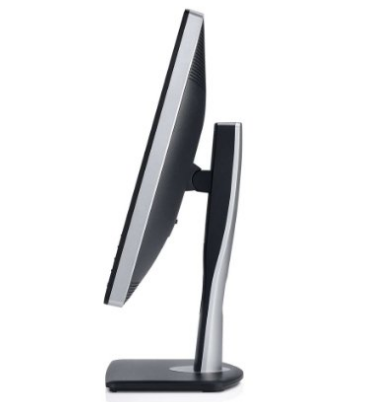 Dell U2715 has its previous generations but this one is quite successful than others. Brilliant picture quality and sharp texts for long time writing, designing and editing. Dell Ultrasharp U2715 is a WQHD display monitor that can be your best apple cinema display thunderbolt alternative. Offers great comfort and IPS Panel gives best viewing angle. Fully Adjustable Swivel, Tilt, Height and Pivot functionality.
I recommend this monitor to you specially for its connectivity features. If you want to connect your Playstation, Apple TV, and other HDMI devices and make this monitor all in one and want to switch among those devices easily then order Dell Ultrasharp monitor right now.
At a very little difference, you may consider Dell Ultra HD 4K Monitor for your iMac, Macbook or Mac Pro setup.
Ports: 2 x HDMI, 1 x mini DisplayPort, 1 x DisplayPort, 1 x DisplayPort Out, 5 x USB 3.0 Ports + 1 Upstream USB 3.0 Port.
BenQ GW2765HT 27-Inch 2560×1440 IPS Monitor, 4ms, 100% sRGB, HDMI, Height Adjustment
If you are looking for the best thunderbolt display alternative from BenQ, here is the one you can blindly go for BenQ XL2730Z display monitor. Rated as one of the best gaming monitor with 1ms response time and it does fits perfectly for professionals at their word desk. BenQ XL2730Z is an 144Hz High Refresh Rate monitor and delivers ultra smooth gaming experience as well. Texts and Images look crisp and stunning by giving you every bit of detail available.
If you are into Designing, then this BenQ monitor can definitely be, the Best Apple Thunderbolt Display Alternative next to your iMac, Macbook Pro, Mac mini or Mac Pro. BenQ XL2730Z has best ratings from existing customers and you can go for it, after verifying the available ports and connectivity options below.
Ports: 2 x HDMI, 1 x DisplayPort, 1 x DVI-DL, 2 x USB 3.0, 1 x USB 2.0, 1 x miniUSB
Acer XG270HU omidpx 27-inch WQHD AMD FREESYNC (2560 x 1440) Widescreen Monitor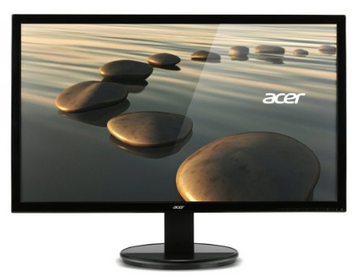 Acer is a famous brand when it comes to Display Monitors. They never fail to participate when we talk about affordable and cheaper 1440p led monitors. Acer K272HUL is a 27 inch WQHD Display that can be your alternative to thunderbolt cinema display monitor from Apple. This K-series 27 Inch LED monitor from Acer packs stunning 2560x1440p screen resolution and let you enjoy watching movies in its Wide screen that is 16:9 ratio with 6ms Response Time.
You may also be interested to check out the Acer 27 Inch 4K Ultra HD Widescreen Display Monitor at $100 extra.
Ports: 2 HDMI, 1 DVI, 1 Display Port (in) and 1 Display Port (out)
Nixeus Vue NX-VUE27D
It has good number of positive reviews from existing users, Nixeus Vue looks solid built with a great stand overall. This monitor supports up to 16.7 million true colors with 100% sRGB color gamut. 27 Inch (2560×1440 screen resolution) is perfect for productivity purposes and as a gaming monitor as well. Nixeus Vue 27 inch IPS LED Monitor is well compatible with Mac and PC. So if you want it to be your extended display monitor or a primary monitor at your desk. Nixeus Vue 27 inch led display may meet you requirements very well with its 6ms Response time. Lets check out the ports it has to connect with different devices.
The stand is firm and stable, you can height adjust the monitor with swivel, tilt forward/backward by 15 degree and 90 degree for portrait mode. VESA Mount Compatible. One huge setback with this monitor is it comes with just DisplayPort. So you cannot connect devices via HDMI or USB. Also the official recommendation states that you should avoid using any
Ports: 1 x Display Port
Monoprice 2560 x 1440 IPS Display Monitor

Monoprice IPS Display is a WQHD 1440p display that is meant for serious gamer or professional graphic artist. This is one good monitor that serves the purpose and the display is made by LG. Another great display to recommend for you that delivers excellent 178 degree viewing angle in both horizontal and vertical planes. Maximum brightness level of 440 cd/m and up to 80,000:1 dynamic contrast ratio packed well in this monitor. LG is a leader in display technology, so you can experience every bit of it while using this display monitor.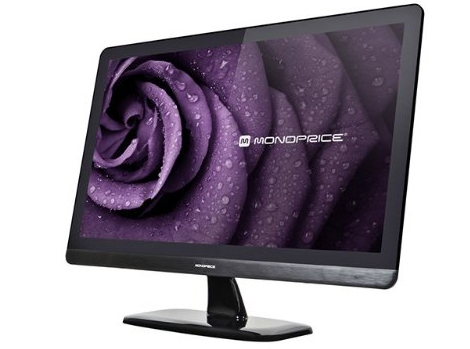 No dead pixels reported so far but the bezel around this display looks bit too much. It should have been thinner to make it even more attractive. But the price of this monitor is still attractive. VESA Mount compatible. This monitor has no DisplayPort, so if you want to connect your macbook or imac make sure you get a Dual Link DVI Cable for better screen resolution.
Ports: HDMI, Dual Link DVI and VGA
AOC 27-Inch (2560×1440 Quad Resolution) LED IPS Monitor
AOC is known for its mass production of display monitors and supplying it to Malls, Companies and Business Sectors. You may noticed AOC monitors at Reception areas and many other places. AOC Q2778VQE is a brilliant 2560x1440p display monitor. This is a TN LED Panel and not an IPS Panel monitor. It offers Quad Resolution at 16:9 Aspect Ratio. And the brightness is 300 cd/m2 and gives a dynamic contrast ratio of 20,000,000:1. This can be your next Gaming monitor as it gives 1 ms Response Time which will be great for gamers to be a Gaming Monitor.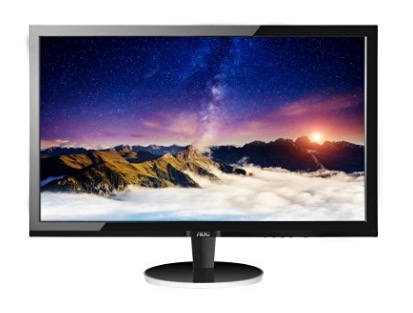 The stand is special too, as it is fully adjustable with Tilt, Swivel, Pivot and Height Adjustments are possible as well. AOC Q2778VQE also has built-in speakers so that you can listen to music and watch movies instantly after setting up the display. VESA Mount Compatible. Lets check out the ports and pricing details.
If you are looking for a 4K monitor, do check out 28 inches AOC 4K monitor LED Backlit that comes in Black or Silver color.
Ports: PC Audio In, Headphone Out, VGA, DVI, DisplayPort, HDMI-MHL, 4 USB 3.0
ViewSonic VX2778 WQHD IPS Monitor
ViewSonic never misses the display competition. They keep on innovating in Display monitors category, and they have been favorite display monitor manufacturer for Gamers. ViewSonic monitors are popular for slim design and super sharp and crisp color production on the display. VX2778 WQHD IPS monitor is without a doubt one of the Best 27 inch LED display monitor, that is a good alternative for apple thunderbolt cinema display.
Colors are vibrant, accurate color rendering, great pixel density, good wide viewing angle, and looks thin and simple from the side view.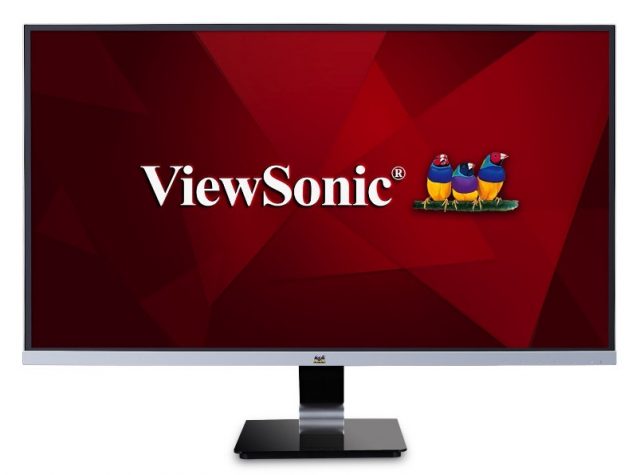 Users have rated it as one of the best 27 inch display monitor with 2560×1440 screen resolution that you can connect with Macbook Pro, iMac, Macbook Air and Mac mini. Samsung S27A850T is also adjustable to landscape and portrait modes. This monitor gives 5ms Response time which is great to be a Gaming monitor as well.
Ports: 1 x HDMI, 1 x DisplayPort, 1 x mini DisplayPort
We hope you liked our recommendation to choose your Apple Thunderbolt Cinema Display Alternatives. If you are using Mac and want to create screencasts or tutorials, then look no further and read our Screenflow Review and get 5% Coupon Code. We will be updating this list with new post in 2015. But right now you can pick any one of these monitor based on its user ratings, reviews and overall budget. Thanks for considering the recommendation and dont forget to share this post with your friends and followers across social networking websites like Facebook, Twitter and Google+. Help them to find their next best 1440p display monitor. Have a wonderful day.
You may also like to Read,