Are you tired of squinting at your small computer screen all day long? Best 4K Display Monitors for Macbook Air, Pro and Mac mini. Upgrade to a bigger display monitor and watch your productivity soar! Designers, Video Editors, and Writers know that a bigger screen means more space to work with, leading to more efficient workflows and better results.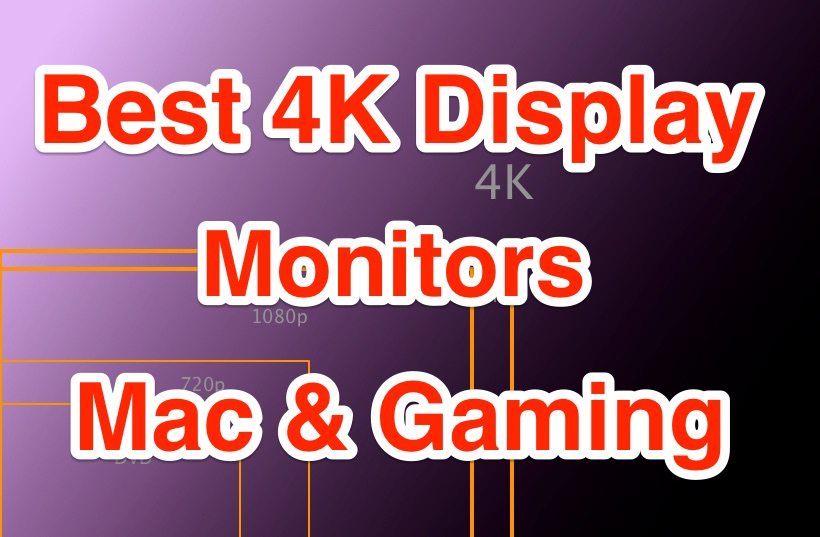 But that's not all. A bigger display also means indulging in your favorite movies, music videos, and other content while you work. No more straining your eyes or struggling to make out the details on a tiny screen.
If you thought a 1080 display was impressive, wait until you experience the incredible clarity and definition of a 2K or 4K display monitor. You'll be amazed at the difference in your work and leisure time.
Don't miss out on the latest and greatest in display technology. Join the millions of satisfied customers who have already switched to bigger, better displays from leading manufacturers like Samsung, Sony, LG, and more. Order your new display monitor today and take your productivity and entertainment to the next level!
Also Read, Best iPad Pro 10.5 Accessories to Boost Productivity
Best 4K Display Monitors for Mac Pro, Macbook Pro and Gaming
The list of best 4k display monitors ranked here is based on existing customer ratings, reviews, and how affordable it is, compared to many expensive alternatives. We want the best at the same time, affordable as well. Before selecting any monitor from the following list, ensure the service center is available by checking its official website.
Asus PB287Q 4K Monitor
I am a big fan of Asus regarding Graphic Cards and Display Monitors. I have been using one at home for more than a year, and they are the best in delivering ultimate picture quality from their default settings. They integrate a powerful graphics processor, which helps deliver the display monitor ultimate clarity for both Pictures and Videos.
It is a non-glossy monitor, so if you are a fan of a non-glossy 4K display monitor, then you can pick up this one without looking further. It is affordable, has the excellent quality, and has service ratings by existing customers, including me. It didn't make me take it to the service center to date, so I rate it as the best 4K display monitor in the budget series.
You can also read Asus PB278q Review, one of the best apple thunderbolt display alternatives and best rated 2K Display monitor by many mac users. Asus makes excellent display monitors meant for work environments. Alright, let's talk about Asus PB287Q, a 28 Inch 4K Display monitor that delivers 3840 x 2160 screen resolution at 60Hz frequency. 1 ms Response Time and has asus display technologies right inside, such asus exclusive SplendidPlus, VividPixel, GamePlus, and QuickFit. Also, you can Tilt, Swivel, and Pivot the monitor height adjustment function for programming and gaming purposes.

Existing customers feel it's a bang-for-the-buck product that delivers quality right out of the box. It falls under $600 and has become thousands of users' favorite 4K display monitor. Asus PB287Q has VESA Mount, so you can fix it with Monitor ARM or on the wall.
Hardware Ports: 1 DisplayPort, 2 HDMI ports with 4K support, MHL for connecting mobile devices.
Price: $590
GET IT: Asus PB287Q from Amazon
Asus PQ321Q 4K Monitor
It a 31.5 Inches, which is an almost 32-inch 4K monitor that is super sharp and bigger for a desk monitor. People who are into Image editing, Photoshop, Lightroom-related application works, and Movie editing can also be used in small presentation halls. Bit expensive compared to the previous model, which is 28 inches, but it is packed with tons of features and delivers the best 4K resolution right out of the box.
This Ultra High Definition (UHD) Display from Asus has a 3840 x 2160 screen resolution with 140 ppi and an advanced IGZO panel that offers extraordinarily high resolution, slim profile, and power efficiency.
Also Read, Cleanmymac X Review: Worth the Price and Works as Promised?
Asus managed to maintain its slim profile with this 4K display monitor, packing all the technology and chipsets inside to deliver excellent picture quality for your eyes.
Hardware Ports: 1 DisplayPort, 2 HDMI inputs that support 4k and 2K UHD videos.
Price: $1,400
GET IT: Asus PQ321Q from Amazon
Seiki SE39UY04 4K Monitor
Another Best 4K Display Monitor, well more than a monitor, this screen size fits well to be a 4K Television in your living room or bedrooms if its decent size. You can buy this 4K display monitor at very cheaper price than any other, in the market right now. Seiki released this 39 Inch (almost 40 Inch) 4K Ultra HD 120Hz LED TV in 2013 at around $700. And now the pricing is very attractive, around $570 at amazon. You can enjoy 4K or 2K video content at best picture quality without losing any detail.
Seiki offers an upscaling feature to upscale your SD, HD, and other High Definition video content to 4K Ultra HD clarity with built-in technology, which produces decent picture quality rather than giving errors or compatibility issues. Though some windows users have reported driver issues with Seiki 39 inch 4K monitor and i feel this will be the best 4K Television in your room than a computer monitor at your work desk.
Hardware Ports: 3 HDMI, 2 USB and 1 VGA port available.
Price: $570
GET IT: Seiki 4K Monitor from Amazon
BenQ BL3201PH 4K Monitor
Who can ignore BenQ while searching for a computer display monitor? BenQ has such a positive impression among Gamers and Home users. They have had the best computer monitors for a long time, and the product quality impresses most users more than its features. Vivid, Sharp colors with less power consumption.
Gaming and Movie watching are enjoyable with BenQ Monitors. BL3201PH model brings customers a 4K Display Resolution in BenQ monitor lineup. It is a big 32-inch 4K Display with CAD/CAM Animation Mode, ZeroFlicker and Low Blue light technology, Picture in Picture and Picture by Picture technology.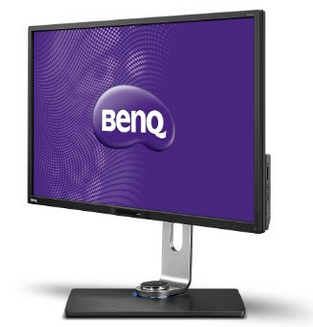 BenQ's IPS LED 4K Display monitor is a recently introduced one in the market and started to pick up in terms of sales slowly. If you have already used BenQ, I don't have to tell you much about the product. If this is the first time you are planning to try BenQ monitor, then wait and do read more details about its technology additions from the following link.

And this monitor isn't cheap either. For its excellent build quality and premium design, you will love to work and being entertained by this beautiful 32 inch 4K monitor on your desk or on the wall.
Hardware Ports: 2 HDMI Ports, 5 USB 3.0 Ports, 1 mini USB port, DVI-DL and DisplayPort 1.2 ports available
Price: $966
GET IT: BenQ 4K Monitor from Amazon
Dell P2415Q 4K Monitor
Fan of Dell? Then take a look at this 24 inch 4K Monitor that is best to sit on your Work Desk with tons of cool features. Dell 4K Monitor count is very less, and P2415Q model is meant for productivity purposes. Because of its 24 inch screen is packed with tons of colors and amazing screen resolution.
Also Read, Best Microsoft Office 365 Alternatives for Mac OS
The same 4 times 1080p HD resolution can be felt when you turn on this monitor with Ultra HD 3840 x 2160 screen resolution that contains 8 million pixels. Photo editing goes well with this Dell 4K monitor because of its color accuracy.
As you can see from the picture, it reminds me of Apple Thunderbolt Display. So if you love Dell Products, and looking for a 24-inch display with more pixels packed in it, then consider choosing this model to sit next to your Macbook Pro, Mac Pro, or Mac mini. For a 27 Inch iMac, next monitor recommendation will meet your needs. This will be the best buy. Also, it has a VESA mount so that you can fix it with your Table Monitor ARM or on the wall comfortably.

Hardware Ports: DisplayPort, mini DisplayPort, HDMI (MHL), 4 USB 3.0 Ports available.
Price: $488
GET IT: Dell P2415Q from Amazon
Dell P2715Q 4K Monitor
Another favorite monitor choice of mine, which looks stunningly cool next to the iMac. If you bought a Mac Pro and are looking for a monitor other than Apple Thunderbolt Display, this monitor will fit well on your work desk. Just a couple hundred dollars extra, you will get the best dell 4K monitor available for work and entertainment. 99% sRGB color coverage, 3840 x 2160 screen resolution at 60 Hz, 1000:1 contrast ratio, 350 cd/m brightness and more.
If you are a fan of Dell because of its product quality and tech support, then this 27 Inch 4K monitor from Dell will be the best buy.
This monitor is also VESA mount compatible, consumes less power, and comes with Anti Glare coating. One of the best 4K display monitors for Macs. You can Tilt, Swivel, and Pivot the monitor for programming and gaming purposes.
Hardware Ports: DisplayPort, Mini DisplayPort, HDMI (MHL), 4 USB 3.0 Ports available.
Price: $630
GET IT: Dell P2715Q from Amazon
Acer S277HK 4K Monitor
Acer is one brand popular for manufacturing Laptops, PCs, Projectors, Monitors, and recently Tablets and smartphones. Windows Laptop users are familiar with the name Acer and its Brand products.
This new 4K Ultra HD Monitor from Acer has a screen size of 27 inch that sports 3840 x 2160 screen resolution with 16:9 ratio. It has a beautiful design that differentiates it from other traditionally designed monitors. Rear speaker built-in with DTS sound effect that delivers high quality audio for Movies, Music and Gaming.
Overall, this monitor is a decent buy if you are a fan of Acer. There is no big difference in pricing, so i don't recommend this monitor as your primary choice. You can still consider looking at Asus or Dell 4K Monitors.
Hardware Ports: 1 HDMI Port, 1 DVI Port, 1 DisplayPort and 1 mini DisplayPort
Price: $666
GET IT: Acer S277HK from Amazon
Philips 288P6LJEB 4K Monitor
Ultra HD monitor from Philips that sports 3840 x 2160 screen resolution at 60 Hz frequency. It has 300 Cd/m brightness and 1.07 billion colors for vivid, sharp picture quality. 1 ms Response Time and multi-view feature allow you to be dual connect and view 2 different PCs simultaneously. Landscape and Portrait modes allow you to program, play games and do various tasks easily with this 4K high-resolution monitor.
This 4K monitor by Philips looks average in design and externally but has decent hardware, tech specification internally. Also the pricing is decent for this model.
Hardware Ports: VGA, DVI-Dual Link, DisplayPort 1.2, 1 HDMI (MHL), 2 USB 3.0, 2 USB 2.0 ports available.
Price: $530
GET IT: Philips 4K Monitor from Amazon
4K Compatible Cables for Monitors
Choosing the right HDMI Cable or DisplayPort cable is important to experience the 4K resolution. If you use a regular HDMI cable on your shelf for a long time, you may not experience the Ultra HD Resolution with Mac or Windows. So make sure you choose the latest HDMI Cable, which is the latest and supports 4K resolution. Here we have some suggestions for you to buy.
GET IT: HDMI Cables from Amazon
Cable Matters is a popular seller, and we have 4K supported DisplayPort cables for you to select.
GET IT: DisplayPort Cables from Amazon
I hope you have found your 4K Display Monitor today from the hand-picked list of displays from popular brands. As I mentioned, Asus is my top priority, and next comes Dell, based on my user review and experience.
Finding an Apple Thunderbolt Display alternative is not that easy. Apple does make good displays, and we have the above models that come closer to replacing them.
Feel free to write to us anytime in the comment box below if you have any queries. Thanks for reading and considering our recommendation. Have a wonderful productive day.