Update: Read our latest Macpaw Cleanmymac 3 Review, which also has information about Cleanmymac 3 upgrade discount offers.
CleanmyMac 2 to CleanmyMac 3 Discount Offer
You can get 50% Flat Discount when you upgrade your Cleanmymac 2 app to Cleanmymac 3. This upgrade offer brings big savings to you, if you are an existing customer of the Macpaw Cleanmymac App.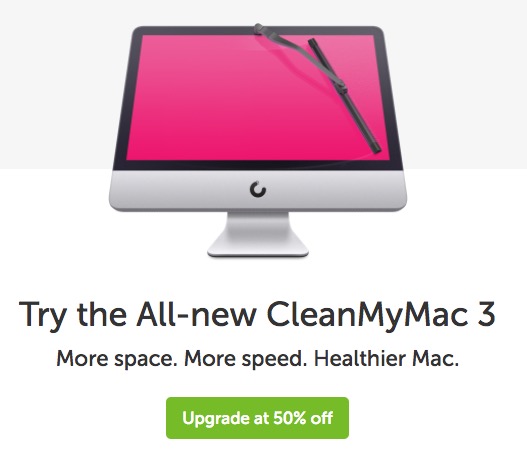 (Click the above image to take you to the 50% Cleanmymac Discount Offer page.)
We are giving away MacPaw CleanMyMac 2 Free License Codes for 10 lucky winners. If you own a Macbook or iMac and notice the slow speed, system hangs and other performance-related issues, consider giving CleanMyMac 2 a try. It is one of the best Mac cleaner software I have tried to date and thought to develop a review. You may read the MacPaw CleanMyMac 2 Review here. You can participate in the giveaway now to win a license code of this wonderful software and save 39.95$.
CleanMyMac 2 has got good and positive review from Mac users world wide. You can download free trial version of CleanMyMac 2 from official website macpaw.com today to see how it actually works and helps you to save some space from your local hard drive.
Also Read, Speedify Review and 40% Discount Promo Offer for Limited Time – Best software to combined multiple Internet connection to one powerful high speed Internet line.
Monitor your Kids Computer and Internet activity 24 / 7 with this powerful spy software. mSpy for Windows and Mac OS X lets you watch your kids computer activity, facebook usage, and websites they visit via online, anytime anywhere.
CleanMyMac 2 Giveaway
Participation is simple as always. Just follow three easy steps and you are in. You have to like cleanmymac facebook page and then a tweet about this giveaway. Finally, a comment saying what app you like most and expecting us to consider for our next giveaway. That is it. Contest ends on 18th July 2013 and the winners will be announced by 20th July 2013.
Thanks for participating and you may subscribe to our exclusive giveaway newsletter to get news and updates only about dailytut giveaways. Have a wonderful day !