Cleverfiles Disk Drill Pro is one of the popular file recovery software for Mac OS X. If you have accidentally deleted any files or folders from your Macbook Pro, iMac or Macbook Air, Disk Drill Pro can recover the recently deleted files without any problem. The guaranteed recovery works very differently than Recovery Vault which is another Disk Drill technology available in this software.
This software makes copies of your existing data to make sure, you will get the exact latest modified file when you try to recover the deleted software, file or folder from your Mac computer.
You may also like to read about Best and Essential Mac Apps for New Macs.
Recovery Vault technology in Disk Drill Pro software records file properties when it is too late to make copies. It is the only option if you have not turned on the protection when you setup this software. Disk Drill Pro, the best file recovery software for Mac OS X system. Your Macbook, Macbook Pro, Air or iMac, get Disk Drill Pro today to recover deleted files, damaged or corrupted data from HFS, HFS+, FAT, NTFS and other file systems.
Disk Drill Pro File Recovery Software
There are very less number of file recovery software available for Mac OS computers. Disk Drill Pro is one of the best among those. It is affordable and has a basic free version before you go for pro version. If you are happy with the basic free version, then you can upgrade your license to Pro, Expert or Enterprise version. Lets explore the features of Disk Drill File recovery software here.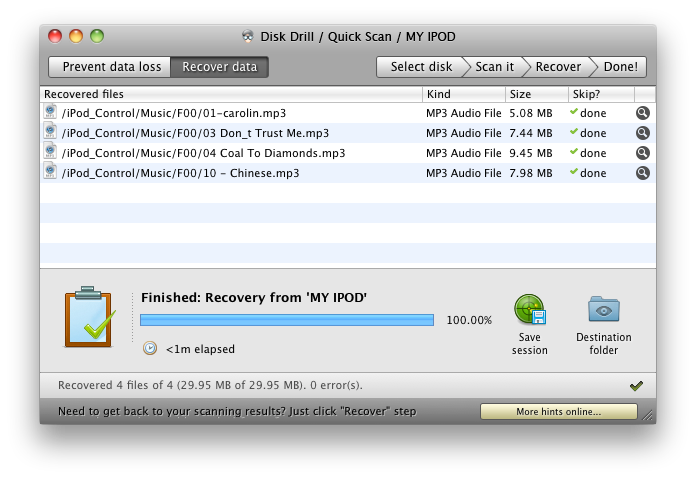 Disk Drill is a Do It Yourself data recovery software for Mac OS. It always stay in armed state and ready to recover your Mac data no matter how it got deleted or lost from your hard drive. Avoid angers on your friends or family members for their accidental behaviour that resulted in lost of your documents, pictures and other valuable data. Disk Drill file recovery software for Mac OS can save you from accidental deletion of data, disk utility error, data corruption and so on.
Disk Drill Undelete
This is on real power undelete utility for your Mac computers. Recover any file or folder exactly as it was before deletion on disks and partitions protected with Recovery vault. All file types supported and it brings back the file with all of its original properties. This is the first method that Disk Drill offers you and it is extremely precise one.
Disk Drill Pro Quick Scan
This feature comes with Pro version and above only. This can scan existing file systems for deleted items and recover the deleted data or lost data. It requires a working disk or partition to run and recover the deleted files safely. This Quick Scan feature of Disk Drill Pro is not precise like the previous method "Undelete" but still effective one for File systems like HFS+, FAT and NTFS.
Disk Drill Pro Deep Scan
Another Pro version only feature that gets really deep in your hard disk drive to recover the lost data. Regardless of what happened to your hard disk drive and which file system was there before the file deletion, deep scan attempts to extract every bit of data still remain on your disk drive. This is best one for formatted hard drive, lost partition, and so on. It's slow basically but recovers data based on file signatures it already knows. You can use Disk Drill Pro Deep Scan feature as a last call for help, if nothing else works or if data loss is really severe on your disk.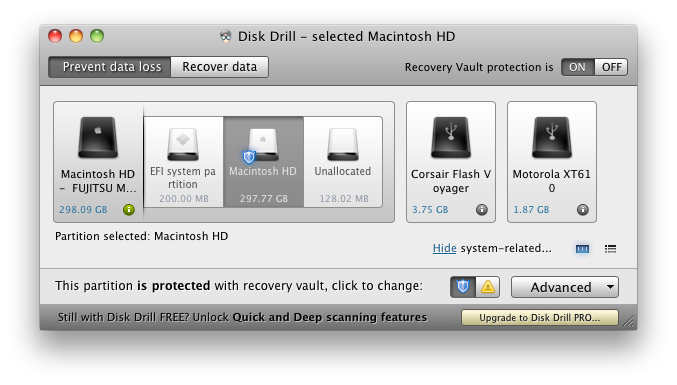 Though you cannot get all the data of a file, you can still get some part of it. If a file was deleted or lost many days ago, then you can use this feature to recover it. Recover lost Documents, Photos, Images and much more using Deep Scan. Some example file formats are Adobe Illustrator Images, Canon Raw Images, Digital Negative Images, JPG/JPEG, TIFF, BMP, 3DS Max Scene, GIF, Nikon Raw File Format, PNG, PSD, RW2, VSD, SKP, AVI, DV, M2TS, IPA, VOB, ORF, FFF, 3FR, C4D, RM, ENL, CS, PSS, RMVB, RVT, FP7, Mac OS X KEYCHAIN, FLAC, ITL, KDBX,  and so on.
Recover Deleted Files on Mac OS from any Media
Disk Drill Pro is capable of recovering deleted data from mountain media storage devices like External Hard Disks, USB Flash Storage Drives, Memory Cards, Digital Cameras, Camcorders, iPod Classic, and other mass storage device drives. You can recover files even from Disk Images as well.
Almost any file system format is supported and you can run Mac data recovery on HFS and HFS+ (journaled/extended), FAT16, FAT32, NTFS, EXT3, and EXT4 file systems. The recovery software for mac also runs on any file system that even on disks that were formatted or initialised.
Protect your Data Now, Prevent Accidental Deletion and Data Loss
Disk Drill offers a cheaper solution to protect your valuable data from accidental deletion and loss. Setup Disk Drill on your Mac OS X computer now and prevent any such accidents in future. Its advanced
Recovery Vault
S.M.A.R.T Status monitoring
Backup Disks and Partitions into Disk Image
Advanced Scanning Sessions and Management
are here to prevent and protect your data now. Advanced technology implemented in this software can provide a better reliable solution for your data recovery tasks. Disk Drill can be the perfect choice to recover lost files or deleted files on Mac OS computers.
Disk Drill Pro Pricing
Disk Drill Pro Pricing is very attractive for Individual users and enterprises as well. They have simple tariff structure for you to choose. Free Disk Drill Pro gives basic features, but Pro version lets you to use the full potential of the software. Unlimited Recovery with your Mac and other storage drives.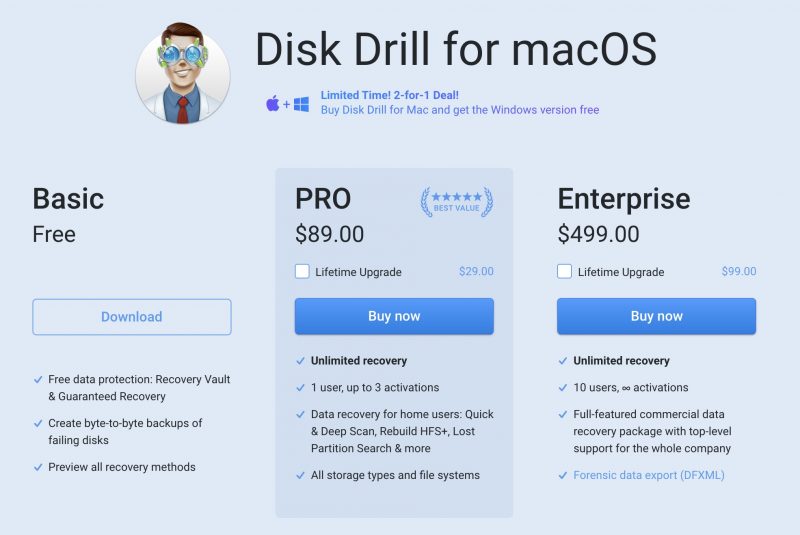 Disk Drill Pro
Important: Download Disk Drill Pro only from official website. Downloading it from third party websites is definitely not a secure practice. 
License Details: 1 User / 3 Activations
Store Price: $89.00
Download Disk Drill Pro for Mac
Disk Drill Enterprise
License Details: 10 Users / 3 Activations
Store Price: $499.00
Download Disk Drill Enterprise for Mac
Alternatively, you may read iSkysoft Data Recovery for Mac and Windows which is updated and compatible with OS X 10.10 Yosemite. My Personal recommendation will be Cleverfiles Disk Drill Pro to recover data on your Mac and Windows.
Thanks for reading and purchasing one of our premium data recovery software for mac. Download Disk Drill Pro today. We hope that helped you save some money on your purchase. You may now share this post with your friends and followers across social networking and bookmarking sites. Have a wonderful day !