Facebook has released the Instagram Clone in the name of Facebook Camera App and it can be downloaded for Free in App Store. After acquiring Instagram for 1 Billion dollars, facebook has released a clean instagram clone that works in same way and improves your facebook experience. You can upload a picture to your Facebook just like you do with Instagram. Launch the Facebook Camera App on your iPhone, iPod Touch or iPad and Snap a picture to upload it right away to your Facebook album section.
[youtube width="600″ height="344″]http://www.youtube.com/watch?v=8fJjt068s6s[/youtube]
You can also add bunch of pictures at once when you use this App to take pictures and share it with your Facebook friends. This app will really make the photo uploading to facebook account much easier than the previous way of doing it through Facebook App.
Download Facebook Camera App
You can download it via App Store right away to experience how this app actually works. Following are the features that Facebook Camera App has to make it look more close to replace Instagram on your smartphone.
Upload multiple photos you shoot on your mobile phone at once.
Crop and Apply various Filters to give a complete new look to your pictures.
Scroll down a single feed of all your facebook friends pictures.
You can Tag your friends, Add photo captions and include message as well.
You can view the photos uploaded by your friends from Computer or Mobile phone using various Apps.
The last line actually shows, that facebook camera app acts as a picture feed that just shows the photos uploaded by your facebook friends and not other status updates. So here we got a complete Facebook Photo Feed app on our mobile phone. There is no announcement so far officially about Facebook Camera App for Android mobiles, may be we got to wait for some more weeks to get it on our Android smartphones.
But this app will surely become favorite for many and without a doubt, facebook mobile users will replace Instagram with Facebook Camera App on their smartphones right away. I like to refer this as Facebook Instagram App as it is going to just replace the acquired service in coming days. Lets have a look at the screens of this app.
—————-
—————-
—————-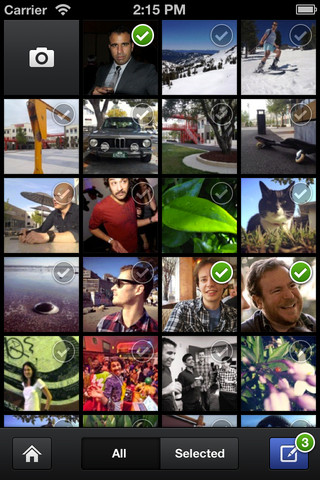 —————-
This app really looks clean and its time for you to Install it on your mobile phone and experience how it works. This is really a nice addition to facebook series of apps on App Store.
Thanks for reading and you may now goahead and share this post with your friends or tweet about it to let them know and try out this on their phone. Start taking pictures and uploading becomes so easy and attractive with this cool new Facebook camera app.