You can now use Instagram on your computer just by using your web browser. You dont have to use iPhone or Android smartphone to use Instagram to see all your uploaded photos and your friends, followers pictures anymore. You can do that easily from your desktop. OS is not a problem as you can access all your Instagram feeds right on your computer by visiting the following websites and do more to manage your Instagram account. This web based instagram for PC, Mac and Linux helps you to organize your instagram photos and view them on bigger display as well.
Instagram for PC
Login using your Instagram account to comment in any of recently, popular photos uploaded by people across the globe. Like photos to display it under "My Likes" for other Instagram followers. This really means more engagement with Instagram photos uploaded by your friends and others. The main reason that these tools will help you is to organize instagram photos from your desktop as it is not that easy to do from your mobile phone.
Recently facebook has acquired instagram and may be in near future we can see a separate tab inside Facebook that allows us to access all our Instagram photo feeds and share it with friends and subscribers. Facebook Instagram app is much expected by users and many dont like the way it happened, where facebook acquired Instagram for 1 billion dollars. Many have deleted their account and there is an easy and working way to backup instagram photos as well.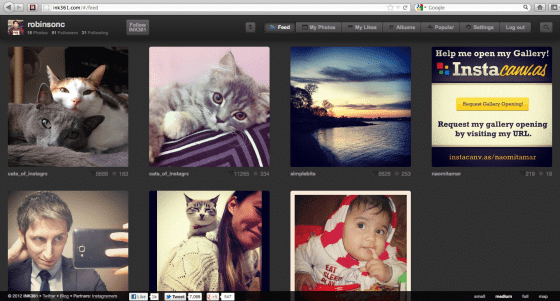 Instagram for Mac
Instagram is very well available for Mac OS X via App store but it costs 4.99 USD (Instadesk) where you can use it just like any other apps you download from Mac App Store. Many still prefer the free web based instagram tools available for free and you can purchase one if you like to make the access and photos organizing little more easier.
All the above mentioned tools support Search feature, Likes, Friends Feed, Follow / unfollow people, Popular Pictures and Tags features. You cannot upload photos to instagram from PC or Mac. It is one of strict instagram policy and users have to do it only through their smartphones. That is ofcourse, the main reason why this service is so exclusive and reason being the top mobile photo sharing service in Internet today.
 Thanks for reading and you may now share this post. If you know and use any more best tools to manage and organize your Instagram feeds and friends then please share them in the comment box below. It will be great for us to feature that also by updating with this post.