PubG has become the most popular Game of 2018 among Smartphone Gamers and it did broken several records that were set before. We hand picked few Best Games that are similar to PUBG for iPhone and iPad Users. PlayerUnknown's Battlegrounds was developed by Bluehole and Tencent Mobile International Limited. It is played by millions of mobile gamers world wide and you could be here, just to find some more games that are similar to PUBG.
PUBG is currently using Amazon Web Services (AWS) Cloud for connecting millions of users world wide seamlessly.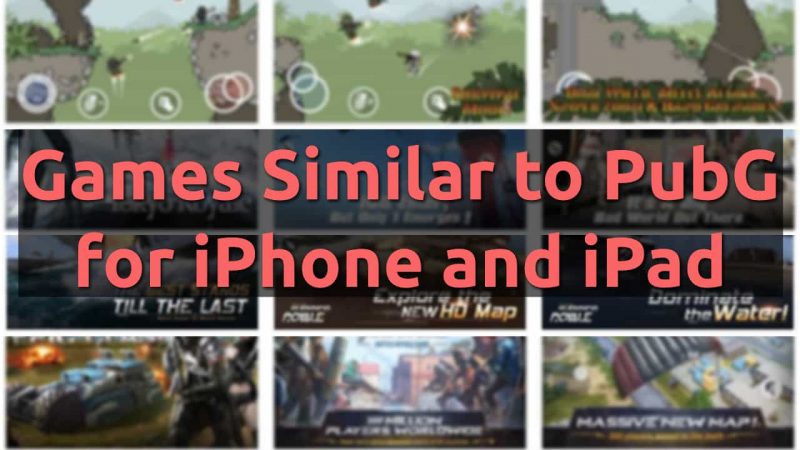 Yes, its in the Cloud and AWS is brilliant in handling millions of requests and process them. The game is first person shooter and connects you to different battle ground instantly with real users from anywhere in the world.
You won't be playing with computer bots. I am still a big fan of Counter Strike and i always play that in my 27 inch iMac Screen whenever i am bored. The beauty of PubG is, you don't need much resources. Your smartphone is enough and the game optimizes the Graphics performance to suit your GPU power and other hardware resources automatically.
Download – Install – Launch Game – Create Profile and Start Playing.
That simple and today we have list of games similar to PubG for you to try. If you are bored with PubG, then its time to check out this list and find new high end smartphone games that delivers excellent graphics and kills your boredom.
Also Read, Best External Battery Power Banks for iPhone and Android Mobiles
Games Similar to PUBG for iPhone and iPad
Important Note: Don't get addicted though. All these games are as addictive as PubG in its own style and way of playing.
Rules of Survival
Rules of survival was developed by NetEase Games. This game will surely give you a nice experience if you are searching for an awesome action game in your mobile.
In this game you have to have 120 players and who lasts the war till the last zone will be declared as the winner. You can play solo which is between you and the others, Duos which is between your team of two and the others and also play squad which is the team of four face the other 30 teams .
You want to choose the mode and the server in which you want to play and you can start playing the game.
Download for iPhone and iPad: Rules of Survival from Appstore