The time has come. We can use our Powerful iPhone Camera as a Webcam with Macbook. Works on iMac, Mac mini, and Mac Studio as well. Things you should know before you start using iPhone Camera as Webcam with your Mac computer.
With Continuity Camera, you can access additional features like Studio Light, which skillfully illuminates your face while darkening the backdrop, and Desk view, which lets you provide a top-down view of your workstation. 
Continuity Camera operates wirelessly or over a cable connection in FaceTime, Zoom, and other online meeting or video calling applications. It feeds video straight from the user's nearby iPhone camera, which has far higher quality than the built-in camera on Macs.
Also Read, Transfer WhatsApp Business Chats from Android to iPhone [100% Working]
iPhone Continuity Camera Features
By using your iPhone Camera as a webcam for Mac, you can additionally unlock features like, 
Center Stage – from iPhone 11 and later

Portrait Mode – iPhone 12 and later

Studio Light – iPhone XR and later

Desk View – iPhone 11 and later
iPhone Camera as a Mac Webcam
Before getting into the tutorial, you need to tick a few checkboxes. Only then will you be able to use the Continuity Camera feature on your iPhone. 
Make sure your iPhone is running iOS 16 or later.

Make sure your Mac is running macOS Ventura or later

Make sure your iPhone and iPad are signed in with the same Apple ID 

Make sure Bluetooth and WiFi are enabled on both of the devices. 
How to Use your iPhone Camera as a Webcam on Mac?
Apple made it easy to use the continuity camera feature on Mac. You need to mount your iPhone near your Mac and ensure your Bluetooth and WiFi are enabled on both devices. 
Initially, Belkin iPhone Mount for Macbook was the only available accessory to mount our iPhone with Macbook or iMac.
But right now, we have plenty of third-party mounts available at cheaper pricing. If you prefer the one with MagSafe and branded, then you may consider Belkin. Otherwise, check out the alternatives available on Amazon.
Once placed or mounted perfectly on your Macbook, open FaceTime on your iPhone. Now your iPhone camera will activate automatically and produce a sound to ensure your iPhone is connected to your Mac.
Also Read, Cleanmymac X Review: Worth the Price and Works as Promised?
Launch FaceTime or another camera app on your iPhone. If the app doesn't utilize it immediately, choose your iPhone from the video menu, camera menu, or other app configuration. For instance, in FaceTime, you may access your iPhone camera from the Video option.
After connecting your iPhone to the Mac, you can use the video effects to unlock the full potential of the Continuity Camera feature on your Mac. Open Control Center from your Mac's menu bar to access the various video effects modes, then choose any of the video effects mentioned above.
What are the Features?
Center Stage
iPhone 11 or later, excluding iPhone SE, is required to use this feature. Center Stage keeps you centered in the camera's field of view while you walk around using the Ultra Wide camera. 
Portrait Mode
Portrait mode allows you to keep the attention on you by blurring the background when used with an iPhone XR or later.
Studio Light
Without external lighting, you may use the Studio light video effect on an iPhone 12 or later to make the background darker and your face brighter. Studio Light is fantastic for challenging lighting circumstances, such as scenarios in front of a window that is backlit.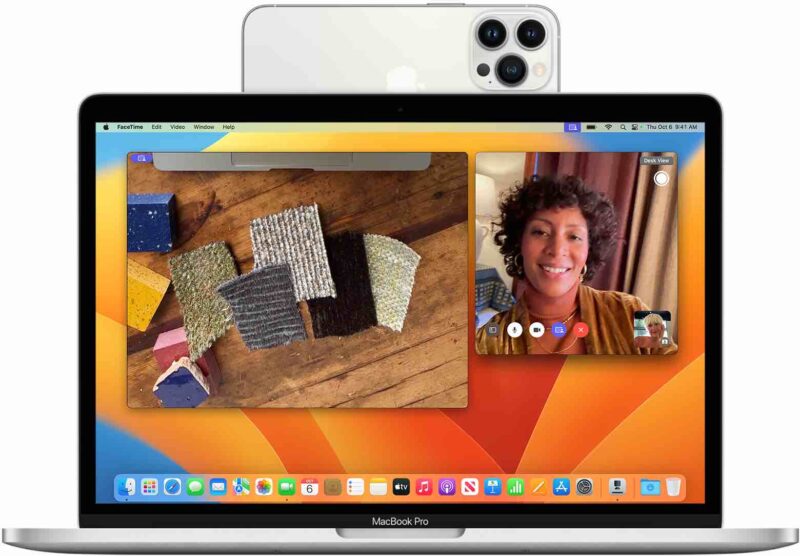 Desk View
The Desk View video effect, which uses the Ultra Wide camera to show your desk and your face simultaneously, requires an iPhone 11 or later, excluding the iPhone SE. It works well, including making DIY videos and using FaceTime to share sketches.
Also Read, Best Final Cut Pro X Alternatives for mac OS
iPhone Camera as Webcam Errors
Also, there are a few bugs that Apple is yet to fix with macOS to make this feature work flawlessly. Errors like iPhone automatically triggering the Continuity Webcam feature whenever your iPhone is nearby and locked are disappointing—hoping for a fix very soon.
Continuity Camera can be stopped by pressing the Pause button on your iPhone's display. Simply hit the red Disconnect button on your iPhone's screen after you're done.
I hope this article helped you use the Continuity Camera feature to use your iPhone camera as a webcam for your Mac; if you find this helpful article, consider sharing it with your friends looking for a way to use your iPhone camera as a webcam on Mac. So, they will make use of this article.