Apart from Gaming and Entertainment many people prefer tablets for the reading purpose. Today we got plenty of applications to get updates from all the important news websites, magazines and books to your handheld devices. Even some of the popular news companies have their app for Smartphones and Tablets, where users can subscribe to their e-newspapers and e-magazines. Here we have one such best news reading app, "Press Reader" for iOS, Android, Blackberry and Windows platforms. It is a complete e-news app which has over 2100 full content newspapers from 95 countries in 54 languages. You can download the app for Free and pay only for e-newspaper subscriptions that you like to add to your press reader account.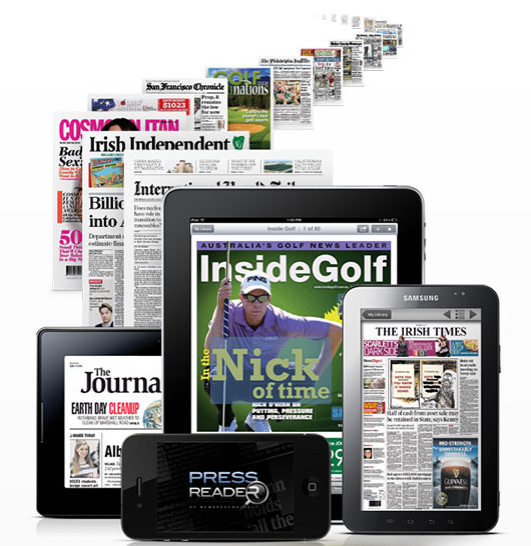 In the recent update for iBooks, Apple has introduced a new feature called Continuous Scrolling. Instead of turning pages on your iPad or iPhone you can just scroll the pages continuously to read the book. The same feature is available in Press Reader app to read full story news contents and magazines on your iPad and other Tablets. Compared to other similar news apps, you get different type of views to read your favorite magazines and newspapers. It has an inbuilt PDF Rendering engine and Smartflow Content presentation which gives a rich clarity to the content you read.
Features and Functions of Press Reader
One of the important drawback in most of these news applications are, they will provide summary of the article and you will be redirected to their official page in order to read more. You will not have that trouble in Press Reader, the complete content will be available on the app and as I said before you have the continuous scrolling option to read the full article. In Press Reader either you can subscribe to individual newspapers or you can subscribe to a set of newspapers in monthly or yearly basis.
Press Reader has got Text view, which separately pop out a window to show the full story of the selected article. The text view will be very comfortable for reading where you can change Fonts, Font Sizes and Email links to your friends easily. If you find some interesting articles and don't have time to read, you can save those stories to Evernote or Instapaper for later references. Also you have an option called "On-Demand Audio" which lets you to hear your favorite stories on the app. So if you feel tired and don't want to strain your eyes you can switch to on-demand mode and enjoy listening to the stories.
Compared to other tablets, it gives an excellent reading experience in iPad with its stunning Retina display. Press Reader debuted in iPhone last year, later it was developed for all the other Smartphones and Tablets. If you have an iPhone or iPad it is a must have news reader app on your device. It supports all the On Screen features of iPhone like pinch to zoom in and zoom out, night view, etc. Also it will automatically align the beginning of article with its Smart zoom feature. This will enhance the presentation and gives better readability to the articles that you select.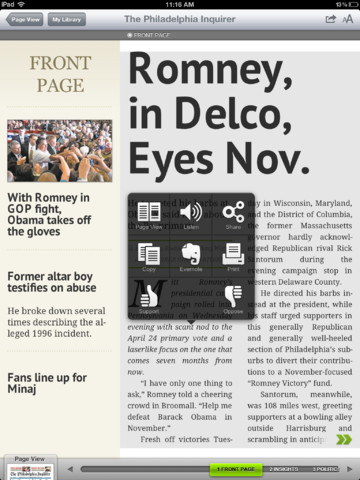 Press Reader has excellent social media integration. Right from the app you can share the stories to Facebook and Twitter as well as share the links via Email. Also you can cast your opinion about the article that you read. Similar to YouTube Like and Dislike feature, you can either support or oppose the story you read. Number of supports and opposes will be displayed to all the users who use Press Reader. The subscriptions can be made through iTunes and you can confirm your subscription by using Pressreader.com. These type of apps has got two advantages, it will save paper and it will change the Traditional way of your news reading. So try this app on your Smartphone and Tablet and don't forget to share your experience with us in the comment box.