Wavedeck App for iPhone lets you send voice messages instantly to another wavedeck user at free of cost. We were born to speak, not write. The caption that gets highlighted and make you to give this app a try on your iPhone without a delay. Wavedeck voice messages app also brings you Group Talk on iPhone, where you can send a voice message to a group of your friends or family members. If you want to throw a surprise party and keep things ready, then Wavedeck app can save you a lot of time by letting you to speak what you planned and not with continuous text replies.
Stop Texting and Start Speaking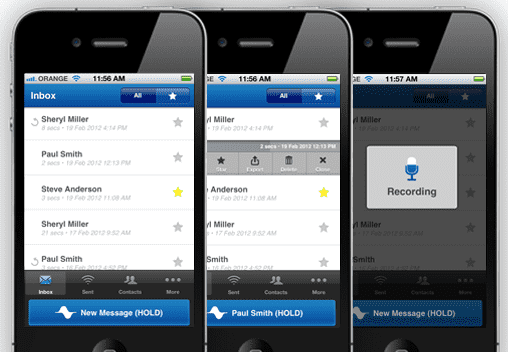 Let me highlight the important features of wavedeck app that shows, the next successful startup in the market.
Wavedeck App for iPhone
Wavedeck is Pretty Fast in delivering your voice messages.
You get Notification once the voice message heard.
You can send a voice message to a Group of people.
Your voice message travels through High Encrypted secure connection to reach the destination.
It is really simple and saves you a money when you like to use voice messages with your friends and family members. We can expect wavedeck android app and support for other platforms as well in few days. Even the idea of Wavedeck for Mac OS X will be a great choice, as iMessage ported officially by Apple to Mac computers in the upcoming Mountain OS X Lion release. It will be great to leave a voice message than typing and correcting those typo's to express what we like to say.
Wavedeck is really an ultimate app that will surely get noticed by millions of users like Whatsapp Messenger for iPhone, iPod Touch and Android smartphones. Also i like to highlight KIK Messenger for various platforms which again was a great hit among smartphone users.
Thanks for reading and give this great app a try on your iPhone today. You may now share this post with your friends to let them know about this awesome app for iPhone.