Now you can Install iMessage on Mac OS X Lion 10.7.3 and start sending / receiving messages from people who uses iPhone, iPod Touch or iPad. iMessage is not just a texting application for iOS Devices. It is also one of the multimedia messaging service app that lets you share Pictures and Videos from iOS to iOS Device. This feature now arrives to the recent updated Mac OS X Lion 10.7.3 with additional software installation. Wherever they are, you can chat with them from your Mac Desktop instantly.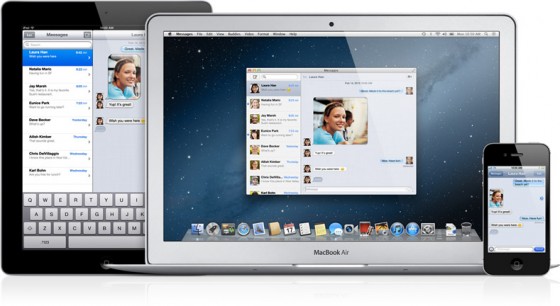 How to Install iMessage on Mac
Get the official messages beta download from apple website.
[youtube width="600″ height="344″]http://www.youtube.com/watch?v=lNez-y84G6Q[/youtube]
Above is the video showing how to install imessage on mac and you may do facetime with the person you are chatting with by clicking on the button located at Top Right corner of that chat window. This is another interesting feature of this great app. Apple has recently released a sneak peak into its next Mac OS X Mountain Lion, and messages is one of its highlighted software addition made to bring imessage feature right into your mac desktop.
Chat Support using iMessage
It is not just about the chat with your friends and family. Now users can announce their iMessage (Apple ID) on their Personal Blogs and Website, to provide personal assistance or support to their products easily. The customer has to add them in their iMessage application as a contact and can begin chat with the developer / technician right away. This is really a Game Changing idea to cut the cost and provide free support desk using imessage on mac. As apple do allow us to create any number of apple id's, it is possible use this type of method with micro and small business environment.
Thanks for reading and please do share this post and leave a comment of whats your idea about this new and interesting feature on mac os x.