Messengers gives a best venture between two or more people to have a comfortable conversation. When mail accounts came with chatting feature, people felt so annoying that every time they need to login for chatting with their friends. So chat clients are introduced for desktop and many chat clients came with multiple login features. After smartphones started its era many instant messengers were developed for mobile phones. Now they moved one step forward and introduced instant messengers with texting feature in a single application for smartphones.
You may also like to read Best Spy App for iPhone, Android and Blackberry phones mSpy Review and 20% mSpy Coupon Codes to save money on purchase.
Download KIK Messenger
Kik Messenger for Android
Kik Messenger for iPhone
Kik Messenger for Windows Phone
Kik is an one such app which enables both instant messaging and texting feature in your smartphones for free. Last week I wrote about WhatsApp, an international free texting app for smartphones. Now I'm here to explain you the features and specifications of Kik for your smartphones.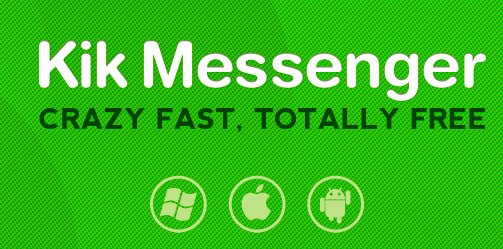 Kik is a newly introduced application for smartphones. It met 4 million downloads within 15 days of launch. It is available for free and it works on both WiFi and mobile data. Currently Kik supports for iPhone, Android and Windows Mobiles. It will act as free international text and instant messaging app for your smartphones. You can find the features of Kik below.
Features of Kik Messenger
1. It allows you to share photos and videos instantly along with your text message.
2. You can group chat with maximum of 10 Kik messenger friends from your mobile phone.
3. It gives you information about when your message is sent, delivered, read and even typed back.
4. It offers free and unlimited international text messaging option for your smartphone.
5. Even you go offline your messages will be delivered when you come online.
6. You can enjoy a real-time conversation with your friends in KIK.
7. These are all the features and specification of KIK messenger.
Thanks for reading and please do share this article with your friends and followers in Facebook, Twitter and Google+.