Update: Get 25% MaxCDN Discount Coupon Code here.
MaxCDN is the worlds leading Content Delivery Network provider for websites and blogs. There are so many Top blogs and websites now able to drive millions of visitors per hour and behind the scene we can see MaxCDN working to keep the site analytics graph go high and high without any limit. There is no doubt, that MaxCDN is a true Rockstar when it comes to CDN service for blogs specially.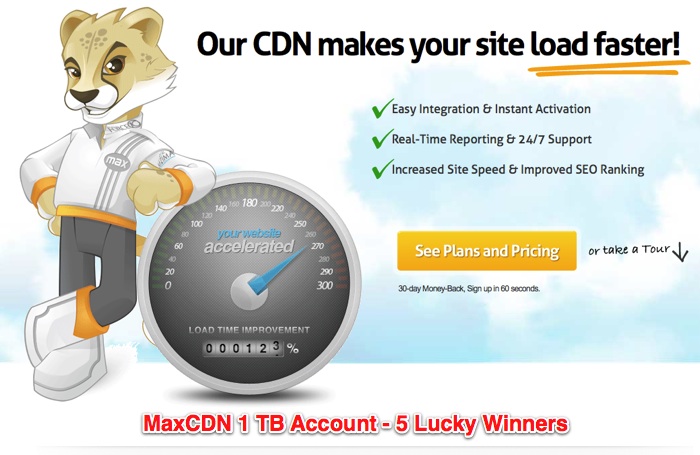 Basically, blogs are so dynamic and people update the contents these days with more images and contents that cannot be handled by their Shared Servers. It is not possible for every one to move to VPS or Dedicated Server. In that case, MaxCDN can do wonders as it just works great by handling static files effectively when it comes to serving it to millions of crowd at a time. Without letting your site and reputation go down, MaxCDN just loads the static contents (images, js, php, css and more) with its excellent server technology.
Multiple Servers working at the same time to serve your static files and contents can leverage the performance and handle the site traffic very well. There are many Free Content Delivery Networks available in Internet, still the term free says it all. You cannot expect the free CDN to be UP and serving the content all the time. Anytime the servers may let you and your site go down that results broken layout and site looks very weird when the visitor tries to access it.
Why take risk on the data and your hard work by thinking you are saving some dollars ? Getting a premium software after a proper review always ensures that you can get good support and updates that will show the difference from the crowd.
MaxCDN Free Accounts
Today, we are so happy to announce the MaxCDN Giveaway, where 5 lucky winners will get 1 TB account that is valid for 1 year to see how well your site page speed score and overall performance can be improved. It is time for you to give a total boost to your website, seo and focus on driving more traffic with your powerful contents.
Follow simple steps in the Participation box above and you are done. We will be announcing those lucky winners in our Twitter, Facebook pages also the same will be published in our YouTUBE Channel. You may consider subscribing to our feeds in any of the linked social profile to make it easy.
Note: If you are going to follow the third step by creating a content on your blog, then avoid using [NO] Blogspot blogs, as we know that blogspot blogs dont need CDN service and Google is in-charge to provide better content delivery service.
Contest Start Date: 26th June 2012
Contest End Date: 07th July 2012
If you haven't subscribed to our Exclusive Giveaway Newsletter, you may think about subscribing it right away below or in our Giveaway Page, to know about our upcoming Software Licenses, Gadgets and Mobiles Giveaways.
Winner selection video will be made available in Youtube just like our previous giveaways to make it transparent. Thanks for your participation and wishing you all the best of luck.