Update: We have updated this page with latest Bitdefender Discount Coupon Codes 2017 for Antivirus Plus, Internet Security and Total Security 2017 software's.
We are back with a software license giveaway after some time. It is your favorite antivirus and internet security software for your Windows 7 and Windows 8 Desktop, Laptop PCs. Bitdefender sponsoring this giveaway and we will be giving out 10 licenses for 10 lucky winners. Its a $600 worth giveaway and each winner will get a $60 worth Bitdefender Internet Security 2015 license. Participating is very simple and it will take less than a minute to complete the steps.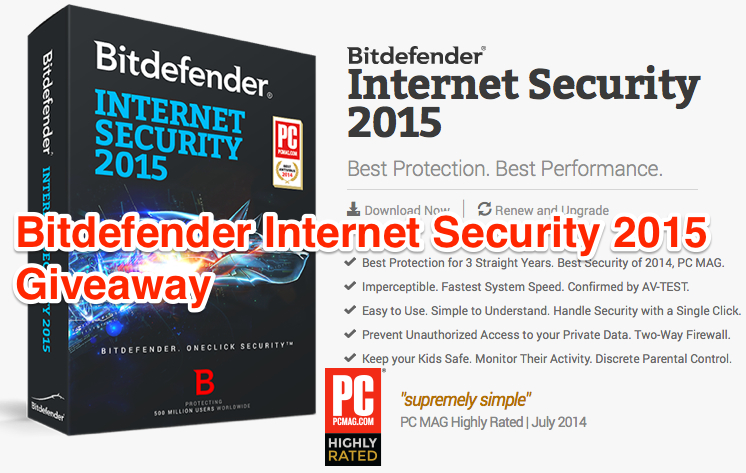 Before seeing the instructions to participate and some simple contest rules take a look at Quick Bitdefender Internet Security 2015 Review. It is a wonderful security software that offers best protection for your Windows 7, Windows 8 PCs against Viruses, Malwares and Worms. Dont run your Windows computer without any antivirus software installed. And if you take security serious you should really consider Premium level Protection to get regular virus signature updates and feature additions. There are very few premium antivirus softwares available and we recommend bitdefender as our customers use and find it as the best antivirus software available today.
Bitdefender also received AV-Test award for 3 years continuously. Its Photon technology makes it a super fast antivirus software that runs in the background silently without making your system slow or hang when it performs scanning tasks. Free antivirus softwares fail to provide strong security to Windows PCs and many times they also affects speed and system performance.
Bitdefender Internet Security 2015
Always take security serious. Dont choose some antivirus software just to save some dollars and end up as a victim of an hacking incident or loosing your productivity. The reason we buy computers is make it work for us and improve our business and lifestyle. But most of us do the opposite and spend more time in fixing the problems and working for the PC. The moment you turn on the PC, it should be up and running fine. Availability is everything and when you choose an antivirus carefully, you get the best availability and productivity.
There should be No Excuse when it comes to Security
So participate in a chance to win a $60 worth security software license valid for 1 full year. Lets see some of the simple rules about this giveaway.
Giveaway Rules and Instruction:
Start Date: 22nd September 2014
End Date: 28th September 2014
1. Login with your Facebook details or Enter your Email id to participate in the Giveaway.
2. You have to Leave a comment for a question asked in the giveaway.
3. You have to Retweet about this post.
4. Follow @bitdefender at Twitter.
These are the simple and easy to do steps to participate in this giveaway. We have made those to give you three entries to participate in this giveaway. You may do the Retweet of this post once a day with a hashtag #dailytutbd15 to increase the winning chance.
Bitdefender IS 2015 Winners List
We will record a video and upload it to our Youtube Channel while select the winners Randomly on 29th September 2014. The same video with names list will be uploaded here as well. Winners will receive an email to confirm their participation and in the second email we will send Bitdefender Internet Security 2015 license key for 10 lucky winners.
 Thanks for participating in our Bitdefender Internet Security 2015 license codes giveaway. Dont forget to share this post in Twitter, Facebook and Google+. Have a wonderful day.
Also Read,