Hostgator, the leading web hosting company introduced some new Managed VPS Hosting plans. These are fully managed vps hosting plans that tells you to not worry about any server management, software updates, script updates and security related issues. Hostgator VPS support team will take care of all your VPS Hosting server script updates and most of the tasks are automated. You can also get free 24/7 tech support from hostgator team.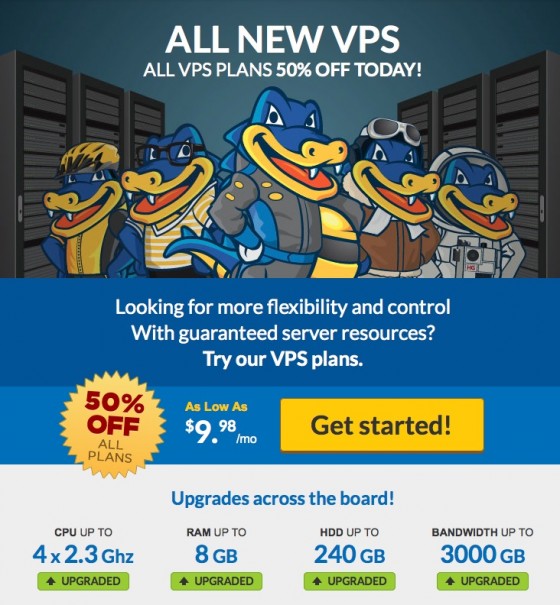 The main reason people go for VPS Hosting is to select an affordable solution over dedicated hosting. For deploying SSL to a website, any web application development and full freedom on script or software package installation on linux servers. Many VPS service providers lack quality tech support after sales.
Hostgator VPS Discount Offer
Hostgator introduced new VPS Hosting plans and to promote their VPS plans, they now offer 50% flat off on all VPS Hosting package signups. You can go for more RAM and CPU to drive crazy traffic to your website without worrying about resource usage and account suspension because of it. Hostgator shared hosting plans are pretty enough for a startup website or blog. When you use Drupal, Joomla or WordPress you may use several plugins to power up your website features and functionality. Which also end up consuming more real power of your Server CPU and Memory. In that case, hosting company will send you an email saying that you should consider upgrading to VPS or Dedicated server as your account uses more resources than allocated shared hosting website limit.
In Shared hosting environment thousands of websites are hosted in single server. This gives more chances of affecting websites performance because of other website causing some issues and errors in the server. To avoid such cases, it is always recommended to consider VPS Hosting account. Hostgator limited time 50% discount offer will keep your website run smooth without worrying about server resource usage also with huge money saving.
Lets see some highlights about hostgator new vps packages that comes with this offer.
CPU up to 4x 2.3 Ghz
RAM up to 8GB
HDD up to 240 GB
Bandwidth up to 3000 GB
This gives you enough storage and resources to power your blog or website that drives crazy traffic. Dont forget to share your views in the comment box below and give a retweet, facebook share and google plus one. Have a wonderful productive day.