If you are searching for a CDN service to use with your wordpress blog and improve your blog's google pagespeed score and serve webpages faster to your visitors, continue reading this article. WordPress is one powerful blogging platform which dont need any big introduction. It just works out of the box and sometimes, we make the page speed go slow by overuse of plugins and themes that has more images, which affects the overall sites performance as well.
CDN helps a blog to load the content faster in blogs by taking care of static files in a website. It is like more than one server in play to serve your website contents when user typed the URL in their web browsers address bar. Before they notice it, your website contents will be loaded and it will be ready in front of the user to read and use the contents further.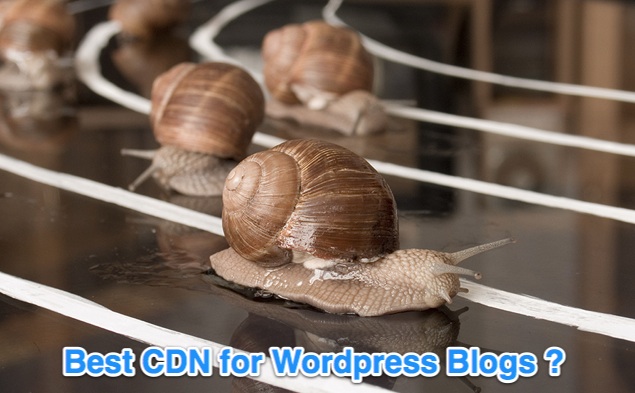 It is really essential these days to consider adding a CDN to a website or a weblog that gets some decent number of traffic every day. Page speed really matters as Google's one of Top Recommendation to build a good website mentions it. You cannot wait and keep watching the loading circle when you search for something in Internet.
Dont let your Visitors wait in Queue
Serving the contents faster really matters a lot. Readers will love the site that loads faster just like us. Reduce site waiting time effectively by using CDN to serve static files. Hundreds of servers in play to serve your web static files than loading everything from one webserver. CDN can be used very well even you have a Shared web hosting account.
Any shared web hosting plan comes with Resource limit. You have limitations in terms of Resources (processor usage, memory) as they have thousands of web sites in same server. Your website is one among those thousands and affected with Page loading speed when some of the websites hosted in the same server started to consume max of its resources.
CDN in Shared Web Hosting website can do really wonders in terms of Page speed score very much. Even though you optimize your website with worlds fastest loading wordpress theme or site design, you still may not get a clue when the site page speed score cannot reach 90 or users complaining that the site takes more time to load. Give some Free CDN service providers a try, but trust me, the name FREE actually contains that the service and support cannot be good or same all the time. Your precious website and data may be in Risk when you search for Free Web Hosting and Free CDN service providers many times.
Best CDN for WordPress Blog?
I have used it for 1 year and continuing it, as MaxCDN just keeps my page speed score and content to load pretty faster. Without any doubt i vote for MaxCDN as the best CDN for wordpress blog available. Which Results in 95 and sometimes more than that in Google Page Speed score. Pretty impressive isn't it ? You can improve your website page speed score just like i did, by getting a CDN account also make sure the website theme and image compression recommendations that has to be followed. Get 25% Maxcdn discount coupon code here.

CDN really plays an important role in page speed and score. I can't touch even the score of 80 if i disable the CDN. I been using MaxCDN for more than an year and like to recommend it to any one who wants to welcome more traffic and manage the server resources effectively to keep the website run faster and better always. Ofcourse, without any huge investments. MaxCDN comes at just 39.95 USD per year / 1 TB Bandwidth. Which is more than enough for a blog that gets more than 3000 visitors per day.
They do offer promotional discount coupon codes at time which can help you to upgrade your CDN subscription anytime to get extra bandwidth to burn at cheap rates. Till date, the performance is excellent and few of my clients who are using it on their website are happy about the page speed as well.
Their quick mail support is another added advantage and the knowledge base helps you to set it up in your website without any problem. They provide troubleshooting for almost any platform without limited to just wordpress. MaxCDN suites very well for WordPress, Drupal, Joomla or any Content Management System you use.
To know more about their Enterprise Plans and get an account for you today, visit MaxCDN now and complete the Signup process to boost your website speed and performance.
MaxCDN Coupon Code

You can save 25% more from the actual price by using the exclusive maxcdn discount coupon code on your purchase.
Thanks for reading and you may now share this post to help more website owners who are eagerly looking for ways to optimize and enhance their page speed score and deliver contents faster to their readers.