If you are looking for Kaspersky Coupon Code 2012, then you can get it here.
Giveaway Status: Ended
We are Giving Away 2 Kaspersky Mobile Security Antivirus 2011 Licenses for 2 users (one each) Scroll Down.
Kaspersky Mobile Security Antivirus 2011 (Activation Code)
Now follow up simple steps given here to participate and WIN Kaspersky Mobile Security Antivirus v9.0 Giveaway. We will select 2 Winners to giveaway kaspersky mobile security licenses.
Contest Note:
Use the Shorten link generated after the step 4 to earn more points. The Top 2 persons in the leaderboard will be selected as the winners.
Contest Start Date: 14, July 2011
Contest End Date: 26, July 2011
Winners will be Announced on: 28, July 2011
How to Earn More Points ?
Earning Points is very simple. All you have to do is, Retweet, FBShare or Google +1 the articles that you find across DailyTUT. Yes, any articles that you find interesting and like to share it with your Friends in Social networks. Each share will get you 100 points.
The Leaderboard finalizes the winner who got maximum points and the first place holders in leader board will be selected as the winners of this contest
Here we have an interesting giveaway for you. Kaspersky Mobile Security 9.0 Anti virus 2011 licenses by following simple steps. You make calls, send SMSs, browse the web and communicate via social networks every day. Your smartphone is your life. Kaspersky Mobile Security keeps your private life truly private.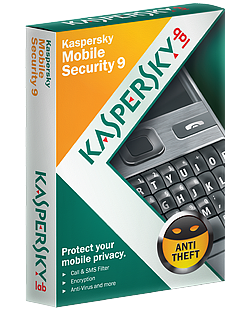 Android & Blackberry Compatible
Kaspersky Mobile Security 9 is the latest version from Kaspersky that gives high security to your Android and Blackberry smart phones as well. You may have a look at the kaspersky mobile security supported devices here. List of Smartphones it is compatible with,
Nokia
Samsung
Download
HTC
Sony Ericsson
BlackBerry
LG
Motorola
Have a look at the supported features for each mobile os platform.
| | Symbian | Windows Mobile | BlackBerry | Android |
| --- | --- | --- | --- | --- |
| Anti-Theft | + | + | + | + |
| Privacy Protection | + | + | – | + |
| Call & SMS Filter | + | + | + | + |
| Encryption | + | + | – | – |
| Parental Control | + | + | – | – |
| Anti-Virus | + | + | – | + |
Highlights of Kaspersky Mobile Security Antivirus 2011
Locate a lost or stolen smartphone
You can locate a lost or stolen smartphone using the inbuilt GPS Find function.
Secure contacts, photos and files from unauthorized access
You can store all your digital assets in encrypted folders and remotely block or wipe your smartphone if it's lost or stolen.
Privacy Protection – for your eyes only
You have exclusive control over which of your contacts and phone numbers you want to keep 'private'. Hide and unhide phonebook entries, SMSs and call logs at the touch of a button.
Block unwanted calls or SMSs
You can filter out annoying calls and SMSs by assigning contacts to black lists and white lists.
Parental control
You can restrict your children's calls and SMSs (e.g. block premium rate numbers) and keep track of their whereabouts using GPS Find.
Protect your smartphone from malware and network attacks
Kaspersky Mobile Security 9 provides all you need to protect your smartphone from harm, including real-time antimalware scans, automatic updates, blocking of dangerous network connections and much more.
Kaspersky Discount Coupon
We do have a 15 USD kaspersky Discount Coupon on purchase of your Kaspersky Internet Security and Kaspersky Antivirus products.