Television these days going really crazy than every before. This is not just about the Parental Control Software, it also contains more about the steps that should be known by the parents to let the kid surf online safely. It is really tough to watch one full movie in the Television with family. The nudity level is very high and letting kids to watch the television alone is really a crazy idea and not recommended at all. This will continue and increase in coming days by giving various Its OK, not a Big Deal nods and ruins the kids for sure. Internet is thousand times safer and better than Television. Here i will highlight some points in what way you can build a clean and secure way to let your kid enjoy knowing the things happening around the world, without so many distractions like in television.
The media people are going really crazy these days and younger generation gets nothing but a lot of confusion and nudity when they watch TV for News and other shows these days. To prevent serious behavior changes in future, we can help them to shape it better by not just banning the television, also by letting them experience something essential and to let them explore more and more on various facts and knowledge that they can get online.
Also Read, mSpy Review and mSpy Coupon Code, Best Mobile Monitoring / Spying Software for Android and iPhone.
Internet vs Television
Ofcourse, Internet is one powerful tool which can go negative and cause heavy damage than Television, but here you have the complete control over the Box, to limit the time and shows that kid makes the time useful online. There are plenty of software available to keep an eye on your kid when he sits in front of the computer.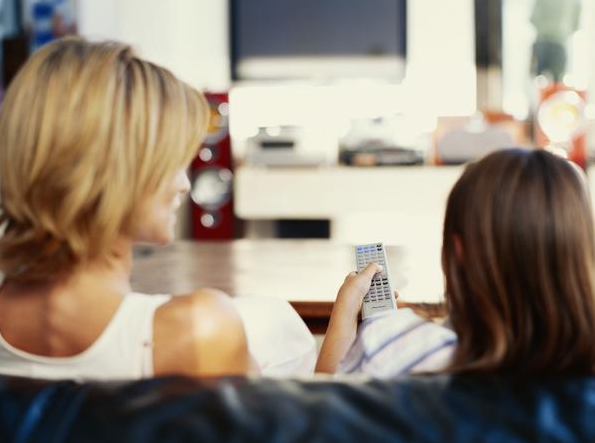 It is really dangerous if we let the kid surf all alone without any care about what he is accessing in the Computer and Internet. Its the responsibility of parents to understand and take necessary steps to make the experience of the kid completely safe and secure from the moment he sits in computer. Whatever the way he accesses the Internet, iPad, iPhone, iPod Touch, PS 3 or any of your Giant smart phone, it is completely unsafe out there are to be honest, its worse than the television. So in order to complete Ban the Television and build the base for your Kid to use the Internet in a right way, we got to keep certain things in place proper and perfect. Lets see the important things that we should consider to make the surfing go great to the kid.
Understand the Operating System
There is no second choice, and you got to spend some time to take computer lessons to understand about the operating system you are using in home. If you are familiar, then no problem, we can proceed with the further steps to build a great Internet experience to your kid. It is not the era of getting surprised when your kid explains and teaches you about various computer tasks. Its really good that he have observed very well in school during computer class, but the other side is, he knows more than you and he can bypass any protocols that you set Technically. So learn some computer course and that can help for your career too.
Create and always have a guest privilege account access to let your kid use Internet. Otherwise, a simple google search can help him break the Parental control software or any other third party software protection you have in place.
Parental Control Software
The very first thing that you should do is Installing a Parental Control Software to manage the time that your kid stay online and limit the access to many websites that are not advisable to be viewed. Now a days we get a good parental control software in-built with Internet Security software that we purchase. Dont fall for some free parental control software and end up in trouble after.
We usually recommend two industry leading security software and both has some extra ordinary features to provide security online. Kaspersky Parental Control and Bitdefender Parental Control are famous across Internet. You may buy the license as per your choice as both does great job. If you choose to buy some famous security software for your PC or Mac to get complete protection, consider trying out Bitdefender Total Security 2012 or Kaspersky Internet Security 2012 software. We do have a some 50% or atleast 20% coupon to save you some cash while purchasing it today.
And verify atleast once in a month, that your Internet Security Software is running perfectly and all the components are updated and running. There is always a way to Password Protect the Parental control and other settings that you make to the Security software. So use that feature to prevent any unknown modification.
You may Use Keylogger
Basically, keyloggers are familiar among hacker communities where they use it to get the keylog of the victim they want and it can be installed through online and offline as well. Ofcourse, there are other positive ways that Keyloggers can be used, to get the complete key records of your kids activity online. With whom he is chatting, what he is chatting and websites he visit and so on. This ofcourse not going to invade his privacy anyhow, but you can understand and guide him better to which websites to visit, and whom he should not chat with and so on.
Trust me ! there is no use of beating him, or shouting at him if he crosses the limit and if you tell him the exact things he have done online, then he will find another way to hide his computer activities. So never sound the alarm when you kept your kid under monitoring for Good.
Build Useful Website Database
Spend some time in the week end, and build a list of websites that you can recommend him to check out and enjoy the contents of it. You can use some social bookmarking services to search for best websites in Internet and get suggestion. This can also help you to improve and make your time worth to know many things while in Internet.
Where is the Computer Located ?
This is another important thing you should consider. Always keep the computer desk in the area where your eyes can access easily. So that you can help your kids anytime when he stuck up in some strange windows or websites that is not advisable to view.
Try OpenDNS
One of the best Free and Premium software to bring more protection to your entire family while accessing Internet. One of the perfect Web Filter and Security for Windows, Linux and Mac OS installed systems. OpenDNS lets you customize the parental settings completely through online as well. The configuration is very simple too. Just register for an account in OpenDNS Website and get the IP Address that you got to enter in your Network Settings. You can find the installation steps right after registering in the website. This way is more than installing a parental control software free version or paid version in your computer.
Content Filtering is achieved very effectively with OpenDNS. Free Parental Control software comes so easy with this method. You can secure any web browser like Internet Explorer, Firefox or Google Chrome. Windows 7, Windows vista, Linux or Mac OS you can protect your kid from online easily.
OpenDNS is Easy to Install and gives you peace of mind to monitor your kids online activity online easily.
Finally, spend some time in auditing the reports generated by the software you have deployed as suggested and not just give 24 hours internet access, also give a complete secured access to make his Internet experience so good and clean. Once we taught how to use it in the way he understands, then we don't have to worry much about the problems when he grows.
Thanks for reading and do share your views with us in the comment box below. Have a great safe and secure computing experience for you and your family. You may now share this post to tell more of your friends.