Android is one of the fast growing mobile platform in the existing ones. It is because of the interactive user interface and applications available for android. Officially more than one million apps are available for android and each one of them have a unique functionality. If you have your own android application for your blog or website surely it will generate a good traffic for your blog.
Here are the steps to create your own android application for free, to be more specific, this tutorial will help you to create an android application for website or create an android app for your rss feeds.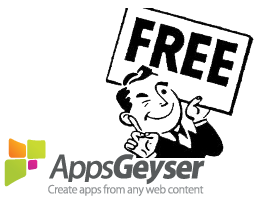 AppsGeyser is an online tool for creating android application for a blog or website. You don't need to write any code or something. All you need to do is sign up for appsgeyser and enter your blog details that's it, your android app is ready.
How to Create Android Apps Free
Step 1: Open your Web Browser and Go to appsgeyser.com.
Step 2: Click Create Now button in the home page to start creating your first android application.
Step 3: Then you will have three options before you to create your android application. First one is to create an android app for your mobile website. Second one is to create a new widget to embed in your created application. Third one is to create an application for a particular content in your website.
Step 4: Click the first option "Mobile Website" to create your android app. Then you will get a simple form to fill your website details. It includes website address, name of your site, description, etc.
Step 5: Fill the form and click Create to Finish the first step of your application.
Step 6: After finishing the first step you need to sign up for appsgeyser to download your android app else use your existing Facebook account to complete the sign up.
Step 7: After sign up you will be redirected to Download your Android Application.
Step 8: One of the unique feature of appsgeyser is that others can download your app from this website and you can monetize the downloading progress of created application from your account.
Step 9: Here i have a video demo embedded to know the complete process of creating your own Android App. Watch How to Create Android App for Free Video.
[youtube width="550″ height="350″]http://www.youtube.com/watch?v=JTqeY7Oomcg[/youtube]
I hope this helped you to create your first Android App for your Website or WeBlog. Have a great day !
You may follow us on Twitter or like us at Facebook to get more Android News, How to's and Updates.