It's finally here, this android smartphone has got the best hardware and software at an affordable price. OnePlus One android smartphone from OnePlus with power packed hardware and software features will hit the stores by Q2 and the company has officially announced their "One" in their official website. If you are thinking about upgrading your mobile to the best mid range android mobile phone, then wait for couple of months and go for OnePlus One android smartphone.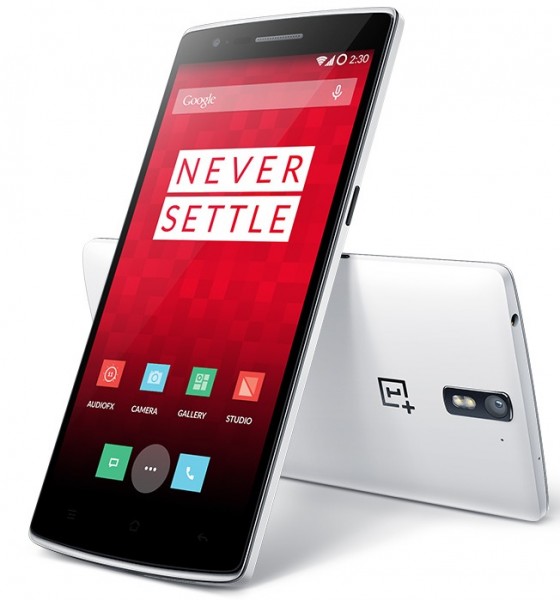 There are some decent mid range android mobiles but this upcoming android handset will eat up every other competition without a doubt. It has an impressive hardware specification that makes it to standout from the crowd, specifically it targets Google Nexus 5 and Samsung Galaxy mobiles. OnePlus One Android mobile phone comes in two different storage sizes. They are 16 GB and 64 GB and thats not the catch here, the pricing of 16 GB is $299 and 64 GB is $349.
That is what makes people smile a little and blindly pick the 64 GB variant without any second thought. $50 difference and you can massive 64 GB Storage built in on your smartphone. Thats very impressive for people who want to store more pictures, videos and music files.

OnePlus One Review
Here we have the quick preview "the making of OnePlus One" android smartphone that showcases the design, hardware choices like Processor, Memory, Battery and Camera.
[youtube]https://www.youtube.com/watch?v=KP-5OlHINg0[/youtube]
Android smartphones are giving good competition for iPhone and Windows phones. This best hardware loaded smartphone at an affordable price will let more new iPhone and Windows phone buyers to go for it without much choices. It has a beautiful display and an impressive 13 megapixel camera to take good high quality pictures and videos.
OnePlus One Hardware Specification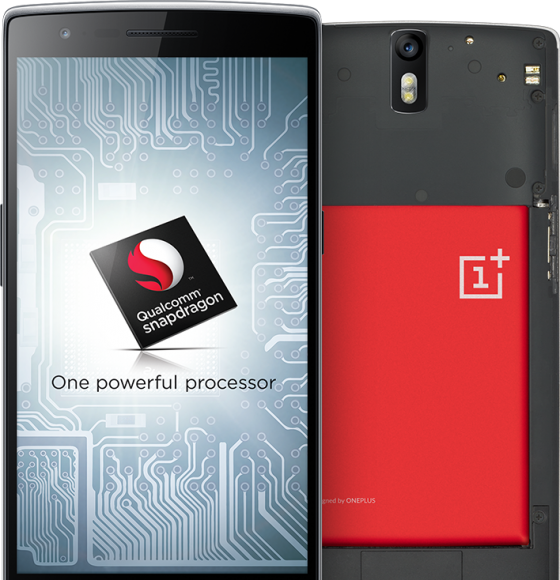 Lets talk about hardware specification of OnePlus One. Their official website is OnePlus.net and you can read all the announcements and more details there.

Color: Silk White/Sandstone Black
Dimensions: 152.9 x 75.9 x 8.9 mm
Weight: 5.71 ounces (162 g)
Display: 5.5 Inch 1080p (1920 x 1080 pixels) 401 PPI
Rear Camera: 13 MP f/2.0 Dual LED 4K Recording
Front Camera: 5 Megapixel
Connectivity: WiFi (2.4G/5G), Bluetooth 4.1 and LTE
Operating System: CyanogenMod 11S based on Android 4.4
CPU: Qualcomm© Snapdragon™ 801 processor with 2.5GHz Quad-core CPUs
GPU: Adreno 330, 578MHz
RAM: 3 GB LP-DDR3, 1866MHz
Storage: 16/64 GB eMMC 5.0, available capacity varies
Sensors: Accelerometer, Gyroscope, Proximity and Ambient Light
Ports: Micro USB 2.0
SIM Card Type: 1 Micro SIM
Battery: Embedded rechargeable 3100 mAh LiPo battery
Cynogenmod is very popular among android users and this phone is powered by Android 4.4 Cynogenmode 11S to give you more freedom and customization choices for best android mobile experience.
OnePlus One Android mobile has got good design and comfortable to hold in hand. The design part is done very well and overall it is attractive enough to convince any new android smartphone buyers looking for budget android mobile phones. OnePlus One 5.5 inch android smartphone is also the one that we like to recommend to our readers and add it our list of best phablet smartphone of 2014. Lets talk about OnePlus One Pricing.
OnePlus One Pricing
OnePlus One comes in two different colors Black and White and just two different storage sizes 16 GB and 64 GB. Both will be available for purchase in stores from Q2 and the pricing are as follows.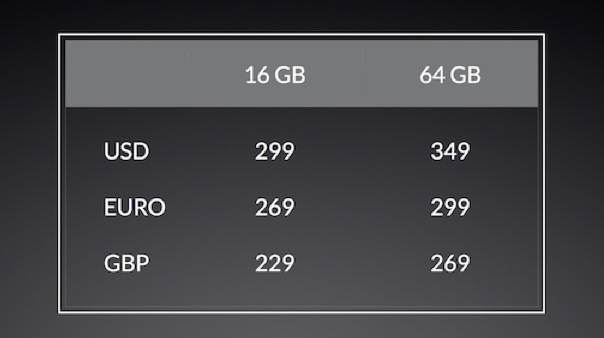 Pricing of OnePlus One android smartphone in USD, Euro and GBP officially released by OnePlus company in their Twitter account. Time to check out some OnePlus One video Review by Android Authority. The first hands on review of OnePlus One is here.
[youtube]https://www.youtube.com/watch?v=evEiekq_Di8[/youtube]
via Android Authority
MKBHD about OnePlus One
[youtube]https://www.youtube.com/watch?v=jzezFz6CMqg[/youtube]
MacMixing about OnePlus One
[youtube]https://www.youtube.com/watch?v=t7iqhs3G8po[/youtube]
Is it Worth for the Price ?
Well the answer is very simple and its a Big "Yes". OnePlus One Android smartphone will give tough competition to Google Nexus 5, Moto X and many of Samsung Galaxy phones once its out in the market for people to buy. Impressive features, hardware specification and pricing are all the reasons that will let more users to buy this beast quickly. OnePlus One is an absolute worth for the money smartphone. This 2014 flagship handset will even be the choice of some iPhone users who want to give Android a try.
Do share your views about this upcoming smartphone and dont forget to give a retweet, +1 and a like at Facebook. Thank you and have a wonderful day.