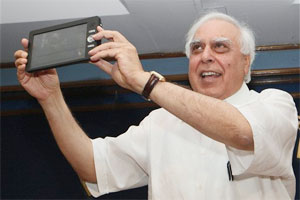 Its one of his dream project too, kabil sipal announced the worlds cheapest tablet which is expected to reach the indian market for sale by 2011 end. The ministry is also in a discussion to bring it for 10$ as per the announcement made couple of years back when the development work started by IIT Researchers. However, this is one of the cheapest solution to own a wifi connectivity available gadget in hand by every student. Many colleges are still in a dont care policy about the must have WiFi connectivity inside campus.
Its almost like indianPad (iPad) for us to own one.
This is part of the national initiative to take forward inclusive education. The solutions for tomorrow will emerge from India," said Sibal.
Its a full touch screen device comes with following specifications.
5/7/9 inch device size
internet browser
pdf reader
camera to have video conference
open office
sci-lab
media player
remote device management capability
multimedia input and output interface option
multiple content viewer
and so many… the device has linux installed in it, that has 2 GB Disk Space, and 256 MB Ram in it to give sufficient performance with linux as an operating system.
While the device developed by the HRD Ministry's teams will come with a smaller memory and no hard disk, the ministry said it would be sufficient for a student's needs. The Rs 1,500/$35 computing device is expected to first hit higher education institutions, colleges and varsities starting 2011, but the government could subsidise 50 per cent of this cost, bringing down the price.
via IndianExpress