While you go to buy an Ebook Reader there have no absolute answer that which one is best for you. But you have to search the best eBook reader for your own. To buy an E-Book Reader first you have to decide that, from where you want to buy it. Which features you want in your new E-Reader. If you have any other specific choice like better screen size, battery backup, different size of display word and other then you got to give a wider look of the available choice. Here are some important tips about buying a new Ebook Reader to change the way you Read Books and get a better experience as well. This brief information can help you to choose the right e-reader for your need.
Very first thing you must consider is the supported file formats of your eBook reader. Which file format you want to read in your e-reader ? It is a very difficult decision for any kind of e-reader buyer.
[Image Credit: ebookreaderdayreview.com]
But there are readers which support maximum file formats that we use every day. If you make some search you can show that different brand gives some special advantages for their products.
Like, in Sony and Amazon kindle you offered to read standard file formats which are much better than the other digital documents reader. Those brands also offers you PDF file with their e-reader. If you want you can also compare the selected model with other models. The better quality e-readers are able to handle Audio file like MP3. The next step is that you have to consider is supported input devices with the reader.
Amazon Kindle has the most features, still there are some real competitors like Sony, Nobel Nook and Barnes and other chinese models which can replace it totally with its stunning extra features. People choose amazon kindle or amazon kindle fire to buy books quickly and easily from Amazon shop right from their device. Nook also brings such features and many free books are available to enjoy the read anywhere anytime.
You build your virtual book shelves with your new EBook Reader.
Features of E-Book Readers
You dont need a complete iPad in the form of E-Book Reader. It will be really so distracting if you get all the multimedia features loaded into an ebook reader. So i would suggest you to give a try with a reader that just does great with bringing excellent Readability, Input Device support, Good Display and a Book store that just got maximum of your favorite categories covered.
As a Gadget, the style and design is quite important as well. There is a particular feature of e-reader named ability of adding notes. This feature is become very useful for some kind of people like students, businessman and so on.
From this feature student can read out the new text book, businessman can get down the ideas to stand top in their marketing. However other reader can get inspired from knowing many of the topics from e-reader. In fact best e-reader means that gadget where users can feel the real reading experience. You cannot find all those experience of reading book but you can feel the maximum if you choose the best electronic reader for your use. At present day e-link technology become popular among the e-reader users. Its main advantage is that it does not harm your eyes while you stay long in front its screen.
Maximum E-Book Readers brings you the best Battery life where you dont have to worry about recharging every day to read books on the go.
Amazon Kindle – Takes 3 hours for Full Charge and gives you 1 Month battery life.
Sony Reader – Brings you 1 month battery life which is almost 14000 page turns.
Nook Simple Touch – Over 2 months with wireless off based on a half hour of daily reading.
There are also some essential physical features like screen, variety of fonts, slim and sleek design is also a general matter of e-reader. By the time we believe you know the features that some top readers give and you got to choose the one that suites you very well. Its time for your to pick the best one to make it as your favorite ebook reader.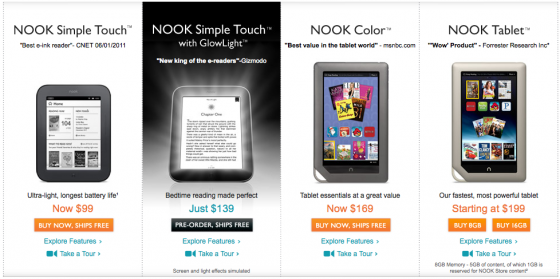 There are rumors spreading around the web, that Amazon likely to introduce new range of Kindle Fire with improved battery and screen size to compete with iPad. That means, more multimedia features in the existing device which may get a name as Kindle Fire HD.
Author Bio: I am Rahul Garewal working as a self-employed content writer & guest blogger. I love to write on Technology or Business articles like Personal tax accountants in uk & Company registration services