Amazon to introduce Amazon Kindle Fire HD models of eBook readers very soon. There are news from valid sources, that brings us the confirmation of Amazon Kindle Fire HD that supports 720p video playback in upcoming Amazon Kindle Fire tablet. Amazon has recently introduced its Colorful eBook reader that comes with Android operating system installed. Amazon also introduced new Kindle, Kindle Touch 3G and WiFi models, along with Kindle Fire. This low cost android tablet is one of the best choice that people can go for, to enjoy using Mail and Surfing on the go.
As it comes with Android OS installed, we can do enjoy Movies, Music and Games than just some productivity tasks. The new amazon kindle fire hd versions are expected to have 1280 x 800 px resolution to bring 720p HD video playback feature. It is also believed, that amazon is working on bringing up a tablet at 8.9 inch size with a Full HD that has 1920 x 1080 px screen resolution.
Amazon Kindle Fire HD – 7 inch tablet
1280 x 800 px Display
720p HD Video Playback
Amazon Kindle Fire HD – 8.9 inch tablet
1920 x 1080 px Display
1080p Full HD
more details about features and specification are yet to arrive.
Amazon also introduced its Silk web browser in Amazon Kindle Fire which is a cloud accelerated web browser. Amazon always love to stand in the row of bringing products to give an alternative tablet series to readers for Apple iPad. The New iPad has got Retina Display and some extra amazing hardware changes, and Apple has reduced 100 $ price for iPad 2 to clear the stock. When people want something not iPad, then we have some good hardware loaded Android tablets as alternative for iPad.
Amazon Kindle Fire HD Games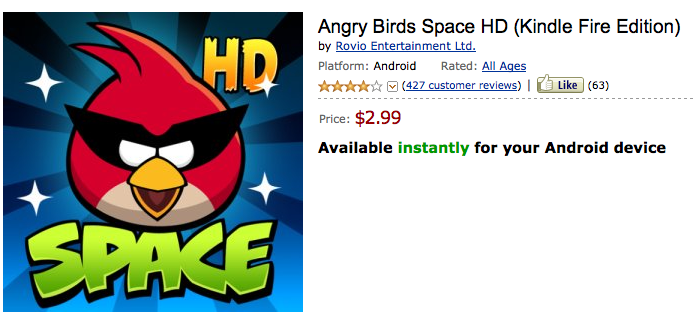 Gaming is going to be more fun in the upcoming amazon kindle fire HD tablets. We already have some HD games, and Angry Birds Space HD is one among them in Amazon App Store. The exclusive store where you can purchase android apps for your amazon kindle fire tablet that are tested to deliver best performance. Rovio studio has recently launched its new series of Angry Birds game that adds more spice to the tablet users and smartphone users. Angry Birds Space Download is available for iPhone, iPad, iPod Touch, Mac, PC and Free version for Android smartphones.
Spiderman HD is another top selling game in Amazon App Store. Give a search in Amazon App Store to get details about HD Games available for your Amazon Kindle Fire.
We can expect the all new Amazon Kindle Fire HD tablets before this year end. There is no info about release date of this all new android tablet. If you have plans to purchase a colorful eBook Reader then its better to wait for some days to get the Amazon Kindle Fire models at best price. There are chances that amazon may reduce the existing kindle fire tablets so that people can get an android tablet at low price.
Thanks for reading and you may now share this post with your friends in Facebook, Twitter and Google+.