After 48 hours of registration time, i got my invitation from Deudil Team to test their reputation system. Duedil is a browser application that sits on top of Linkedin profiles and allows you to read and write reviews of people in your professional network. After collecting the reviews from your known people, you can further read them and respond to those who have written the reviews about you.
[vimeo width="550″ height="300″]http://vimeo.com/11868237[/vimeo]
Linkedin is not just a social network, from the moment you see the login page it makes you feel like entering into a professional network. Yes, LinkedIn is totally a professional network where you meet people from various companies. Naturally, linkedin helped many graduates to get jobs in abroad as well as in same country. People who seek for change in the job and during recession time also, linkedin played a main part to solve the jobless situation.
Alright, Lets have a look at few important highlights of Duedil Reputation System and the way it works with screencaps.
Writing a Review
At present it is not possible to go for instant use of Duedil system. We have to Apply in their website, and need to wait for atleast 48 hours to get an account approval mail. We can expect the official launch of Duedil very soon as the system really works well in the testing stage itself. Proceed to download a small software that lets you to enable the Duedil API when you visit linkedin website.
After installing Duedil Reputation System for your browser, login to linkedin and navigate to the colleague or employee profile whom you wish to write a review for. Here i choose one of my friend Ganesh Moorthy profile to continue write a review.
You will see the pop up and on page box at the right bottom corner of your browser, and this will be visible only in your Linkedin page. By default you will be prompted to login to your duedil account to start reading and writing reviews in your professional network.
Here you have to login using your duedil login details which you have received in your email.
After logging in, it prompts you to navigate to the user profile to whom you want to write a review.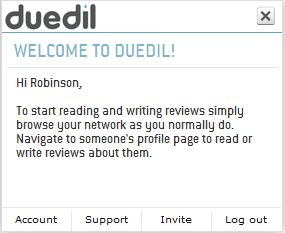 Once done, you will get the following screen.
If any existing reviews are present, then you can read them at this window. Otherwise you can proceed writing one about your friend or colleague who works with you in your company.
You have 500 characters limit to write a review.
Click "next" once you wrote the review to complete one more step.
The "Invite" tab allows you to send duedil invites to your network people, but currently it is not ready for the beta testers. May be in couple of months we can expect the invitation service to be open and this will make the spreading of duedil bit faster across the millions of linkedin users. I would say its the smart move that duedil makes to manage the server load from the initial stage and also to measure the level of resource requirements and server usage.
I am sure you will enjoy this great tool after the official launch by Duedil Team. Do leave your comments to share your views about this service and will you use duedil once its launched.