Twitter is one of the most highly used social platforms after Meta's Facebook and Instagram. Here are some Useful Twitter Bots to Follow, Taking Screenshots, Readers, Quotes Creating, and finding games will be much easier.
Twitter is a hot place for politics; humans are fond of fame everyone is working hard to grow their brand, and Twitter is one of the best ways to achieve it.
You may also find Download Youtube, Facebook, Twitter Videos and Instagram Reels useful and Interesting.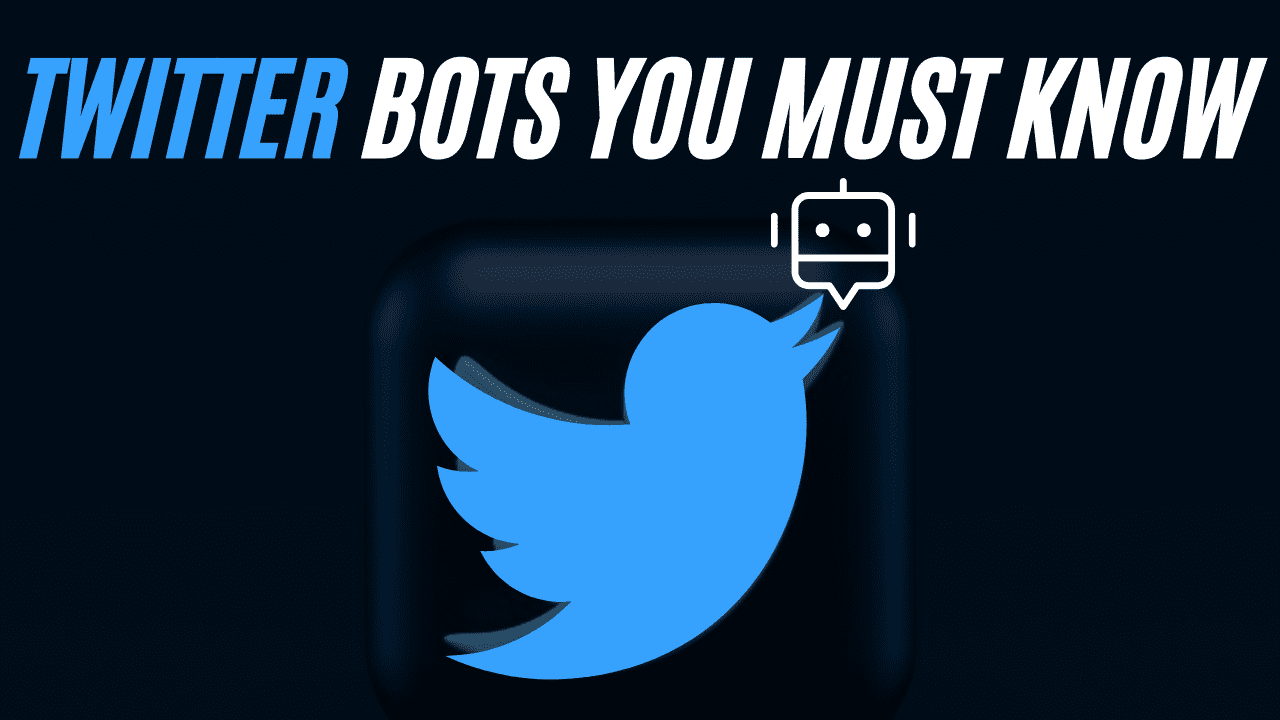 For instance, Elon Musk, the richest man on the planet, promotes his Tesla only on Twitter; that's how powerful Twitter is. To achieve this value, you must use Twitter to its full potential and be aware of Twitter Bots. 
Also Read, Elon Musk Savage Tweets, What's Your Favorite?
What is a Twitter bot?
Automated Twitter accounts set up using bot software are known as Twitter bots. They are programmed to carry out actions similar to regular Twitter users, such as tweets, but their primary function is to widely tweet and retweet stuff to achieve specified objectives.
Should I Follow Twitter Bots?
The answer is Yes. To get the best out of the Twitter Social Network website, using Bots is Recommended. Once you start using Twitter Bots, It won't be just scrolling through your Twitter feed, clicking on a few links, and watching images anymore.
Your overall Twitter user experience will improve; you will learn more and share thoughtful and rich content with your followers. I wrote about some Twitter Alternatives some time ago; you may like to check.
Useful Twitter Bots to Follow
Here is the Twitter Bots List you should check and follow. From Screenshot a Tweet, Compiling several long threads into one article for easier reading, and Creating and Sharing Quotes, we have much more in this list.
One of the Best Twitter Bots I follow; The Thread Reader App is a great Twitter bot for following and saving threads if you frequently use Twitter and follow accounts sharing insightful or educational discussions.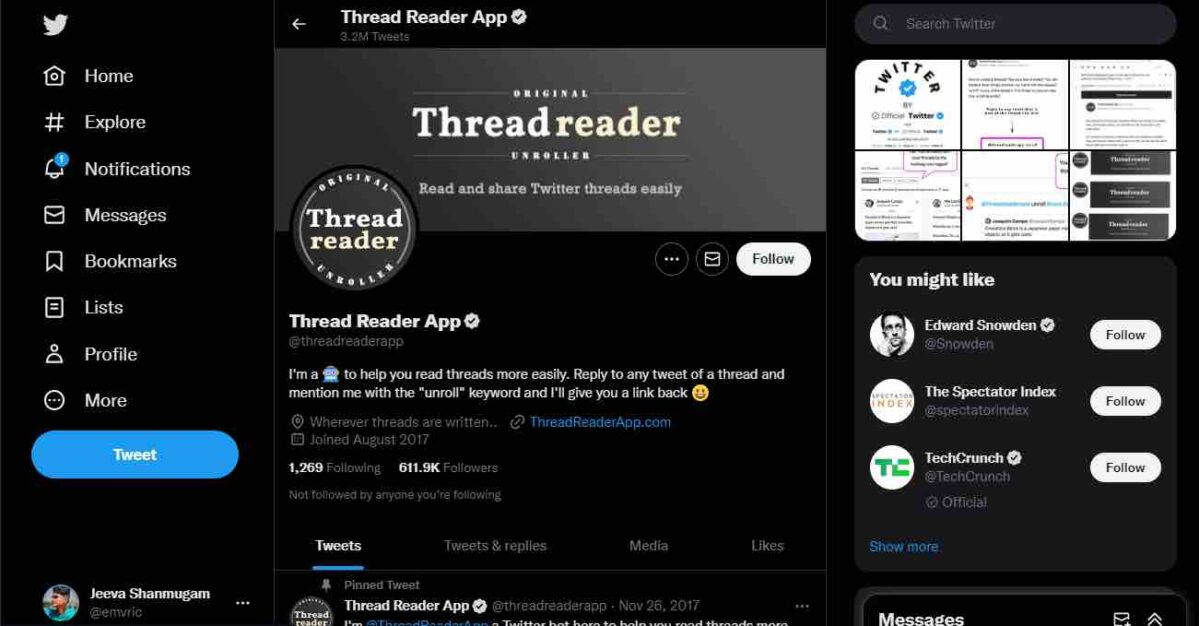 To utilize it, open the thread you wish to save and add @threadreaderapp and the unroll keyword to the subject line. Using the Thread Reader App will provide you a link to the thread where all the tweets are shown in blog format. You may save this link to your device as a PDF.
@pikaso_me can help you when you need to take a screenshot of a tweet, perhaps to share it with others or preserve the receipt for future reference.
You may receive a neatly cropped and structured screenshot by replying to any tweet with a @pikaso_me screenshot. While using it is free, you may pay $10 every month to have the watermark removed.
Trust me, one of the useful Twitter bots I often use to take a pleasant, not so clumsy, tweet screenshot. 
Is there a Twitter bot that saves tweets? Yes, and here it is. Another useful Twitter bot, for instance, is a reminder for a Tweet; you can come across tweets on your Twitter timeline sometimes that you want to revisit later, possibly in a few hours, the next day, or even a year.
One bot that can help you with this is called Remind Me of this Tweet. Comment @remindme_ofthis below the tweet you want to be reminded of, followed by the time you want the reminder to occur.
For instance, you may use the hashtag @remindme_ofthis in a remark to request to be reminded of a tweet in two hours. When the reminder is ready, the bot will set the time and date for sending it to you.
You can discover a unique and practical Twitter bot on Twitter. Send a tweet to @colorize_bot with your black-and-white image if it needs to be colored. The bot utilizes artificial intelligence and a huge image collection to add color to pictures.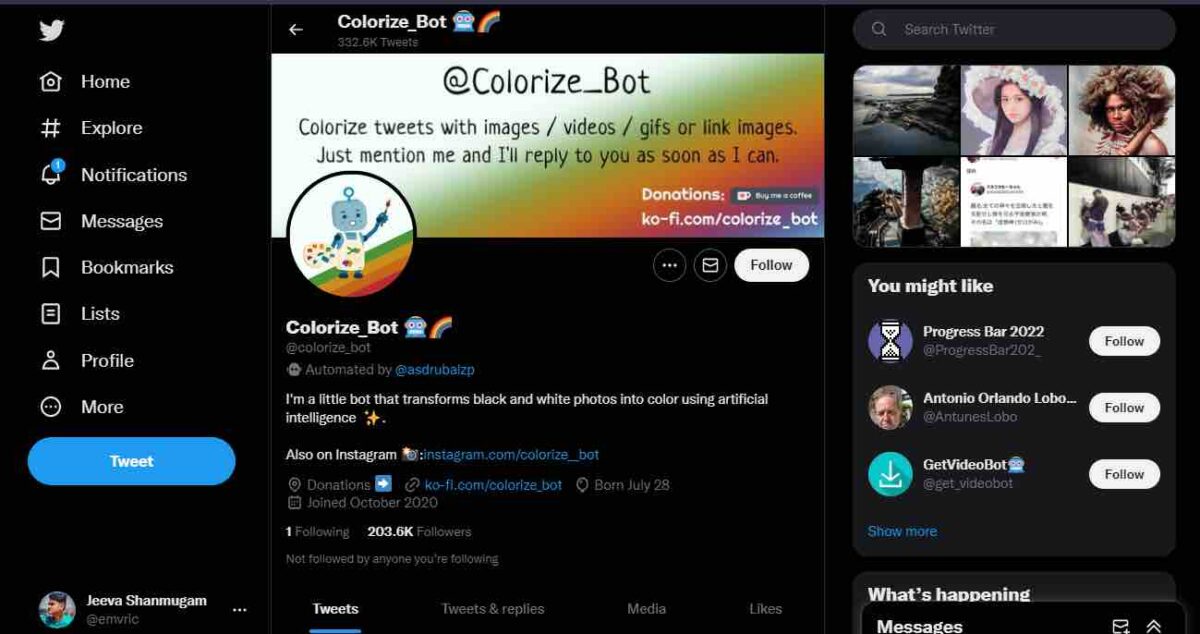 The outcomes sometimes are stunning. You can submit a donation to help with the bot's operating costs even if using it is free.
A powerful technique to communicate someone else's tweets with your opinions added on top of them is through quoted_replies. While the Quoted Replies bot can accomplish this for you pretty simply, you can read quoted tweets to a tweet by looking into its retweets.
Also Read, Best Movie Recaps Youtube Channels You Should Check Out
Simply click on the tweet you wish to read the quoted tweets for and post a comment with @quotedreplies in the subject line. Replies that have been quoted will link back.
I advise using poet this if you're seeking a Twitter bot that can make you feel so passionate. The great @poet_this goes a little bit farther in terms of screenshot formatting than the snapshot tool I mentioned earlier.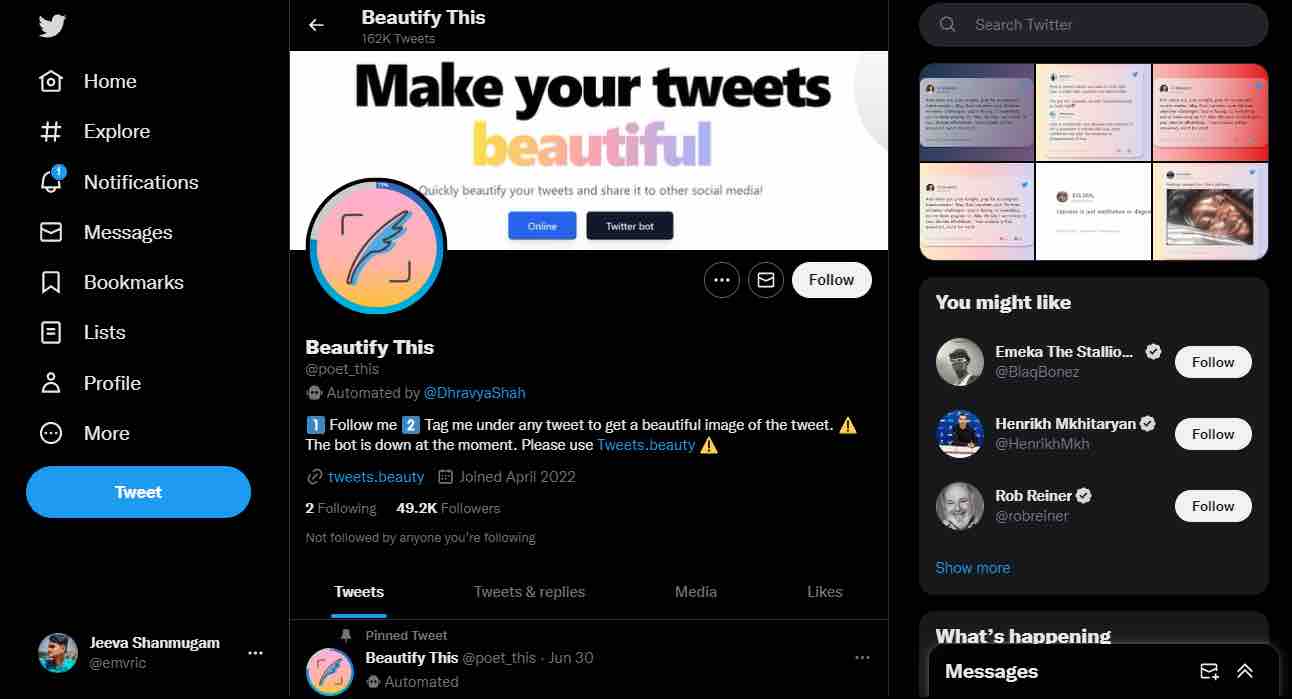 In addition to changing the screenshot's form and hiding the likes and retweets, you can select one of four other color schemes. You must tweet a specific command to acquire what you want, but the directions are simple. However, using the bot is free.
The DSCOVR:EPIC bot is certain to appeal to anyone who finds photographs of the Earth fascinating. It's a simple Twitter bot that sends photographs of the Earth captured by the EPIC camera on the DSCOVR satellite in almost real time.
Daily Earth photos from DSCOVR:EPIC may be expected to range from 10 to 13 on average.
The @wayback_exe bot differs slightly from the ones I've described so far in that you don't engage with the bot. Instead, you follow the account and use the content it offers, screenshots of websites from decades past.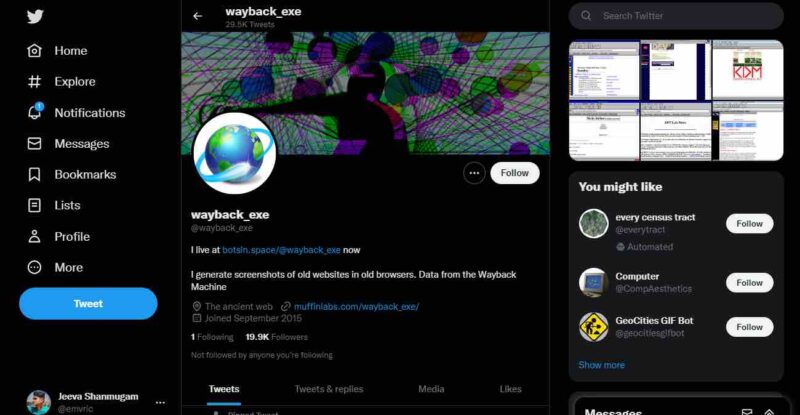 Courtesy of the Wayback Machine. If you enjoy retro electronics, you'll find it quite amusing.
One of the necessary Twitter bots you should follow, Earthquake Robot, is worth your attention if you or somebody you know lives in an earthquake-prone region. It is a basic Twitter bot service that tweets whenever an earthquake of 5.0 or higher occurs worldwide.
The bot also includes a map link containing the exact coordinates of the earthquake's epicenter, which you can open in Google Maps to view.
Another autonomous bot that doesn't require user involvement is the one I mention. if you follow the @year_progress account on Twitter, you'll receive updates every three to four days, which marks another percentage of the year.
Use it as motivation to live each day to the fullest or a reminder of your frailty.
The Free Game Findings bot can assist you in finding free offers on PC, PS, and Xbox games if you appreciate trying out new games and are an avid gamer. It was created just for Reddit's FreeGameFindings section. The bot also frequently shares free game bargains, just like its subreddit.
Also Read, Learn, Puzzle & Games – Best iPad Apps for Kids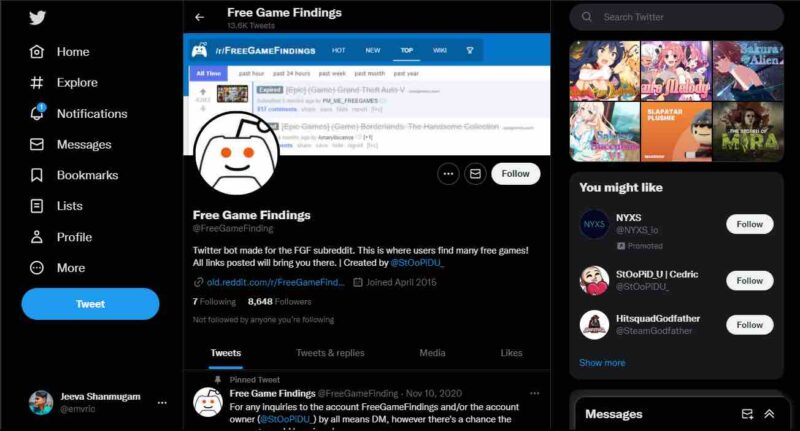 If you subscribe to this subreddit, you should follow Free Game Findings on Twitter to remain updated on similar offers.
Many beautiful visuals that display tweets as quotations are thanks to @MakeItAQuote, in case you're wondering where they came from. To generate a graphic with the tweet text and profile image integrated, follow the account and tag it in reply to any tweet.
I hope your "How do I get Twitter bots?" question is answered now. These best Twitter bots will help you use Twitter to its full potential and will also help you in your day-to-day life. I hope this article helped you to find some of the Best and most Useful Twitter bots.
You may share this post with your friends and followers on Twitter and other social media websites. Bookmark it, if you like to revisit it in the future. Thanks, and have a wonderful day.