Rationalplan is a very powerful project management software designed to help both project managers and teams to create consistent plans for projects. Without just creating it, rational plan software lets every one to effectively manage the projects very well. Create projects, allocate resources and analyze workload, track work progress, estimate projects costs and manage budgets with brilliant detailed reports.
Its not a matter whether your applications are in the area of construction, engineering, consulting, services, software development and so on. Rationalplan is here to help you out to complete the projects on time and within the allocated budget.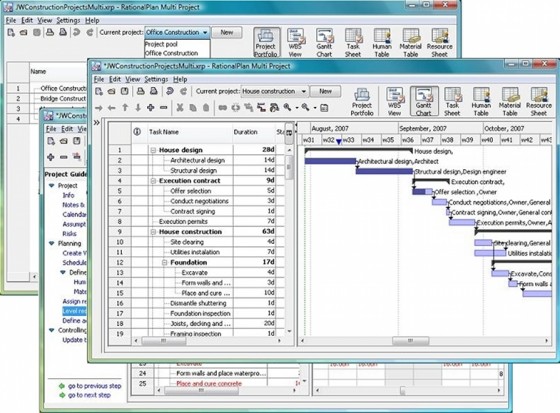 Rationalplan is one solution for your long time search as the perfect project management software to automate so many process involved in completing a project successfully.
Why Rationalplan ?
Easily manage your companies projects and share resources between them.
Brings projects critical issues to your attention, such as over allocated resources, critical path with configurable slack from which activities become critical.
Get complete resources and finances under control with realistic cost estimates mechanisms, detailed cash-flow screening and down to tasks resources level.
Rationalplan lets you track the project completely in terms of project completion, time and total costs.
How about multiple undo/redo of certain levels ? and rationalplan allows you to do that by enabling "What if" case as well.
It also allows you to break down your projects in several parts and that lets you build schedules, allocate resources and manage budgets very well.
Dont delay anymore once your budget decided. Rational plan provides you a step by step project guide which walks you through the project management process so that you can start the project plan quickly.
Finally, you get an extra ordinary Project Viewer which can be used very well as Microsoft Project Viewer.
Rationalplan software currently supports Gantt chart view by default and also provides Work Breakdown Structure (WBS) view to let you focus on the very important task of breaking down the newly created projects than getting distracted to other issues, which may come only at later stages.
Microsoft Project Alternatives
Developers of Rationalplan have built it with ergonomy in mind that lets you experience no fussing dialog windows prompt unless strictly necessary, timescale zoom, shift to different time frames, zoom focus point marker, and so many features to name.
If you are looking for a perfect alternative for Microsoft Project alternative, then Rationalplan can suite all your diverse requirements and needs to prove you as the smart in building, managing and completing the projects with extra ordinary guidance and smart reports. Go for Rationalplan multi project version to enable extra features.
Supported Operating Systems
Rationalplan currently supports three major operating system platforms. They are Linux, Windows and Mac OS X.
System Requirements
Windows version requires Windows 98/ME/NT/2000/XP/Vista/Windows 7
Mac version requires Mac OS X 10.4 or higher
Linux supported versions: Ubuntu, Fedora
Java Runtime Environment 1.5 or higher.
Get 20% Hot Discount Today on your purchase of Rationalplan software for windows, linux and mac os platform to automate your projects.
Thanks for reading the review of this great tool. Please do share your views in comments below.