Project Windows has been a great success for Microsoft, everyone loves the simple and easy-to-use interface. Want to Run Android Apps in Windows without Software or Simulators? What are the Windows 11 Features coming to your Laptop and Desktop? Well, here is a Good News. Now with Microsoft Windows 11 you can Run Android Apps directly inside Windows 11 without any third party apps or simulators.
Also, check out some New Windows 11 Features coming to your Desk once its officially released by Microsoft.
Its just the beginning with Android Apps coming to Windows 11. It may take time for people to stop using the simulators, but this is a good start to bring all the android apps to windows 11 that looks more like, runs natively.
Evolution in windows is kinda weird,
Windows XP – Great
Windows Vista – Not so Great
Windows 7 – Well Tuned
Windows 8 – No Comments
Windows 10 – Productivity Pirate
Windows 11 – let's talk about it!
Talking about Windows OS, Microsoft earned a large chunk of users over the globe because it's the first OS most of us, as a Beginners introduced with and trusted by millions of users as well.
But while talking about versions, windows is losing its game in the market.
Now the last version "Officially" launched by Microsoft is Windows 10 and really as a user, I love it and am still using Windows 10 as my primary OS. In a recent Microsoft event, they introduced Windows 11, the next-gen of Windows OS.
Also Read, Facebook Live Streaming Apps for Windows PC and Mac OS
Developer's market it as a successor of Windows 10, will Windows 11 meet the same level of expectations? That's a question we have mind and wait to see the answer after few months of its release.
Let's talk about the features,
I feel, what they demonstrated on the stage during launch event, has some marketing gimmicks. There are some really cool new windows 11 features that I am excited to see in my computer. Here I am going to list them one by one.
New Microsoft store.
In Windows 11 they came up with a new Microsoft store with a new layout. It's been a long time since I waited for this change because according to the leaks it's far better than the current laggy Microsoft store.
The new look is cool and it gives us a fresh feeling than the traditional Microsoft store interface. The big deal is, it allows all kinds of apps, (Universal Apps, Web Apps, and Win32 apps for old users apps like adobe or chrome browser).
The main reason why people avoid PCs is that they can't use apps like what they use on android phones or tablets. But now the new Microsoft store allows all kinds of apps and it's a big deal and an attractive feature to engage their users. I can't wait to check it out and comment on what you think.
New Snap and Desktop
The new desktop layout is awesome. Already dual screens have been a success in Windows 10 but now the new snap makes it better than the dual-screen apps. It has 6 different modes and allows a maximum of four apps to run at a time and they make snap groups on the taskbar just to make the work faster and help you to get the layout quick.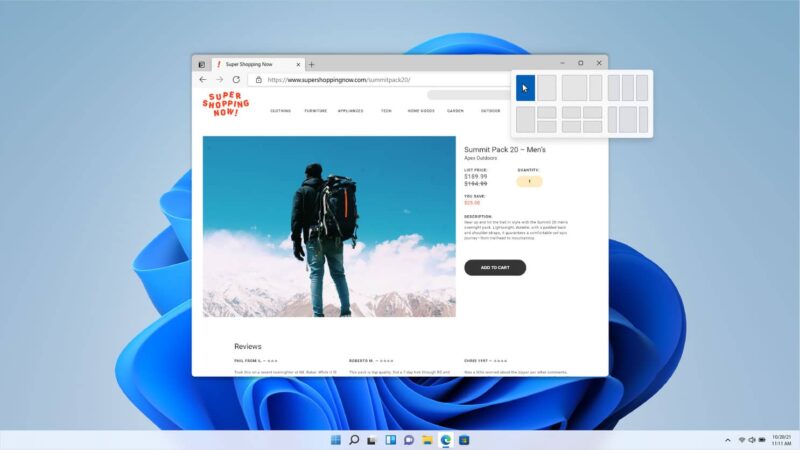 I'm very much excited to use it. You can personalize them with different customization options and you can make your task unique just by giving separate wallpapers to those groups and features like this help to enhance the productivity of multitasking.
Teams in Windows 11
Microsoft owns skype by giving 8.5 billion dollars just to make video chats but now the company itself limiting the usage of skype by increasing the features of Teams in Windows 11, you can see the teams icon on the taskbar just to make video chats I don't think it as an upgrade because investing that huge amount in skype now they limiting the usage of it doesn't make sense. #RIPSkype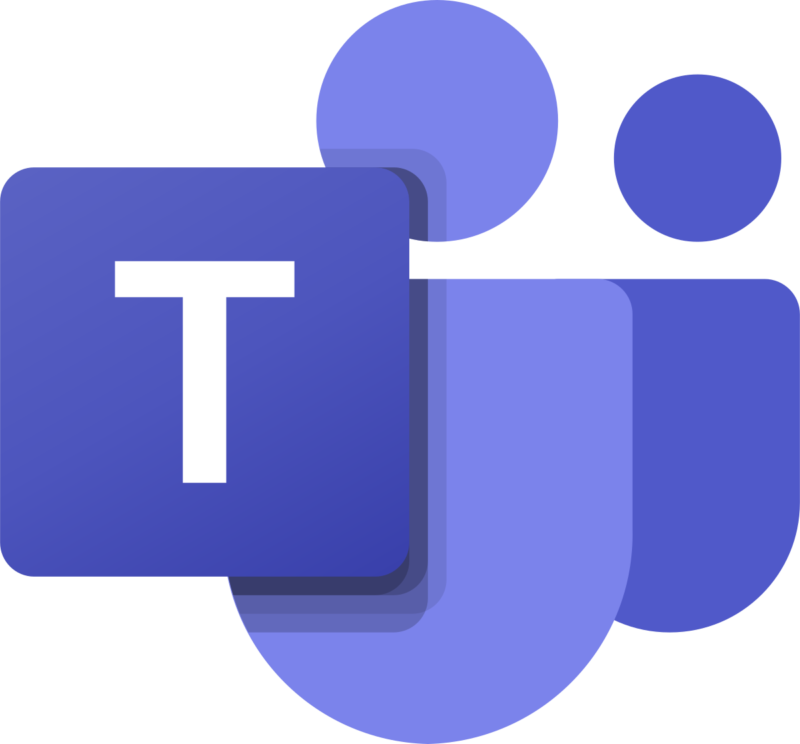 Now teams in Windows is well-tuned for Windows 11 it is easy to make or receive calls on the flow. But apps like zoom and google meet are more popular among people than teams, even skype is more popular than teams.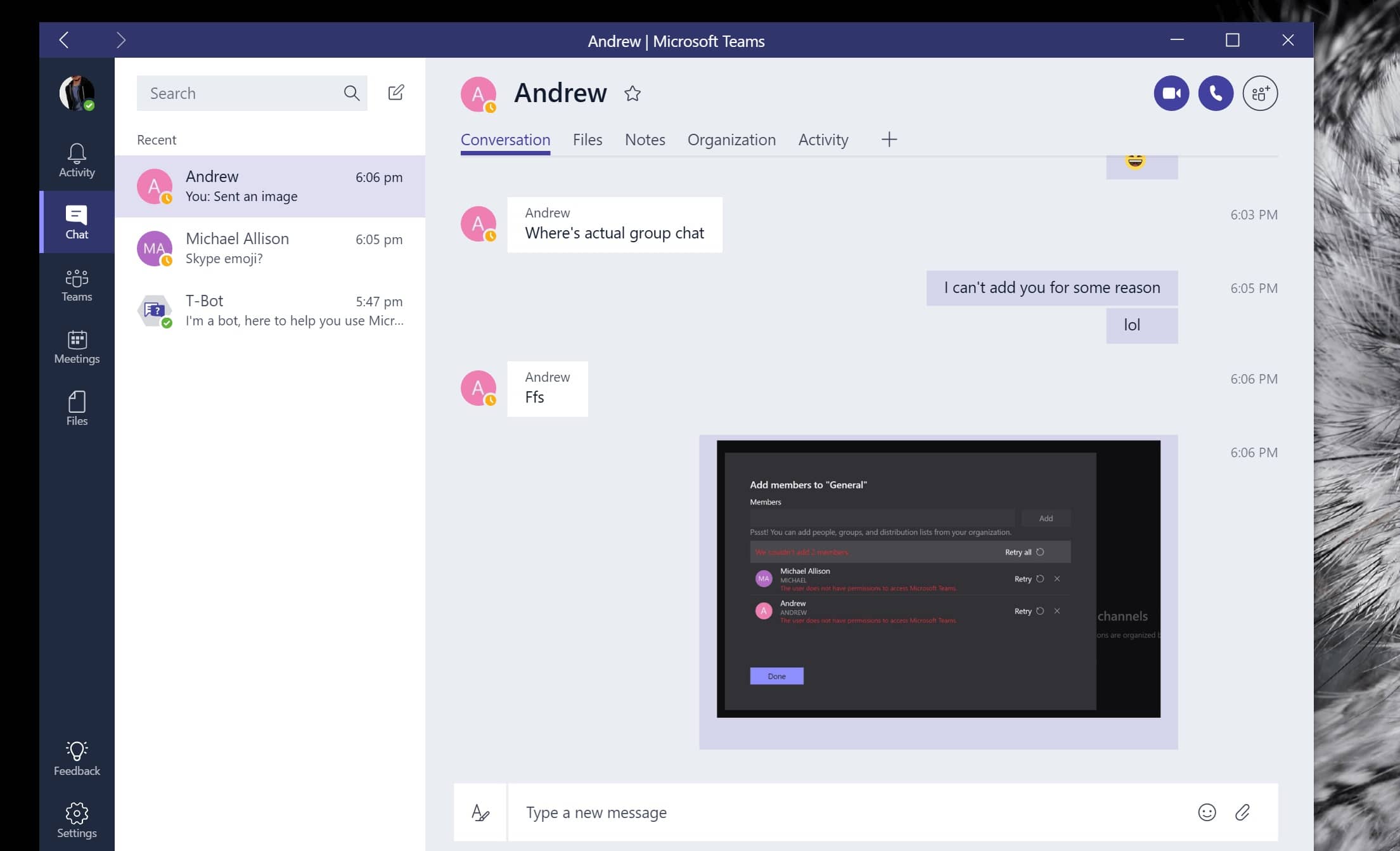 But there is a chance that users may jump to teams because it is well-tuned for Windows 11.
Gaming in Windows 11
Windows 11 is going to be a feast for gamers. It comes with exciting features and they integrate their Xbox, X, and S series to the PC. The mainstream feature is auto-HDR; it enhances the visuals and increases the contrast of colors in gaming and makes it more flexible for gamers.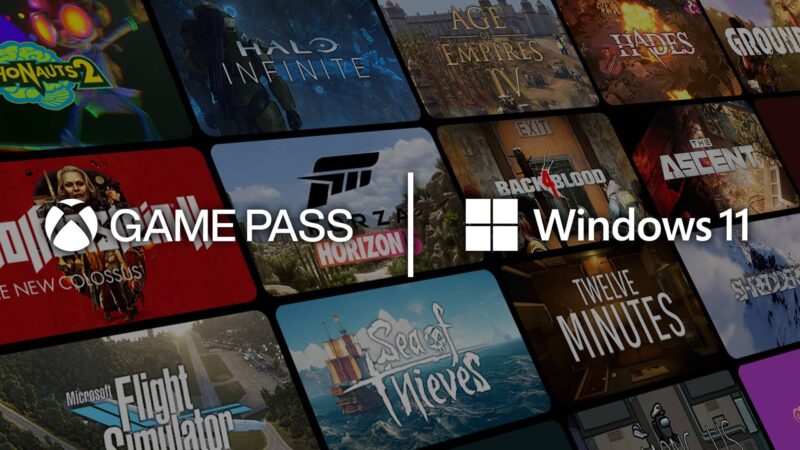 Here is an example,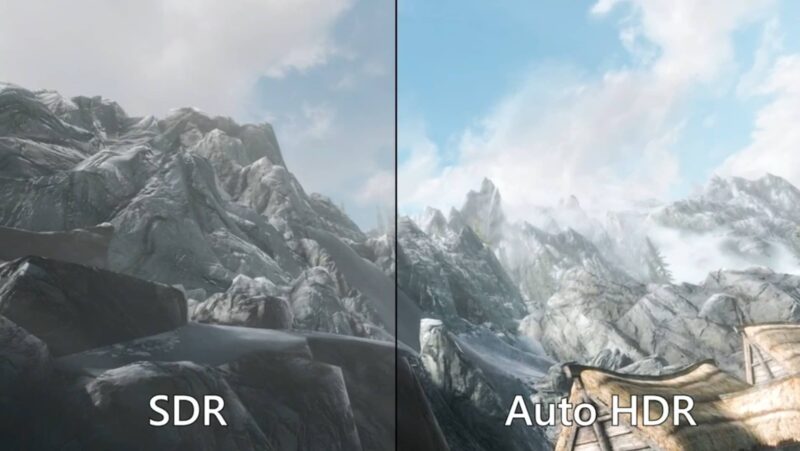 This feature works only on the display that supports HDR or higher resolution.
Another cool feature is adding direct storage which helps the game to load faster and increase the performance of the gaming experience. And the Xbox app is redesigned to make the stream faster. Gaming in Windows 11 will be more fun and going to give excellent user experience.
Also Read, Best 4K Video Converter Softwares for Mac and Windows
Run Android Apps in Windows 11
Last but the most attractive feature or the most demanding feature is alive now that Windows 11 supports Android apps.
I'm super excited to make use of the feature and I hope you do too. Now all the Android apps are also available in the Microsoft store itself which is a big deal for the users.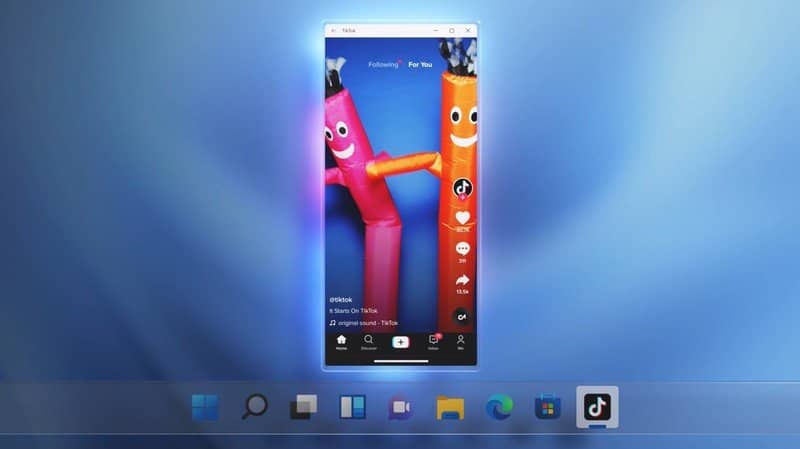 Those who use third-party software to use Android Apps on your Windows PC just wait for the big change that is coming via Windows 11.
Microsoft uses the Amazon app store to download apps from Microsoft but one drawback is we can't access the apps unless we have an amazon account. Because of the Amazon app store. 
Not a big deal right?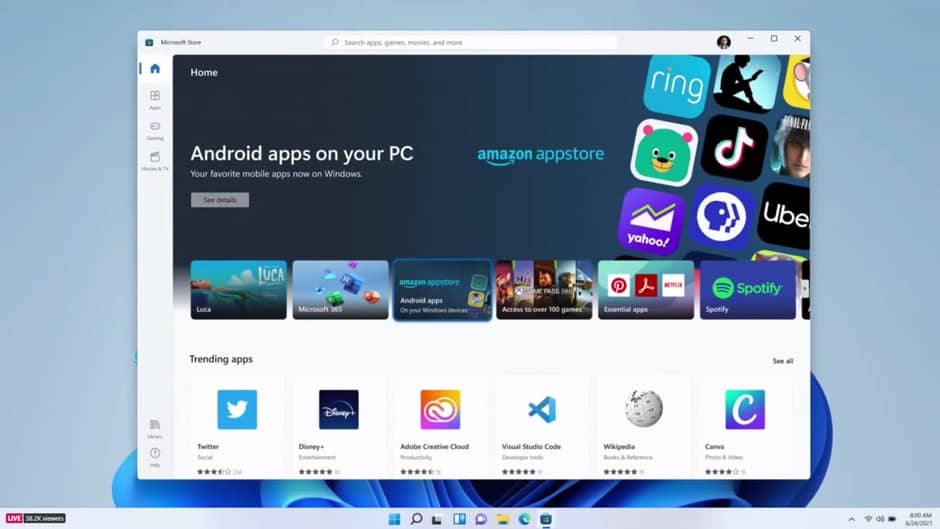 For smooth usage of the apps on Windows PC, Microsoft uses Intel Bridge tech so the apps are very smooth and equal to an android device experience.
By using the new Snap feature you can Run both windows pc apps and android apps, at the same time you can use it as a regular app on your PC.
I'm very much excited to make use of this feature. What about you?.
These are the cool features that come in windows 11 and yes for those who are asking for the upgrade the direct answer is Yes. but before upgrading make sure to check out the minimum system requirements.
Windows 11 minimum System Requirements
Processor: 1 GHz or faster with two or more cores on a compatible 64-bit processor or system on a chip (SoC)
RAM: at least 4 GB
Storage: at least 64 GB of available storage
Security: TPM version 2.0, UEFI firmware, Secure Boot capable
Graphics card: Compatible with DirectX 12 or later, with a WDDM 2.0 driver
Display: High definition (720p) display, 9″ or greater monitor, 8 bits per color channel
These are the minimum system requirements for windows 11. If you want to run full features of Windows 11 without any hiccups, then considering latest generation Intel or AMD Processors is a recommended one.
7th Generation Intel Processor as a basic requirement raised eye brows of many Windows users. Now they have to upgrade their older PC hardware or buy a New PC to run Windows 11 to experience all its features.
Is it worth the upgrade? Comment your thoughts and Share this article with your friends at Twitter and Facebook. Have a Productive day.
You may also like to Read,