Facebook has acquired Instagram for 1 billion dollars and that is one of the trending news across the web today. Instagram has recently introduced its android version and that triggered so much download of instagram app from android market (google play). Instagram photo sharing website was only available for iPhone, and iPod Touch now it is also available for all android mobile phones. It is one of the easiest way to share photos online. Instagram community of users take best pictures using their smartphone and upload it to their feed.
Instagram Photo Filter feature makes it unique and one of the best app for mobile devices to capture and upload the beautiful moments of your life. The follow concept which is common everywhere comes with better privacy "Public" and "Private" to control who see your pictures that you upload on your Feed.
How to Backup Instagram Photos ?
Here is a simple online tool (Instaport) that lets you backup all your Instagram photos and download them right away to your desktop. You can do that in two easy steps. Login using your Instagram account and choose in which format you like export instagram photos.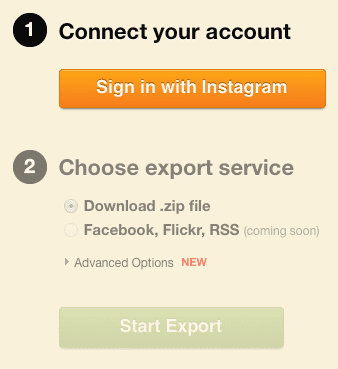 Currently instaport supports the download of instagram photos in a zip file to your local harddrive. Soon they are going to introduce direct export instagram photos to Facebook, Flickr and RSS as well.
No doubt, that facebook will block this service once they completely take control of Instagram service. Before that you can download your pictures and save it in your computer harddrive. Anything can happen when the product goes under Facebook. We expect that facebook will bring more monetizing techniques to make instagram different that what it is right now.
[youtube width="600″ height="344″]http://www.youtube.com/watch?v=-jIOhfiDt-E[/youtube]
Thanks for reading and do share this post with your friends and followers across Facebook, Twitter and Google+.